Leaders the World Needs
is a regular feature of DePauw Magazine, which is published three times a year.
The governor's second term was winding down, leaving the people who had helped him get into office and served him there scrambling for their next step.
"I felt a little untethered by it because it was a glorious experience and you do feel like, at least in a macro sense, you were helping people," said John Hammond '76, who for his entire career had been tethered to Indiana Gov. Robert D. Orr.
Hammond, who grew up in a household sharply focused on public affairs and a family brimming with DePauw graduates, had made the connection that would launch his professional life during an independent study project in his senior year at DePauw. He was an intern, working for the state Senate Finance Committee, which had a close association with then-Lt. Gov. Orr, who had previously served in the Senate and, as lieutenant governor, was its president.
Orr, on the ticket with Gov. Otis Bowen, was seeking re-election, and he hired Hammond for $50 a week as a campaign aide. "I traveled with him 24/7 potentially, in terms of when we were awake to travel the state," Hammond said. "By car, airplane. It was a pretty interesting experience, a heady experience, at an early age."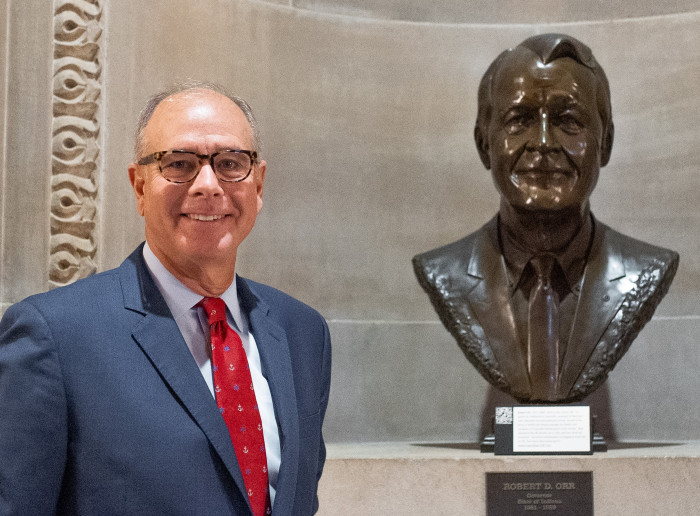 For a while, anyway. When Bowen and Orr won, enabling Hammond to enjoy the spoils, he was assigned to an obscure state agency in a job so meager that he struggled every afternoon to stay awake. He won a reprieve several months later when an administrative assistant job opened in the lieutenant governor's office. (Photo: Hammond with a bust of late Gov. Robert D. Orr in the Indiana Statehouse.)
Hammond's trajectory was skyward thereafter. When Orr ran for governor in 1980, Hammond took a 15-month leave from state government to be deputy campaign manager.
"Power for power's sake is not enough," Hammond said. "The election is a choice between two people with varying philosophies and it's for the opportunity to govern. That's the public service piece. That's the opportunity to make an impact."
He was the governor-elect's first hire, rejoining the public sector as transition director. He went on to become Orr's senior executive assistant for legislative affairs and education policy, securing passage of, among other things, Orr's signature A+ education program.
In September 1988, two months before Orr's successor would be elected, Hammond, who was attending law school at night, left state government to form a lobbying firm with a former House speaker. He has held several government relations jobs since, and now is a member of Ice Miller's Public Affairs Group.
"It's the closest thing I have to continue to be in public service," he said, "because I still have the flexibility ultimately as a lawyer and a community citizen to participate on a variety of boards and commissions on the local level here in Indianapolis. I contribute in that way and through the political process.
"Not every political science major gets to say this, but I get paid to practice my hobby and my passion."
DePauw Magazine
Fall 2020
A GATHERING PLACE FOR STORYTELLING ABOUT DEPAUW UNIVERSITY
Whether we are writing about the intellectual challenge of our classrooms, a campus life that builds leadership, incredible faculty achievements or the seemingly endless stories of alumni success, we think DePauw has some fun stories to tell.

101 E. Seminary St.
Greencastle, IN, 46135-0037
(765) 658-4416

News and Media