Leaders the World Needs
is a regular feature of DePauw Magazine, which is published three times a year.
His grandfather was a lawyer, so J.P. Hanlon '92 already was thinking about a law career when he participated in the Harvard Model Congress, a government simulation conference.
"The experience when I was in high school just gave me the feeling that law was pretty unique and that one person, as a lawyer, has this amazing ability to cause a lot of change and have a lot of impact," said Hanlon, a U.S. district judge in the Southern District of Indiana. "And I really liked that a lot."
Some years later, Hanlon's youthful notion was confirmed. Then a lawyer in Chicago, Hanlon represented an asylum-seeking Angolan refugee who feared he would be tortured and killed if he were sent back to his native country.
"I remember just the incredible feeling that the U.S. government is seeking to sign a piece of paper and send this person out of the country, and that would be his fate," said Hanlon, who was handling the case pro bono. "And one person – me – as a lawyer had the opportunity to stand between him and the power of the U.S. government."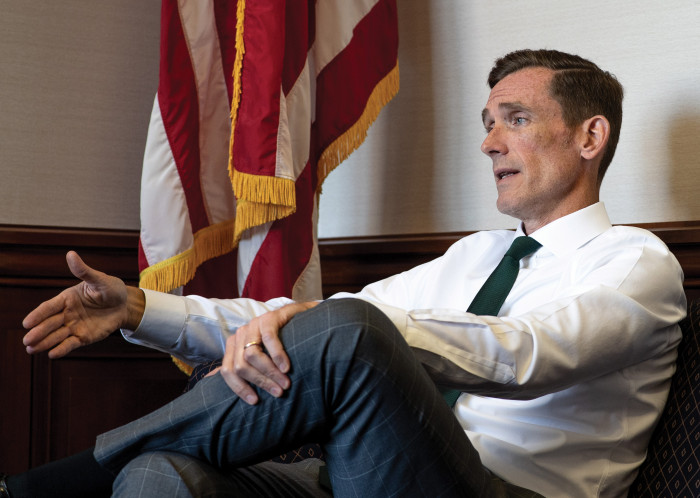 In between those two experiences (and, yes, the man won asylum), Hanlon identified the best – if not the most likely – way that he might have an impact. A recent graduate of Valparaiso University School of Law, he was clerking for U.S. Judge Robert L. Miller Jr. of the Northern District of Indiana. 
"That was a very formative experience, I would say, just learning about public service, seeing him as a quintessential example of a dedicated public servant," Hanlon said. "A person who is so talented, so smart, so many skills and, with all that, every day working as hard as he can to do things in the public good. …
"From the time I clerked with Judge Miller, I thought, boy, if I ever had the opportunity to do his job, I would do it. Now, I did not bank on that happening, because the odds are not very good because so many things have to happen. There's a lot of work involved, but then there is the timing aspect and there's some luck involved."
To say nothing of the presidential nomination and U.S. Senate confirmation that must occur.
But Hanlon set about constructing a varied career that would qualify him if lightning struck. While working three years at the big firm in Chicago, he was doing more pro bono work and applying for assistant U.S. attorney jobs. He landed one in Indianapolis and spent five years there, handling a variety of cases but becoming particularly intrigued by white-collar crime. He then moved to a large Indianapolis law firm, where he built a white-collar defense practice over 12 years.
And then lightning struck. A federal judge retired, and Hanlon applied. President Trump nominated him in April 2018 and the Senate confirmed him unanimously in October that year.
Hanlon enjoys the "incredibly deep array of subject matters" that come before him and said "it's more important now than ever that judges do whatever they can to have confidence in our branch be as high as it can be. … I just think it's very important that we do our jobs in a thorough and transparent way that instills a lot of confidence in the public."
DePauw Magazine
Fall 2020
A GATHERING PLACE FOR STORYTELLING ABOUT DEPAUW UNIVERSITY
Whether we are writing about the intellectual challenge of our classrooms, a campus life that builds leadership, incredible faculty achievements or the seemingly endless stories of alumni success, we think DePauw has some fun stories to tell.

News media: For help with a story, contact:

Bob Weaver, Senior Director of Communications.
bobweaver@depauw.edu.