Leaders the World Needs
is a regular feature of DePauw Magazine, which is published three times a year.
His grandfather was a state legislator, his father a prosecutor and a judge. So is it any wonder that Matthew Kincaid '92 would enter the law?
Well, yes.
"My grandfather's story is interesting because there were some aspects about his career that I think maybe gave me some initial pause about pursuing something like this," said Kincaid, a Boone Superior Court judge in Lebanon, Indiana. "He had the experience of losing an election somewhat surprisingly. … It was a real setback to him personally."
So, as a DePauw student and Rector scholar, Kincaid majored in economics and, upon graduation, followed through with a plan to go into commercial banking. He was working as a credit analyst in a large Chicago bank when, at a meeting one day, he heard a bank lawyer who "had a way of making things as simple as they could be without making them simpler than they are. I was just impressed with him." And, Kincaid said, he realized that maybe the law was right for him after all.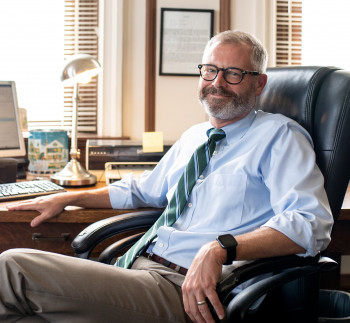 He went to Loyola University Chicago School of Law and practiced for five years before running successfully in 2002 for the judge's seat from which his father, Ora A. Kincaid III, was retiring.
"The opportunity to be a judge was just too good to pass up," the younger Kincaid said. His goal as a judge is fairness, and "I just hope that people pray for public servants and give them the benefit of the doubt. Nobody's perfect. …
"Whatever we're doing, we're all really trying hard. There's a lot of criticism out there in the world. I'd ask for grace and prayers for all who have to make these kind of decisions, but it's a great privilege and a great honor. We do the best we can with our abilities and try to do what's right."
Kincaid, who won the Indiana State Bar Association's Civility Award in 2017, has the rare distinction of having twice, in 2016 and 2017, been among the three finalists recommended by the Indiana Judicial Nominating Committee for a Supreme Court seat. Both times, the governor selected another candidate.
"I'd be being disingenuous to say it wasn't disappointing, but since then I feel like I've continued to do the work that I'm good at, and I've been grateful to do it," he said. "I never have thought that not being a Boone County judge is something I ought to strive for. I got some really good advice from somebody before I even got into the process of applying for these. He said, well, you know it's tough; there are a lot of good people. But don't let what you think you want make you think that you don't like the job that you already have."
DePauw Magazine
Fall 2020
A GATHERING PLACE FOR STORYTELLING ABOUT DEPAUW UNIVERSITY
Whether we are writing about the intellectual challenge of our classrooms, a campus life that builds leadership, incredible faculty achievements or the seemingly endless stories of alumni success, we think DePauw has some fun stories to tell.

101 E. Seminary St.
Greencastle, IN, 46135-0037
(765) 658-4416

News and Media