They give up privacy and expose themselves to criticism, even ridicule. Every move they make is subject to scrutiny or fodder for videotaping, every utterance to close dissection. Their kids are mocked; their finances are made public. And they must mount unrelenting campaigns just to keep the job.
Why would an individual endure such strife in the pursuit of public service?
The reasons are myriad, said former U.S. Rep. Lee Hamilton '52, arguably one of DePauw's most outstanding contributions to public service.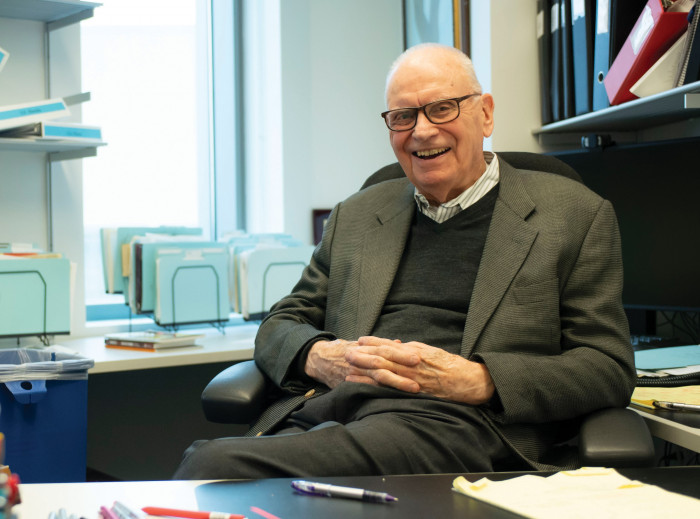 "People come in for all kinds of reasons," he said. "Some want to tackle policy. It boosts the ego to engage in politics. … Some do it for the intellectual challenge of it. Some do it because they just like the game; they enjoy the conflicts. Some people are turned off by it.
"You find such variety of reactions to the lure of politics. I was always on the side where I thought it was a worthy endeavor, that one could live greatly if you lived in the business of politics and do some good. The sheer challenge of it appeals to me. These problems come at you with such complexity and such rapidity that you can never feel like you accomplished what you wanted to and victories come small. But in most cases, there are not huge retreats. I don't know of any other profession that I would think would match politics for the sheer challenge of it. And that appealed to me."
Hamilton's early interest in public service was heightened at DePauw, where classes in history, political science and sociology "stimulated my interest in policy and made it very clear to me that the common good should be the welfare of all people …  DePauw certainly advanced my sense of obligation to engage in public service," he said. He also played basketball at DePauw, and "I enjoyed competition as an athlete. I saw a lot of parallels in politics."
Early on, "I didn't have any unique ideas or ambitions. I simply wanted to make a contribution to the direction and success of my country. I was stimulated by the challenge of doing so. I became more and more fascinated with public policy and how it's made. Interestingly enough, I've never been greatly absorbed or captivated by politics. My interest has always been policy. And it became clear to me that if I wanted to have any kind of impact on policy, I should best do it through politics. So I got more and more interested in politics. Once I took the plunge, it's kind of unrelenting and it captivates your time and attention."
His first political activity was volunteer canvassing for several election cycles. "That led gradually to an interest in public office and my interest had always been more in national than local affairs, so I was drawn to foreign policy and domestic economic policy," he said. "I figured out if I was going to deal with those topics, I'd better go to the federal level rather than the state or local."
He was elected in 1964 to represent southeastern Indiana in the U.S. House of Representatives where he served 34 years and gained a global reputation for his extensive knowledge of foreign affairs. He was chairman of several House committees, including Foreign Affairs and Intelligence, and has served on many significant ad hoc commissions since his retirement.
"I don't know of any other profession that I would think would match politics for the sheer challenge of it."
His accomplishments, he said, are "for others to judge." But "the thing that gave me the most satisfaction over the years was having a seat at the table. I always felt from the very beginning that I could call up the governor or I could call up the president. I could call up a cabinet official and I was never turned down. I was always welcome, by Republican or Democratic leaders …  I really enjoyed the people, all of them. The politicians, different philosophies, different values."
DePauw influenced other alumni who have gone into public service in a variety of ways. It taught Brittany Bulleit '05 "to juggle a lot of different things," a skill she uses as a prosecutor in Michigan. "Being a science research fellow teaches you how to think like a researcher and I don't think thinking like a lawyer is that different," she said. "There's a step-by-step process in research where you have to have each step done and the same is true of law."
J.P. Hanlon '92, U.S. judge for the Southern District of Indiana, recalled "the small classes and the faculty. …  You'd sit in a little circle and there was nowhere to hide, there was no getting off the hook. You had to come to class very ready to talk and engage. …
"Having to learn how to research and write as a history major was very influential, as well as the in-person experience," he said. "That really sticks out in my mind as being one of the really key things – having to engage, think in a critical way on the spot and show up in class ready to engage in these topics."
Nancy Boyer '73, who retired from the Allen County, Indiana, bench in June, said "DePauw prepared me better for being a judge than anything else. Law school just taught me the law. DePauw taught me how to think, how to analyze, how to approach different issues and problems."
Former Indiana Secretary of State Sue Anne Gilroy '70 said her ability to pivot throughout her career "did start with DePauw giving me the liberal arts background, the ability to re-create myself into different careers. I put myself into different situations that were all new and different … DePauw played a big role in all that."
And Dave Jones '84, who has held several elective positions in California, said DePauw "helped me be a critical thinker, be a better writer, be a better speaker and exposed me to a number of different academic disciplines, which is what I think is great about a liberal arts education."
A winter-term experience particularly imprinted him, he said. "I took advantage of one of those to go do an internship on the Hill in then-Sen. Richard Lugar's office. That was a fantastic experience for a young college student to have a chance to work in the office of a very, very thoughtful United States senator. That also helped to inform my interest in public service."
DePauw Magazine
Fall 2020
A GATHERING PLACE FOR STORYTELLING ABOUT DEPAUW UNIVERSITY
Whether we are writing about the intellectual challenge of our classrooms, a campus life that builds leadership, incredible faculty achievements or the seemingly endless stories of alumni success, we think DePauw has some fun stories to tell.

101 E. Seminary St.
Greencastle, IN, 46135-0037
(765) 658-4416

News and Media