Leaders the World Needs
is a regular feature of DePauw Magazine, which is published three times a year.
Terry Crone '74 especially enjoyed courtroom work over the nine-plus years he practiced law in South Bend, so the trend "that lawyers were going to be spending less and less time in the courtroom" worried him.
"When the judge called and said, 'Do you want to come over here and work with me and possibly position yourself to move up into my position?' I thought, well, that'd be a wonderful opportunity," he said. "So I was very lucky. I've been lucky all my life."
Lucky enough to be the first person in his family to attend college. Lucky enough that, after Crone received a disappointing financial aid package from the University of Notre Dame, which he hoped to attend, a friend's father suggested he look at DePauw, which not only provided robust financial aid but also "a wonderful liberal arts education. It taught me to think critically. It gave me opportunities to do things." He was a conference-champion sprinter for two years and qualified for the NCAA Division II finals in the 220, but "I got in a fist fight and broke my hand."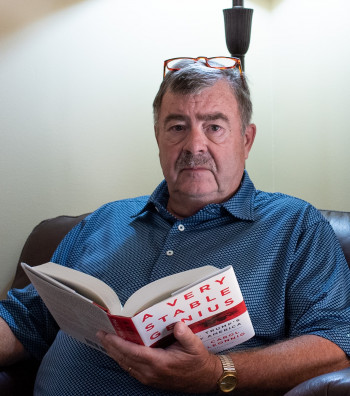 Lucky enough to learn life lessons – perhaps because he was on "a first-name basis" with DePauw security, the Putnam County sheriff and the dean of students and did things "you wouldn't necessarily want your kids to know about" – that "young people do things that should not destroy their entire life forever."
Lucky enough to have a father who was the political director for the United Auto Workers for north-central Indiana, a connection that positioned the son, upon graduation from DePauw and during law school at Notre Dame, to work for U.S. Sen. Birch Bayh and meet contemporary political stars, including President Jimmy Carter, former Vice President Hubert Humphrey and U.S. Sen. Ted Kennedy.
Lucky enough to get that judge's invitation, and wise enough to accept it and work two years as magistrate until the judge retired. Lucky enough to have then-Gov. Evan Bayh – Birch's son – appoint him to the St. Joseph circuit court bench. He completed the retired judge's term and was elected three times to retain the seat.
"I've always believed that the efficacy or integrity of the court system is dependent on people trusting the system," Crone said. And so, as a circuit judge, he appointed the first African American man and the first woman to the judicial nominating commission. His third appointment, the first African-American woman, had doubts about her credentials.
"I said, Gladys, if nothing else, these people who come in as applicants have to look an African American in the eye and try to seek their approval so that, later on, when some African-American individual is standing in front of them, maybe they have a little more understanding of what it feels like to be in a reverse situation as far as power," he said. "
He also initiated the county's Spanish-speaking program for public defenders. "It's important that when people come to court they see people whom they can relate to and have faith and trust in the system," he said.
Crone also was lucky enough to be dear friends with Joe Kernan, whom he met 40 years ago when they both worked for South Bend city government. In the brief time that Kernan was Indiana governor – 16 months between Gov. Frank O'Bannon's death and the inauguration of Gov. Mitch Daniels, who defeated Kernan in 2004 – an opening occurred on the Indiana Court of Appeals, and Kernan appointed him. Crone was retained by the voters in 2006 and 2016; the latter vote will take him to the mandatory retirement age, 75.
"I enjoy the work because of the intellectual stimulation and I enjoyed being in a position where I could make decisions that I felt were helpful to people, whether it be on a micro basis or on a more systemic basis," he said. "Justice is not just a result; it's also a process. You need to have a just result, but you also need to have a just process. It works better when people believe that that is the case – that the process is fair, as well as the just result."
DePauw Magazine
Fall 2020
A GATHERING PLACE FOR STORYTELLING ABOUT DEPAUW UNIVERSITY
Whether we are writing about the intellectual challenge of our classrooms, a campus life that builds leadership, incredible faculty achievements or the seemingly endless stories of alumni success, we think DePauw has some fun stories to tell.

101 E. Seminary St.
Greencastle, IN, 46135-0037
(765) 658-4416

News and Media