Three Phi Delts win Lund scholarships for 2023-24
Three members of Phi Delta Theta, from the Indiana Zeta chapter at DePauw University, are being recognized for their scholarship, campus, and community involvement through the generosity of fraternity brother Albert L. Lund '48.
Alex Backhaus '25 of Zionsville, IN; Reid Johnson '24 of Bloomington, IN; and Colin Doyle '24 also of Bloomington will each receive $5,000 scholarships for the 2023-24 academic year.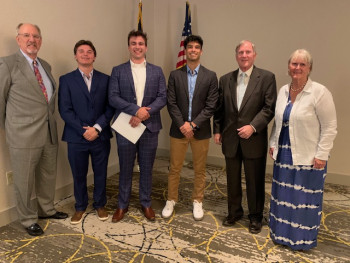 The Albert Lund Awards are the largest Greek-based scholarships on the DePauw campus. Since their inception, 44 Indiana Zeta Phis have received Lund scholarships, totaling $377,000.
Lund established the scholarship in 1999 to reward members of his fraternity for their dedication to academics and their involvement in campus and community activities. His son Larry Lund '77, also a Phi Delt, returned to campus to announce the scholarship recipients at a scholarship dinner at The Inn at DePauw. He was joined by other members of the Lund scholarship committee, Lindsey Lund Peterik '74, Glenn Davis '79 and Ed Gower '77.
"My father was a Rector Scholar at DePauw and without that money (he) could not have attended this University," Larry Lund said. "DePauw and Phi Delta Theta are two of his greatest loves, and his gifts ensure that both remain strong. My dad got tremendous satisfaction in helping these young men achieve their goals, and he especially enjoyed the letters and e-mails he exchanged with the Lund scholars and learning how their lives developed.
Photo: (l-r) Glenn Davis '77, Colin Doyle, '24, Reid Johnson, '24, Alex Backhaus '25, Larry Lund '77 and Lindsey Lund Peterik '74.
Whether we are writing about the intellectual challenge of our classrooms, a campus life that builds leadership, incredible faculty achievements or the seemingly endless stories of alumni success, we think DePauw has some fun stories to tell.

News media: For help with a story, contact:

Sarah Steinkamp, Vice President for Communications and Strategy and Chief of Staff.
sarahsteinkamp@depauw.edu.