Truong wins Murad Medal; Bailey awarded Walker Cup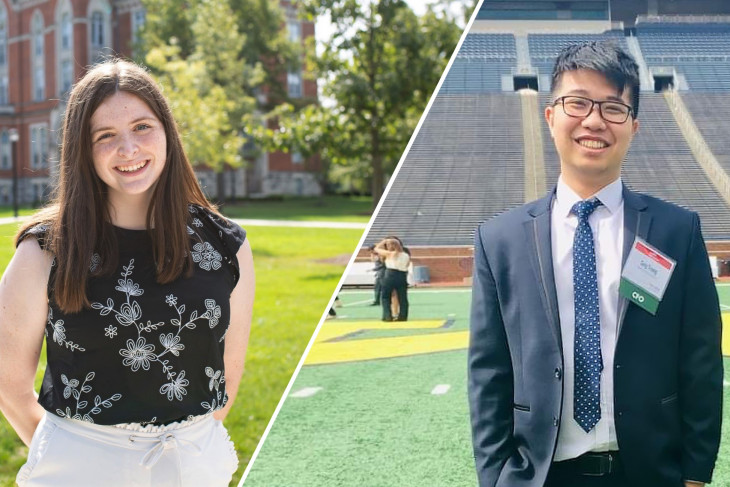 Walker Cup winner Emma Bailey and Murad Medal winner Sang Truong
Two outstanding seniors have won the most prestigious awards given to DePauw University graduates, it was announced today.
Sang Truong, an international student from Vietnam, has won the Ferid Murad Medal, which is given to the senior with the most scholarly and/or artistic achievements at DePauw.
Emma Bailey, a Kansas resident who has a passion for equity in education, has won the Walker Cup, awarded to the senior who has contributed the most to DePauw over the student's four years.
The announcements were made by video: Dave Berque, vice president for academic affairs, announced the Murad medalist, while President Lori S. White announced the Walker award.
Each DePauw department or program nominates a senior to win the Murad Medal, and a faculty committee narrows the nominees to three from which Academic Affairs selects the winner. The medal is named for Nobel Prize winner Ferid Murad '58, a physician and Ph.D. pharmacologist whose work has saved the lives of premature babies and cancer and heart patients and inspired 160,000 publications that build on his discoveries.
Seniors vote for the Walker Cup recipients, and the names of the three students with the highest number of votes are forwarded to a committee comprising the university president and academic department heads that selects the winner. The award is named after Guy Morrison Walker, an 1890 graduate and a lawyer who proposed it.
Truong, who has been admitted to Ph.D. programs in computer science at Stanford, Cornell, Washington and Purdue universities, tripled majored in computer science, economics and computational chemistry. He is a management fellow, a science research fellow and an Information Technology associate who has been selected to Phi Beta Kappa.
Truong, who is interested in machine learning, has published five refereed papers, including one published at the 35th Association for the Advancement of Artificial Intelligence conference. He has presented his work at several conferences; conducted research with Jeffrey Gropp, the Joseph Percival "Perk" Allen III university professor of economics and management at DePauw, and Todd Neller, a computer science professor at Gettysburg College; and spent a semester at the University of Oxford. He also has had two internships: at Community Health Network, he used time-series forecasting to estimate the financial impact of COVID-19, and at Cummins, his time-series models played a role in minimizing the economic risk of investing in emerging markets.
Bailey, who doubled majored in economics and Hispanic studies, plans to pursue a master's degree in learning design, innovation and technology at Harvard University's Graduate School of Education. She is a management fellow and an honor scholar; for her honor scholar thesis, she researched the finances of first-generation college students, explored the barriers they face to entry and success and proposed a model that members of the Great Lakes College Association could use to better support such students.
Bailey has acted on her passion for equity in education in several ways: She has been a community service coordinator; a student leader in Servicio en las Americas; an intern at the Women's Center; an intern in the Office of Admission; and an intern in the DePauw President's Office, where she has assisted in the ongoing strategic planning process. She also was a peer mentor for the First-Year Experience.
The other nominees for the Murad Medal were Amalia Crevani, who majored in vocal performance and double minored in theatre and musical theatre, and Sydney Majka, a psychology major and history minor who presented 11 posters at conferences.
Also nominated for the Walker Cup were Mari Santillan, a communication and Spanish double major who minored in Latin American and Caribbean Studies and who plans to join Teach for America, and Samuel VanderVeen, an honor scholar who majored in political science and minored in Hispanic studies and mathematics and plans to participate in the Indiana Governor's Fellowship Program and attend graduate school in public policy.
Whether we are writing about the intellectual challenge of our classrooms, a campus life that builds leadership, incredible faculty achievements or the seemingly endless stories of alumni success, we think DePauw has some fun stories to tell.

News media: For help with a story, contact:

Bob Weaver, Senior Director of Communications.
bobweaver@depauw.edu.