Two DePauw alums covering invasion of Ukraine
Two DePauw alums who learned their craft as media fellows are among the journalists covering Russia's invasion of Ukraine.
Ben C. Solomon '10, a correspondent for VICE News, landed an interview Wednesday with Ukraine President Volodymyr Zelenskyy, who said that he expected Russian President Vladimir Putin, having seen that "we are strong," would negotiate. Solomon tweeted that Zelenskyy "snuck me and my @VICENews crew into his besieged presidential fortress."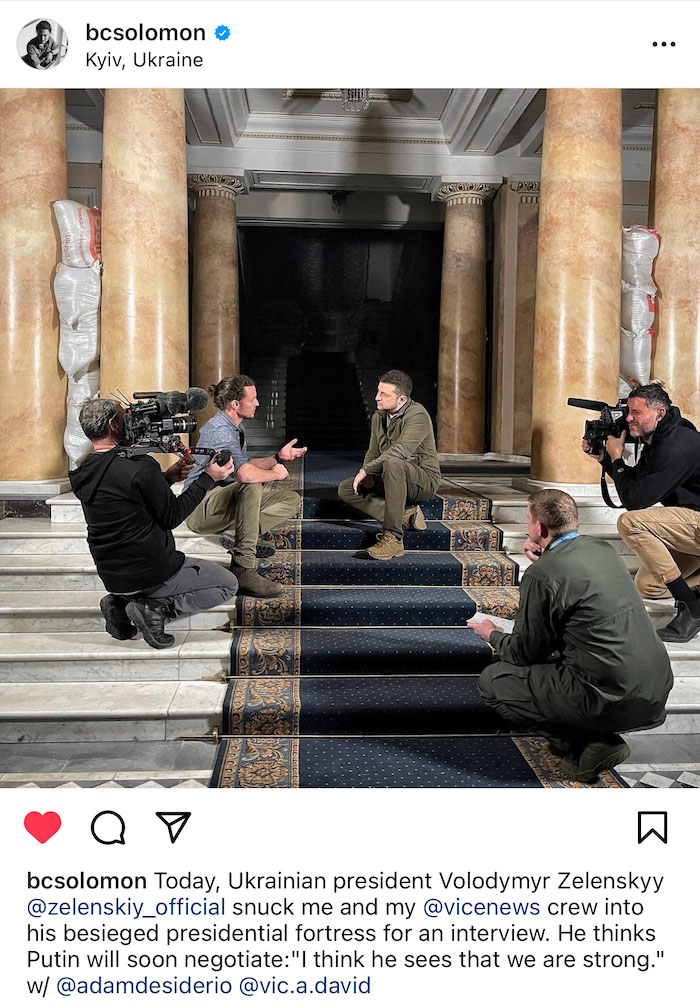 (Ben Solomon @bcsolomon via Instagram)
Robert Sherman '18, a reporter for NewsNation (top photo), likewise has been covering the invasion almost from the beginning.
"I'm not sure if being a war correspondent has ever really been on my radar," he said by email. "I got into this industry mainly to cover politics. But, to me, this is a time in history where the voiceless need a voice. That's my motivation for picking up and heading to Europe."
He spent the first three days on the Polish-Ukraine border, covering the flight of refugees from Ukraine.
"Some people had walked 20-30 miles just to get to the border, then stood in line for days before they could get in," Sherman said. "You could just see the utter exhaustion on their faces. Many packed up their whole lives, threw them into suitcases to escape and they have no idea what the future holds for them."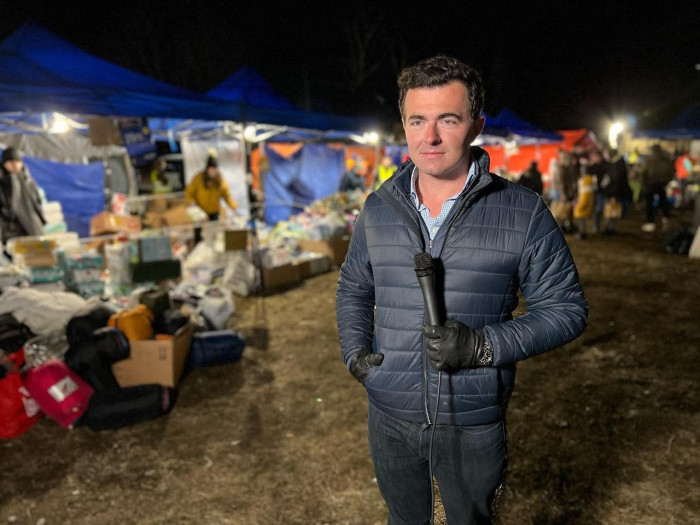 Since then, Sherman (above) has been in the Ukraine cities of Ivano-Frankivsk and Lviv. "Our main focus has been speaking with refugees, covering stories on the local national guard and more," he said.
Sherman began his job as the border correspondent for NewsNation, formerly WGN America, in January. In early February, he set off on a road trip along the entire border, San Diego to Brownsville, Texas, with the goal of telling stories along the way.
"We were on our last two days of the border tour and were maybe three hours from Brownsville when the invasion began," he said. "We got the call from Chicago and they asked if we could be on a plane the next day to Poland."
Here's more of what he had to say: "Walking around Ukraine, there is just this unmistakable tension in the air. You have to drive through these checkpoints every 30 minutes run by local militia and show your papers. Even if you haven't done anything wrong, you can't help but feel like you have to prove you aren't doing anything wrong. If you say the wrong thing, the situation could escalate.
"That said, I've met some of the best people I've ever met here. Ukrainians are unified nationwide and are doing what they can to help their fellow countrymen/countrywomen — people are volunteering at food banks, enlisting with the national guard and more. Overall people are in high spirits and above all confident they will win the war.
"That said, fear is pervasive. We've had to drop what we're doing eight or nine times when the air raid sirens started blaring to run into a bomb shelter. It has become part of everyday life here. The reality is, people recognize that the difference between life and death can be just a few moments."
In his interview with Zelenskyy, Solomon asked, "Can you make a compromise with Putin? Can you trust Putin?" Zelenskyy responded: "Trust? Oh, no. I trust only my family." When asked "how can you make a deal with somebody you don't trust," Zelenskyy replied, "we have to. … to stop this war, only dialogue and only dialogue with him."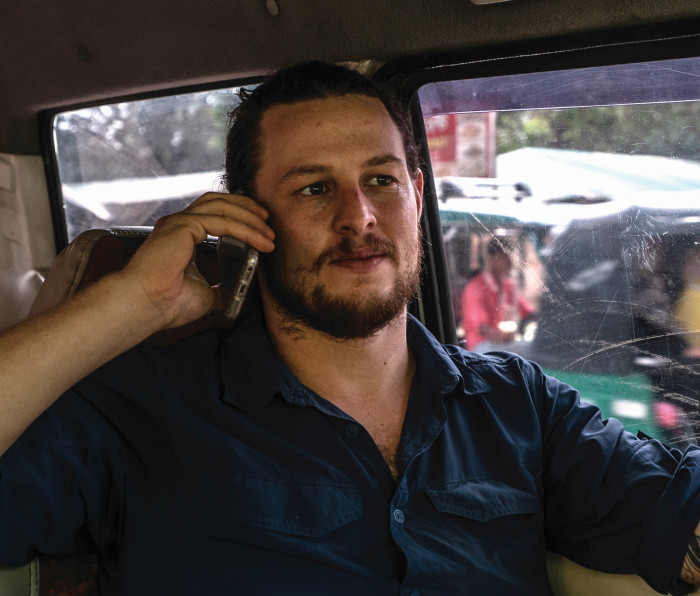 Solomon (above, 2018 photo), interviewed Thursday on MSNBC, said that Zelenskyy "was ferried in and out really quickly, surrounded by guards surrounded by security" for their interview "For the most part, he seemed very honest. I think in many other interviews and many other appearances, you can tell he's media savvy; he's good at talking to the press."
Solomon also recently reported from Odessa, Ukraine, where citizens are engaged in making Molotov cocktails to use against Russian soldiers.
Whether we are writing about the intellectual challenge of our classrooms, a campus life that builds leadership, incredible faculty achievements or the seemingly endless stories of alumni success, we think DePauw has some fun stories to tell.

101 E. Seminary St.
Greencastle, IN, 46135-0037
(765) 658-4416

News and Media