Two English profs win Indiana Authors Awards
English professors Chris White and Eugene Gloria are among the eight winners of the 2020 Eugene and Marilyn Glick Indiana Authors Awards.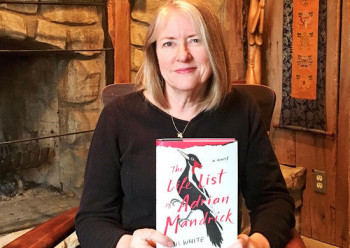 White's novel "The Life List of Adrian Mandrick" won in the fiction category. It is the story of a pill-popping anesthesiologist and avid birder who embarks on a quest to find the extremely rare Ivory-billed Woodpecker only to become stranded in the thick swamplands of Florida's panhandle. There he confronts past and present failures, the cost of his obsessions and what's truly important in life.
Gloria's collection of poetry, "Sightseer in This Killing City," won for poetry. The poems, set in the aftermath of presidential elections in the U.S. and Philippines, are an argument for grace and perseverance in an era of bombast and bullies.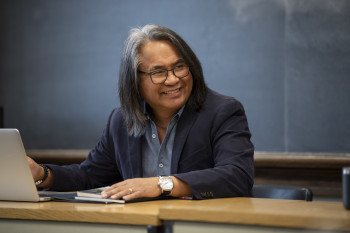 Their works were chosen from among 35 shortlisted works in eight categories.
Designed by Indiana Humanities with support from Glick Philanthropies, the Indiana Authors Awards are issued every other year. In between award years, starting in 2021, honorees will have the opportunity to participate in a statewide tour to connect with readers, teachers and students.
"Indiana has a rich literary tradition, and this class of Indiana Authors Award winners shows that the legacy is alive and growing," said Keira Amstutz, a 1991 DePauw graduate and Indiana Humanities president and CEO. "We are honored to partner with Glick Philanthropies to raise awareness about these books not only in Indiana, but among readers across the nation."
Each winner will receive $5,000, a hand-crafted limestone award and the opportunity to make a $500 donation to an Indiana library of their choice. A short video featuring interviews with all of the authors debuted online today. In addition, Indiana Public Broadcasting Stations has produced radio and TV spots about each winner, as part of a partnership with the Indiana Authors Awards.
"By creating the Indiana Authors Awards, my parents sought not only to honor authors for significant works, but also to champion Indiana literature to a wider audience," said Marianne Glick, chair of the Glick Family Foundation and daughter of Eugene and Marilyn Glick. "These winners represent the diversity of literature created in Indiana—from the people who create it to the stories brought to life, they reflect Indiana's literary abundance."
Whether we are writing about the intellectual challenge of our classrooms, a campus life that builds leadership, incredible faculty achievements or the seemingly endless stories of alumni success, we think DePauw has some fun stories to tell.

101 E. Seminary St.
Greencastle, IN, 46135-0037
(765) 658-4416

News and Media