"Even in these challenging times, DePauw's graduating seniors, like those who came before them, are highly sought-after for full-time jobs, graduate school and internships," says Holbrook Hankinson '75, interim dean of experiential learning and executive director of the Hubbard Center for Student Engagement. "While some members of the Class of 2020 received job offers as early as fall, others continue with the Hubbard Center and other DePauw resources to land their first-destination experiences. Wherever they are on their journey, our seniors know that they can count on DePauw faculty, staff and alumni to support them. Because of their liberal arts background, leadership skills and resilience, members of DePauw's Class of 2020 are well positioned for success.  
Learn more about some of our graduates and their pathways toward becoming leaders the world needs.

Where They're Headed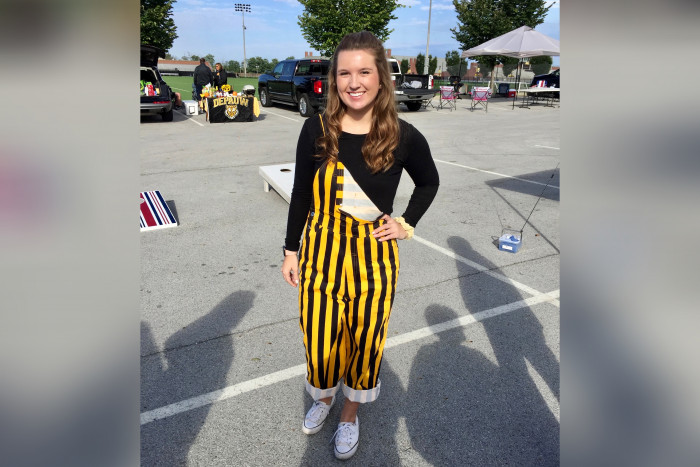 Elizabeth Grubbs
Major: Biochemistry; minor in Spanish
Hometown: Clayton, Ind.
Destination: Chemist at Elanco Animal Health
"I had no idea what being a scientist or a researcher even entailed before stepping onto campus at DePauw. I was fortunate enough to be a part of the Science Research Fellows program with Professor Dan Gurnon that allowed me to gain valuable experience in hands-on research, both at DePauw and off-campus. I spent several semesters and a summer in Professor Jeff Hansen's lab, and I was able to attend and present at the American Chemical Society National Conference and visit Eli Lilly and Company with my research, as well as have my work funded by Lilly.
It wasn't just the research experience that gave me a leg up when applying to internships, though. It was also the liberal arts classrooms at DePauw. Not only was I confident in my research abilities, but also that I could write, interview and present unlike peers from other schools due to the collaborative and conversational nature of the classrooms and the courses I took completely outside of my major.
I got an internship at Elanco Animal Health after connecting with alumni who work there. It was the dynamic combination of being a scientist with soft skills that landed me a job at Elanco post-graduation."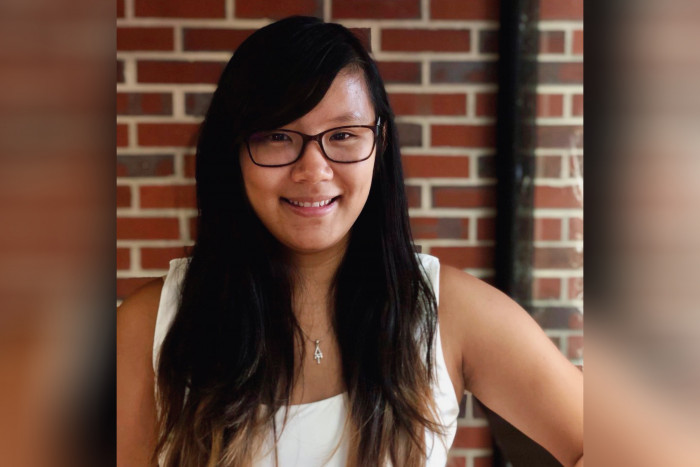 Phoebe Martinez
Majors: Computer Science and Psychology
Hometown: Chicago, Ill.
Destination: Pursuing a Ph.D. in informatics at Indiana University
"Throughout my past four years at DePauw, I have learned the importance of community and friendship. I was given the opportunity to pave my own path from gaining leadership skills to making lifelong friends. Everything I have learned and all my experiences were due to the continuous support from friends, family, and professors. Despite coming from a big city, DePauw became my second home, and one which I am sad to be leaving. However, I am proud to say I was able to leave my mark through the ever-growing La Fuerza Latina dance club."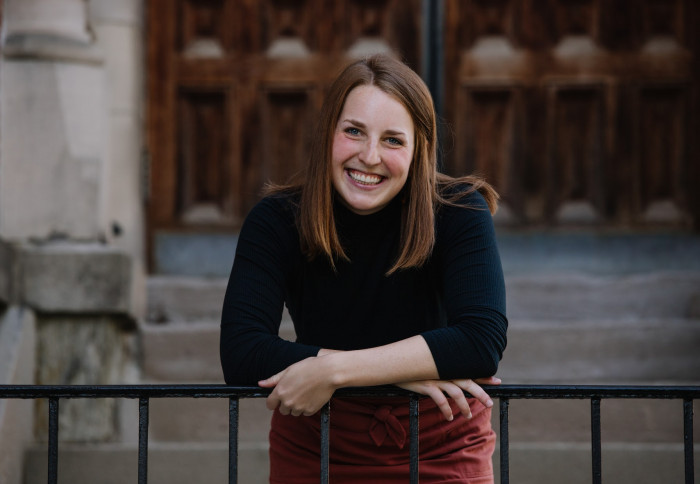 Melissa Browning
Major: English writing; minors in history and education studies
Hometown: Carmel, Ind.
Destination: English language arts teacher, Teach for America (Indianapolis)
"My DePauw classes that taught me to think critically, write purposefully and engage with others have prepared me for this position. DePauw constantly challenged me to step out of my comfort zone and approach issues from multiple perspectives, and for this reason I feel ready to confront inequity in schools as I start as a new teacher. Likewise, my Honor Scholar thesis was focused on curriculum design, specifically of secondary school standards and textbooks. I plan on applying what I learned from my research to my own use of instructional materials in class. 
DePauw provided me a variety of opportunities to gain teaching skills. Serving as a tutor and a teaching assistant provided me in-class experience with students and with English instruction. After working one-on-one with students for three years in these positions, I knew I wanted to pursue teaching as a lifelong career. There is nothing like seeing the lightbulb go off in a student's head when they make a breakthrough in their academics. I can't wait to witness this with my future students!"
Charlie Stewart-Bates
Major: Biology; minor in earth science
Hometown: Moreland Hills, Ohio
Destination: Studying aquatic veterinary medicine at The Ohio State University College of Veterinary Medicine
"My practicum experience through the Environmental Fellows program allowed me to live on remote Beaver Island in Lake Michigan. Through this experience, I was able to study fish communities in the Laurentian Great Lakes. This study on our aquatic neighbors prepared me to dive into aquatic veterinary medicine in the future."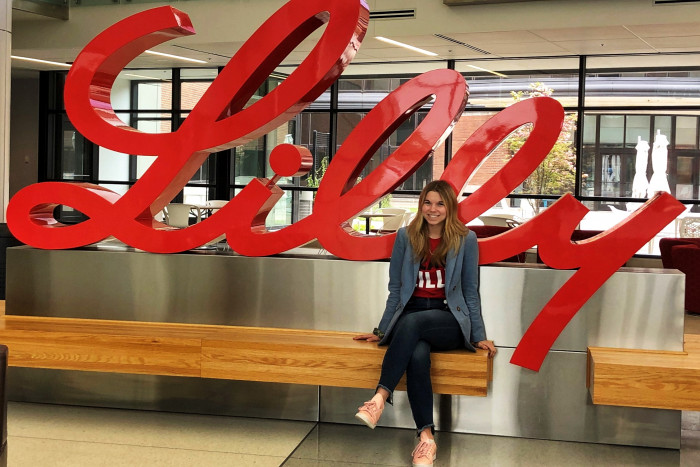 Sydney Wysong
Major: Economics
Hometown: Nappanee, Ind.
Destination: Financial analyst, Eli Lilly and Co. (Indianapolis)
"DePauw groomed me for this position over four years, whether I realized it was happening or not. The discussion-based classrooms and engaged professors gave me confidence in entering the business world and sharing my thoughts with a team of peers. I completed my semester-long Management Fellows internship at Eli Lilly during the spring of my junior year, and I came into Lilly ready to absorb every bit of information around me, including from all of the wonderful people I got to work with each and every day. DePauw developed my ability to communicate and forge relationships from the minute I stepped on campus."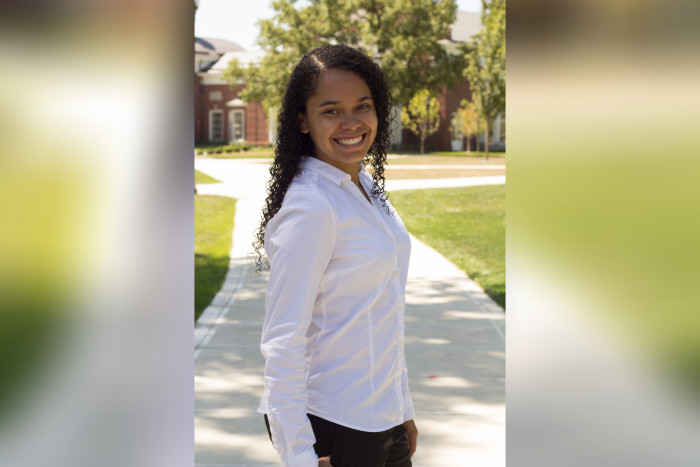 Angelina Mendez
Majors: Biology and Global Health
Hometown: Covina, Calif.
Destination: Math teacher, Teach for America (Memphis, Tenn.)
"The liberal arts model allowed me to explore my passion for teaching. Having the ability to work with local schools as part of my Bonner programming gave me training in what a classroom environment would be like and how to do basic lesson-planning, and my time with the Sustainability Leadership Program gave me a lot of experience working with children and allowed me to explore ways of providing high-quality education for students."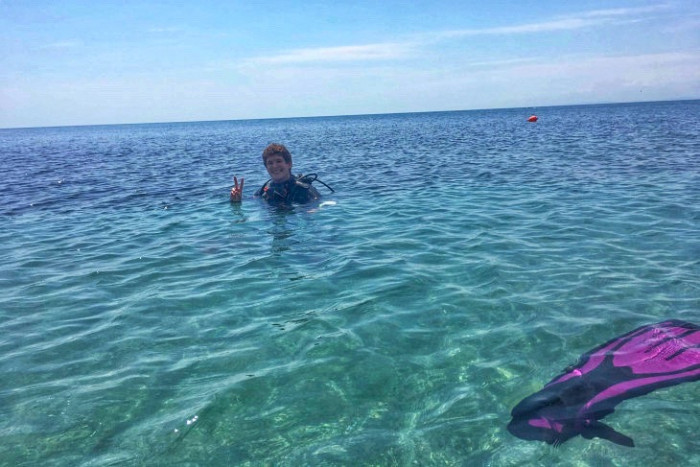 Caleb O'Brien 
Major: Classical civilization and Latin
Hometown: Seymour, Ind.
Destination: Studying maritime archaeology at East Carolina University (Greenville, N.C.)
"Without having the professors I had, I wouldn't have changed my focus from law school to maritime archaeology. Without getting field experience in Italy and Bulgaria, I wouldn't have been prepared to go to grad school. Without the Honor Scholar thesis, I wouldn't have been able to work with experimental technology, which allowed me not only to get into grad school but also get the best financial package available."
Hunt Reynolds
Majors: English writing and History
Hometown: West Baden Springs, Ind.
Destination: Law school at IU-McKinney
"DePauw's intense academics shaped me to become a more curious and aware individual. In history classes, Professor Whitehead sharpened my analytical skills by not only assigning difficult texts, but by challenging me to engage the text, and to read against the grain to discover what was lurking off the page.
My English writing classes with Professor Schwipps and Professor Graham in Asbury Hall taught me the importance of noticing the world around me—the people, the places, and every little detail in between. I learned the power storytelling bears and that the best story—the most meaningful story—is always the true one.
I will take my experiences from interning on Capitol Hill with Senator Young and pair them with the academic skills DePauw ingrained in me to law school. At the IU-McKinney Law School, and in my career afterwards, I will diligently work and strive to become what DePauw has always been: 'the splendor and light of the common good.'"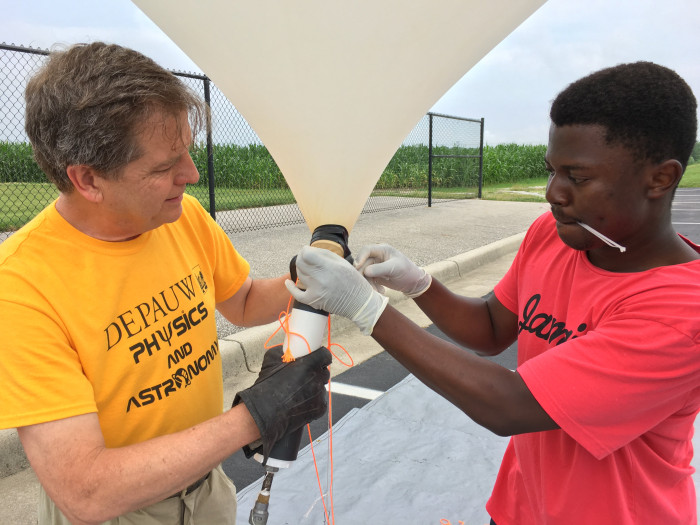 Kobby Van Dyck
Major: Cellular and molecular biology; minors in statistics and physics
Hometown: Accra, Ghana
Destination: Pursuing a Ph.D. in biophysics at the University of Notre Dame
"Programs like the Science Research Fellows and Growing Inclusive Excellence in STEM were instrumental in helping me attain my dreams of going to grad school. Through these programs, I was a was able to do research in 6 different labs on- and off-campus, attend conferences, and develop my science communication skills."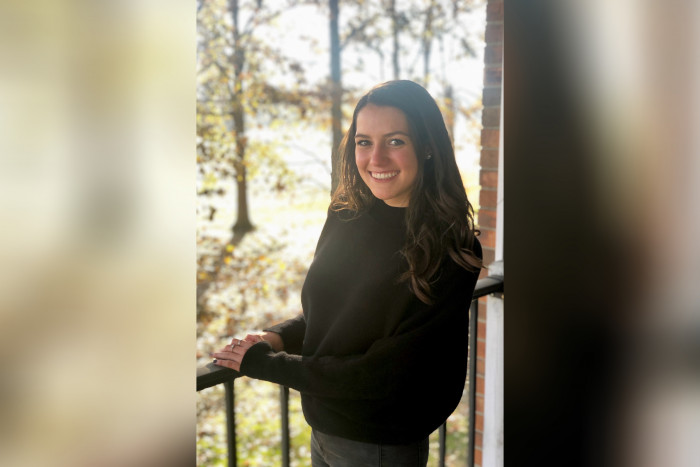 Abby Hess
Major: Economics; minor in sociology
Hometown: Clarendon Hills, Ill.
Destination: Healthcare consultant, West Monroe Partners (Chicago)
"I was fortunate to participate in four internships while at DePauw. Those included positions at Baldwin Financials Ltd., Morningstar Inc., Tortoise Capital Advisors LLC, and West Monroe Partners.
The people at DePauw always made it feel like my home away from home. I made lifelong friends and had constant support from faculty and staff. Sandy Smith, Sarah Miller and Koray Sayili are a few of the outstanding individuals at DePauw who helped me get to where I am today!"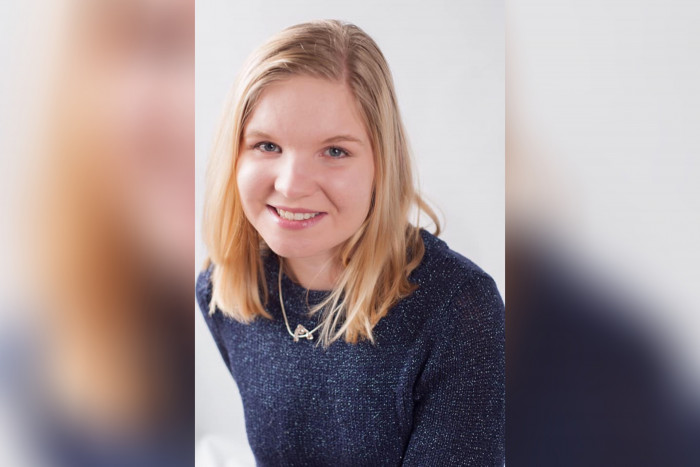 Anna Pearson
Major: Neuroscience; minors in psychology and biology
Hometown: Avon, Ind.
Destination: National Institute of Mental Health's Section on Behavioral Neuroscience (Bethesda, Md.)
"DePauw gave me the opportunity to participate in several different research opportunities. During my sophomore year, I began working with Susanne Biehle in the psychology and neuroscience department, and that summer I began working with Henning Schneider in the biology department. Individualized support from faculty members such as Professor Biehle and Professor Schneider has been critical to my success throughout college and in applying to jobs.
My research also allowed me to attend seven conferences around the United States and Canada to present my findings. The opportunity to travel this much for research is very unusual for undergraduates, but DePauw has made it accessible. 
In the fall of my junior year, Elgan Baker, a DePauw alum, came to campus to talk about his experience as a clinical psychologist. I spoke with him after his presentation, and he offered me the opportunity to conduct a short-term internship at his private practice. I spent time shadowing several different clinical psychologists at a local practice. Although it has been over a year since I interned with Dr. Baker, he still reaches out to me, offering assistance and advice in constructing my future career path. Tigers really care about Tigers!"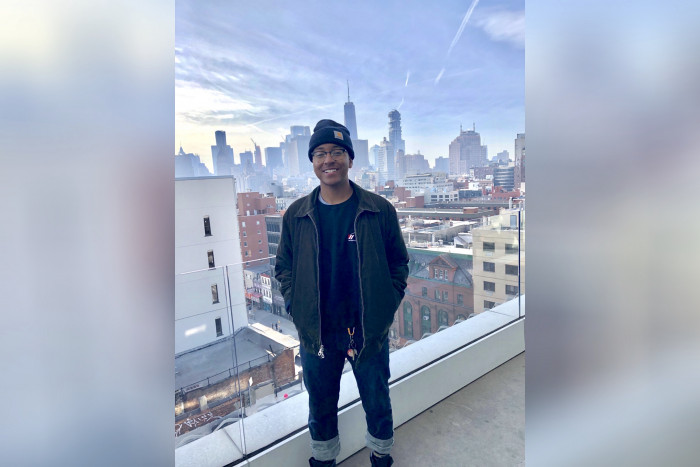 Byron Mason II
Major: English writing; minors in film studies
Hometown: Chicago, Ill.
Destination: News21 journalism fellowship, Walter Cronkite School of Journalism at Arizona State University
"DePauw has so many beautiful and intelligent people that are going to shape the future when they leave. I'm proud not only that I got the chance to know them and watch them grow, but also of the fact that I got to document it as a photographer. I have so many photos of the people that made the campus what it is and what it will be. There were a lot of moments that can't be replicated, and I'm glad I was there for them."
More 2020 Destinations
Seniors: Want to share your destination with the world? Fill out our Class of 2020 Destinations form!
NAME
DESTINATION
Bryttni Carpenter
Americorps: City Year
Buffalo
Grace Haigh
EdS in School Psychology
Indiana University
Jack Monovich
Finance Analyst
BMO Financial Group
James Rueff
Teacher
Tindley Summit Academy
Jordyn Fera
Doctorate in Occupational Therapy
Rush University
Luke Patty
Law school
University of Illinois
Mary Buckingham
Master's in Voice and Opera
Bienen School of Music, Northwestern University
Morgan Black
Med school
IU School of Medicine
Natalie Kehrt
Doctor of Physical Therapy
Indiana University
Nick Redwine
U.S. Army
Rachel Moore
Project Lifesaver
Wayne Township
Román Magallanes
Content Manager
Guerrero Media
Sabrina Krause
Integrated Biomedical Sciences Program
University of Kentucky
Scott Mohr
U.S. Army
Will Harris
Leadership Development
Patrick Industries
Karly Gruett
Doctor of Optometry
Illinois College of Optometry
Maxwell Cron
MS in Healthcare Management
Indiana University
Conner Mullin
Inside Sales Rep
McGuire Sponsel
Benjamin Ferriby
Master of Music
Yale School of Music 
Drew Harris
Pharmacy school
Butler College of Pharmacy
Caitlyn Murray
Dental School
University of Buffalo
Samuel Daughenbaugh
MS in Environmental Science
Loyola University Chicago
Kira Singer
Marketing Coordinator
Oak Street Funding
Olivia Neff
PhD in Sociology
Purdue University
Clare Lansden
Corporate Writer
Stiffel
Whether we are writing about the intellectual challenge of our classrooms, a campus life that builds leadership, incredible faculty achievements or the seemingly endless stories of alumni success, we think DePauw has some fun stories to tell.

101 E. Seminary St.
Greencastle, IN, 46135-0037
(765) 658-4416

News and Media