It wasn't easy for 14-year-old Nokutenda "Noku" Mukukula to decide to travel almost halfway around the world to attend high school near San Francisco.
But "coming here was always my dream growing up," said the Zimbabwe native, and "the drive and the excitement of wanting to be here" firmed her resolve. Now, at 18, she is embarking on still another adventure, moving in August to Greencastle, Indiana, some 8,400 miles from home, where – sight unseen – she will become a member of DePauw University's Class of 2026.
"It definitely was super hard on me, mentally and everything, just being away from home," she said. "I was definitely super homesick. It was a lot to process. But I'm glad I did it because it allowed me to grow more as a person. I became more independent; I could make my own decisions. I feel like it brought a little bit of toughness, because I was always a mom-and-daddy's little girl."
Her high school counselor suggested several colleges that might appeal to Mukukula, and she chose DePauw for its size. "I'm one of those people who is super overwhelmed by big crowds," she said. "So I wanted a school that I could potentially grow in, but still find myself in the school and not be really overwhelmed."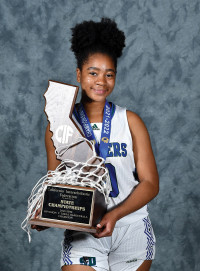 She also saw "a lot of opportunities" at DePauw. One may be to play basketball, though Mukukula is unsure if she wants to make the "huge commitment" needed to play college ball. She played center for San Domenico School and was captain her senior year, when her team won the Division 5 California state championship and she was named to the D5 all-league first team and all-state second team.
Mike Fulton, director of basketball operations and the girls' coach at San Domenico, said Mukukula has become a "mature, confident woman" with "the work ethic of a champion. … A great word to describe her now is 'fearless.'"
Mukukula, who is considering a major in psychology, allowed that her decisions to attend high school and college so far from home may mean she is adventurous. "I like trying new things," she said. "Sometimes they don't work out. But I think it's just fun to be open to new ideas and things."
So far, things have worked out. "I definitely built resilience by coming here when I was 14," she said. "It was something that changed my life completely, because now I am the best version that I could possibly wish for."
DePauw Magazine
Summer 2022
A GATHERING PLACE FOR STORYTELLING ABOUT DEPAUW UNIVERSITY
Whether we are writing about the intellectual challenge of our classrooms, a campus life that builds leadership, incredible faculty achievements or the seemingly endless stories of alumni success, we think DePauw has some fun stories to tell.

101 E. Seminary St.
Greencastle, IN, 46135-0037
(765) 658-4416

News and Media