A hundred years since he graduated from DePauw University as class valedictorian, 84 years since his alma mater denied him a tenure-track faculty position and almost 40 years since it named its science and math building after him, Percy L. Julian '20 is being recognized at DePauw for his considerable accomplishments as a chemist.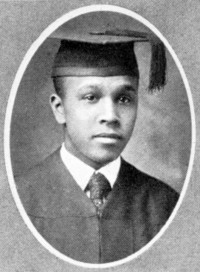 Julian, who was born in 1899 and died in 1975, was an African American who came of age at DePauw and worked much of his professional life during the Jim Crow era. He faced repeated affronts and obstacles, but his brilliance and tenacity drove him to overcome them time and again over a career that produced numerous scientific discoveries, more than 100 patents and significant financial rewards.
With next May's centennial of Julian's graduation from DePauw approaching, four students, working last summer on a research project, created an interactive website that honors Julian. It is set to be unveiled Friday during the Tucker E. Wilson Panel, scheduled for 4-6 p.m. in the atrium of the Julian Science and Mathematics Center. The panel discussion, sponsored by the Association of African-American Students, is one of four offered during the Coming Together Weekend, which is held annually to empower diverse alumni and students through relationship-building, mentoring and social opportunities.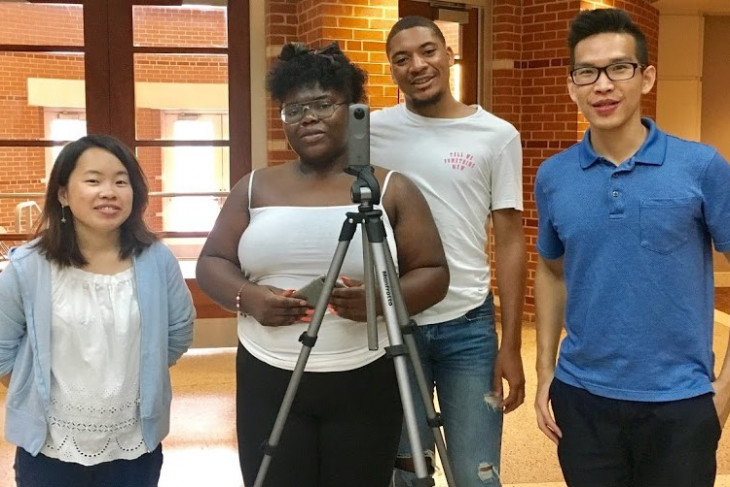 Student researchers (l to r): Kumiko Nakajima '21, Marsha McCray '22, Kysung Tisdale '22 and Son Nguyen '20
Kysung Tisdale '22, a communications and economics double major who worked on the project, said Julian's lack of acclaim "has a lot to do with how the social climate was at the time. … There was a lot of injustice. So therefore they didn't acknowledge him as much as he should have been."
Son Nguyen '20, a mathematics major and international student from Vietnam, said, "It's very inspirational to me to learn more about his story. I think he didn't get his due as a scientist. He was denied a professorship at DePauw. … From knowing his story, I think we can change our mindset."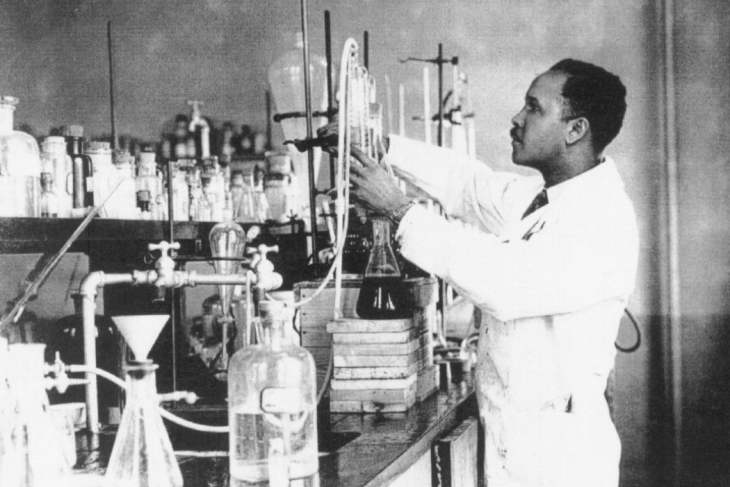 Percy Julian in the Minshall Laboratory
Indeed, Julian was the third African American in the United States to hold a Ph.D. in chemistry – but he had to go to Austria to obtain it. (He previously earned a master's degree at Harvard University in 1923, but it denied him a faculty position.) Doctorate in hand, he returned to DePauw in 1932 to become a research fellow, where he and a colleague created synthetic physostigmine to treat glaucoma. But DePauw's Board of Trustees denied him a tenure-track position, and he departed in 1936 for a corporate career that ultimately proved hugely successful.
The website features Julian's biography; a gallery of photographs of him and his family, including four siblings who also graduated from DePauw and a fifth to whom the university awarded an honorary bachelor's degree; a timeline of milestones in Julian's life, interspersed with significant social and political events; games; and an interactive tour of the Julian center, which houses a re-creation of his study space, a bronze bust of Julian and a plaque from the American Chemical Society designating DePauw a National Historic Chemical Landmark because of Julian's work.
"The purpose is to finally honor Percy Julian and have a common central resource available for people – and not only students at DePauw, but K-12 students," said Jacqueline Roberts, the Howard C. and Mary Ellen Black professor and chair of the Chemistry and Biochemistry Department. "We're trying to design the website so it's pretty interactive with kids."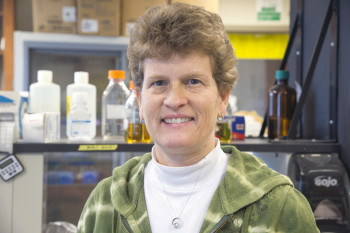 Roberts, working with the Tenzer Center for Technology and the Justin and Darrianne Christian Center for Diversity and Inclusion, secured a grant from the Joseph and Carol Danks Centers Council Fund for Multidisciplinary Projects that paid for the students' stipends. Danks grants fund projects focused on a contemporary societal problem and approached from a multidisciplinary perspective.
Marsha McCray '22, a biochemistry major who wants to study biomedical engineering in graduate school and eventually attend medical school, said the website "is a small milestone in a long journey of trying to recognize not only just Percy Julian as we're coming up on his centennial of his graduation from DePauw, but other black people, other people of color in general, who have graduated not only in STEM but all fields who are not recognized, who are often forgotten."