For three weeks in January, DePauw students break from the traditional semester schedule to focus on a single interest—on campus or around the world. Join us here every day for 18 days as we check in on student adventures. 
This is Winter Term.
Day 18 - DePauw Theatre Production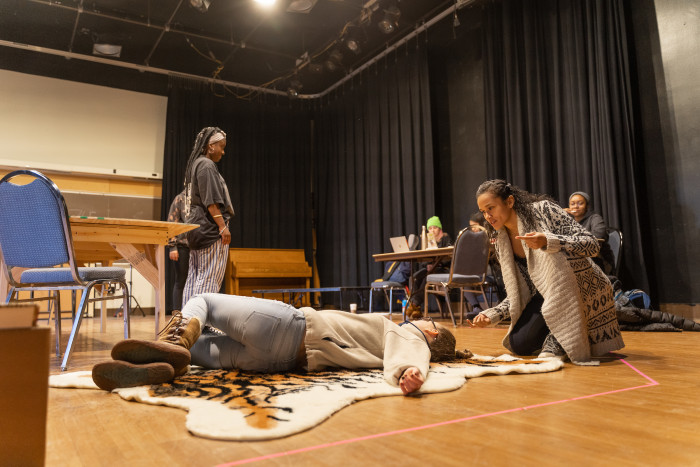 Students in the winter-term class DePauw Theatre Production are collaborating to produce a full-length play as part of DePauw Theatre's mainstage season.
Students get hands-on experience in all aspects of production, including performing, stage management, assistant directing, props, costumes, publicity, dramaturgy and sound design.
"Brainpeople," by José Rivera, is being directed by DePauw 2014 alum and guest artist Felicia Santiago. After receiving a degree in psychology from DePauw, Santiago earned a master's degree in international theatre education from New York University and received a professional training certificate from the Atlantic Acting School.
"José Rivera is one of the most widely acclaimed American playwrights," says Tim Good, professor of communication and theatre. "We offer his play 'Brainpeople' as part of a sustained effort to put on the stage of DePauw Theatre a more complete representation of our community, from our production of August Wilson's 'Joe Turner's Come and Gone' to last year's 'Plays by Latina and African American Women.'"
Senior Noelle Johnson, the production's stage manager, describes the play's setting as post-apocalyptic Los Angeles. The story, she says, is about "a rich woman (who) invites two guests to her house for dinner, and she has a little bit of a surprise in store for them."
Performances are Jan. 30-Feb. 2 in Moore Theatre, Green Center for the Performing Arts.
DAY 17 - SONGWRITING BOOTCAMP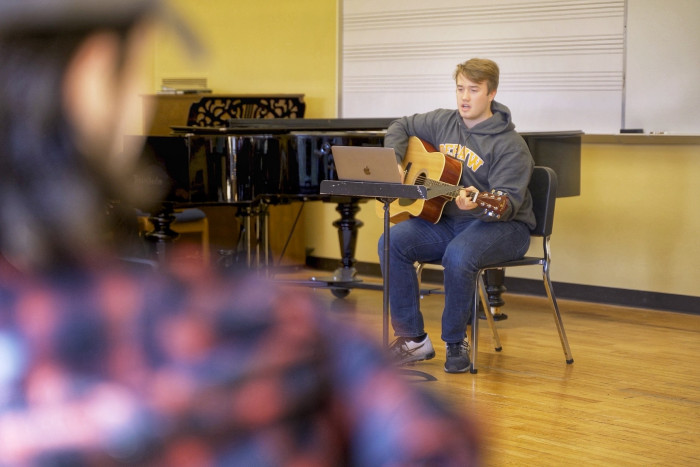 Cat Saldaña '20 says she has "always been passionate about music and singing," and she has the documents to prove it.
Documents, that is, in the form of a notebook that dates to when she was 12 and used to write songs.
So she was eager to take a winter-term class called "Songwriting Bootcamp," taught by Ron Dye, a professor of English and communication and theatre.
Dye, who also coordinates DePauw's Performing Arts Series, says that the class, which he has taught at least six times, always fills up with students from a variety of disciplines who don't necessarily have music skills.
Most students want to write rap or modern pop – the stuff you hear on the radio, Dye says. Some are interested in country. A small percentage of students wants to write musicals and an even smaller number wants to write classical music. "There's always a fair percentage of students – maybe 30% or something – who are very adventurous in their musical taste," he says.
Students spend class time working on music and lyrics, collaborating with one another and listening to guest speakers. They also participate in "show and tell," an exercise in which students bring in a recording of a song they think is worthwhile and the class discusses its subject matter, lyrical content and musical structure.
Dye requires each student, by the course's end, to write and record demo compact discs of one to three songs, both the music and the lyrics.
Saldaña, a Spanish and environmental geosciences double major, likely will have no trouble fulfilling that requirement; she is working on her fourth song.
"Taking this class," she says, "made me realize that songwriting is a whole process and it takes time, but if you're diligent enough, you could easily knock out a song in a day."
Day 16 - Empty Bowls: Pottery That Confronts Local Hunger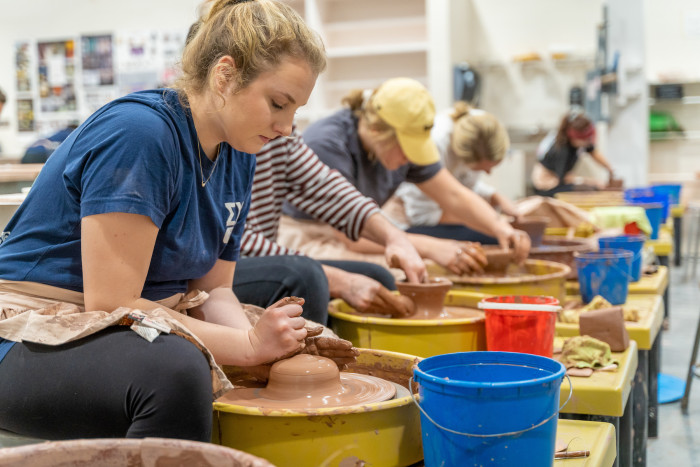 In this community-based art course, students host an Empty Bowls fundraising event to support the food pantry at New Life Baptist Church. Students create and donate handmade ceramic bowls to be used at a community meal.
The event itself is part of the Empty Bowls movement, a global grassroots movement led by artists and craftsmen to help those experiencing food insecurity. The theory behind the movement is that it gives artists the opportunity to use their work to make a positive impact on their community and the world. The winter-term course connects DePauw students with the greater Putnam County community.
While students aren't required to have previous experience in art or community engagement, those who participate are encouraged to have an interest in social justice and collaboration.
Artmaking is complemented by community-based learning, reading and discussion about food access in Putnam County and volunteering at the food pantry, which provides food for 40 to 60 members of the Greencastle community each week.
DAY 15 - LEADERSHIP FOR A SOCIALLY JUST SOCIETY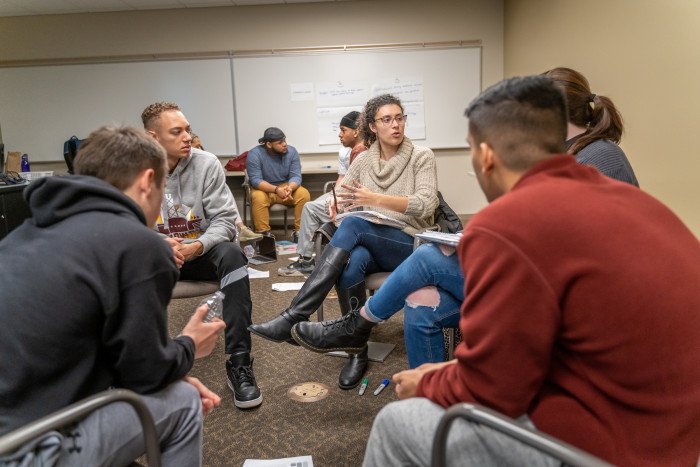 So much for not talking about religion and politics in polite company.
Hot-button issues – abortion and the Confederate flag, for example – are regular topics in this winter-term course, which is designed so students may reflect on their own biases and their own identities as they are related to power, privilege and oppression.
And thanks to "community agreements" established on the first day of the class, discussions about race, class, gender, sexual orientation, religion and ability are polite, even when there is disagreement, says instructor Neal McKinney, associate director of off-campus programs at DePauw's Hubbard Center for Student Engagement.
Joanna Berry '22 says she appreciates how those guidelines have facilitated discussions. "What encourages me to come into class every day is that honesty and vulnerability and the establishment of trust that we've all established with each other," she says. "It allows me to be courageous in what I say and be able to communicate openly with my peers."
Miriam Senousy '20 agrees. "Not only am I becoming more comfortable talking about some of these topics but I know that everyone around me is benefitting from the conversations as well."
McKinney says that many students who take the course "have an interest in being leaders and wanting to do right in this era when there is a lot of division and trying to advance social justice."
Indeed, Connor Griffin '20 says he took the class specifically to develop leadership skills that he will need in his career, possibly in marketing.
"Leaving school and getting into the real world," he says, "I have to be able to have multiple conversations and, not only that, be able to effectively have conversations with a lot of different groups of people. … I figured this class would be a good segue into those skills."
Day 14 - Greek Heritage in Context and Conflict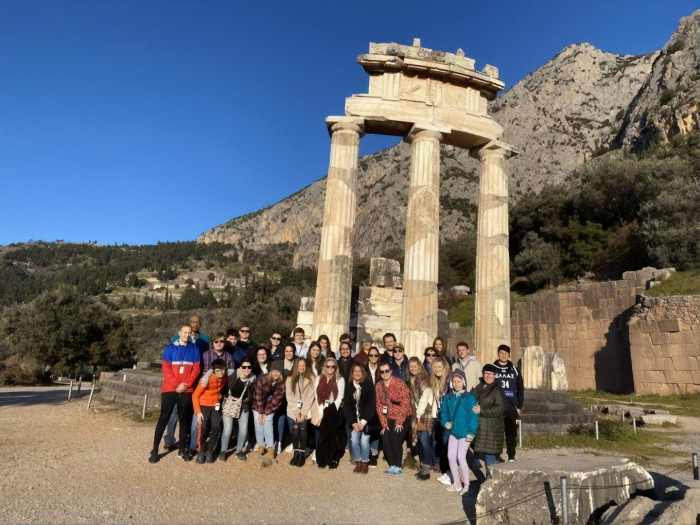 Historically, scholars and archaeologists have focused on Greece's classical period, and modern Greek identity has been constructed around its connection to that past. Other facets of Greek history—its Christian tradition in the Byzantine Church, its Muslim past as a subject of the Ottoman Empire, and its large Jewish population that thrived until the eve of World War II—have been pushed to the side.
This winter term course travels to Greece to explore that gap.
"As a classical archaeologist, I am grateful for the opportunity to take my students to Greece so that they can experience the thrill of exploring sites, museums, and churches first hand," says classical studies professor and trip leader Rebecca Schindler. "As we visit Athens, Corinth, Delphi, Thessaloniki, and many places in between, I ask students to consider what they are seeing, what is missing and who is responsible for that narrative."
"I've been obsessed with Greece ever since I first learned about mythology," Katherine Vieck '21 says. "When Professor Schindler approached me about visiting Greece, it was like a childhood dream come true. It's so different to see these sites in real life rather than in PowerPoint slides. It's giving me a fresh perspective on what I thought I understood well."
Day 13 - Science, Design and Construction of the Electric Guitar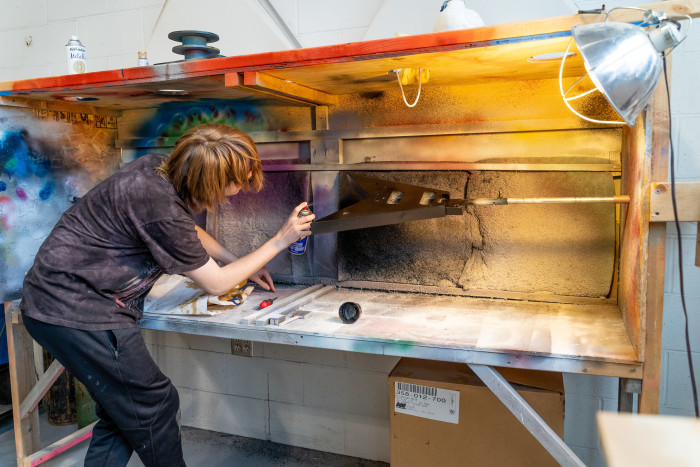 Invented in 1931, the electric guitar continues to be a key element of rock and jazz music. Guitar designs range from simple single pickup models to more complex, double-neck varieties employing several pickups and variety of electronics.
In this course, students design and fabricate an electric guitar. They begin with wood that is cut and finished to form the body with an unfinished neck, loose hardware and electronic components.
It's taught by biochemistry professors Dan Gurnon and Rich Martoglio and is part of the National Science Foundation's STEM Guitar Project. In building an electric guitar from the ground up, students are learning and applying science, technology, engineering and math. They're also gaining experience in woodworking, machining and soldering.
"What I hope that they take away from it," Martolgio says, "is not only a playable piece of art but also skills that last a lifetime."
Students not only learn about the detailed work of woodworking, but also about setting goals, meeting those goals and dealing with challenges and some failure.
The mornings are spent talking about the history of guitars, how they're built and the science behind. "But the rest of the time, it's hands-on work," Gurnon says. "I hope what students get out of the experience is not only a guitar and an appreciation for how a guitar works, but also pride in the fact that they've built something using tools that they have used before."
First-year student Wesley Hershberger says, "I've played guitar for five years, and I'm totally into woodworking and hobby electronics, so it's a really good match for my skills and interests."
Day 12 - LEADING CHANGE IN CAIRO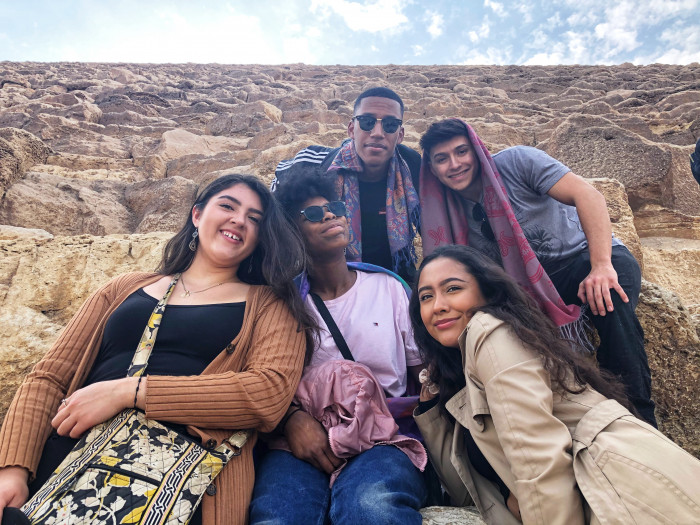 How do we solve the world's most pressing problems? And what is possible when we leverage creativity?
Led by Mark Rabideau, director of the 21st-Century Musician Initiative at DePauw, this winter term challenges students to develop empathy for people whose lives are very different than their own, define problems, test solutions, and invent the world they hope to live in.
Student teams start in the field in Cairo, Egypt, where they listen to people to uncover real human need. They then develop a range of possible solutions and rough prototypes to test with the affected people. This listening-prototyping cycle brings teams closer to working, compassionate solutions.
"I really appreciate this trip because it allows me to understand the need for real collaboration and passion when working to create change," Jazmine Kerr '21 says. "I'm here with three other Posse Scholars, which is a leadership scholarship, and this program is actively helping us to develop our leadership and collaboration skills."
DAY 11 - THE ART OF JAPANESE PRESENTATIONS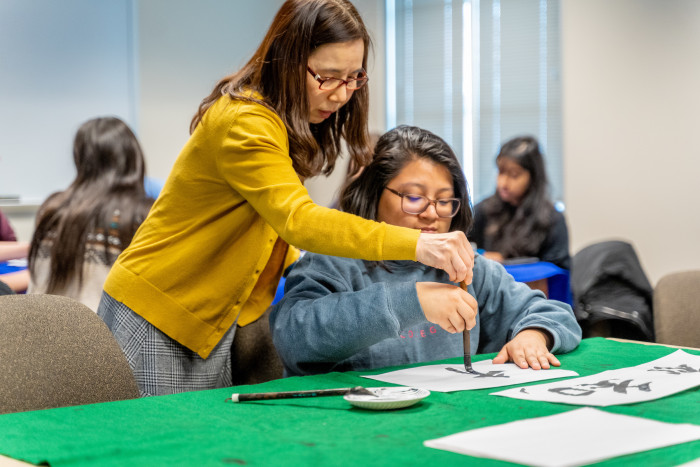 Japanese society values communicating through artful presentations: tea ceremonies, bento boxes, visual arts and gardens. So what better way to learn about Japanese culture than sharing in many of these traditions?
Students in Hiroko Chiba's course this winter term are given a broad understanding of Japanese culture and appreciation of its complexity through ceremonies and arrangement. And it's all hands on.
"The best part about this class has been the interactive activities," said Reid Cumings, '20. "We met Hiroko's robotic dog, wrapped presents and learned the language while still having fun."
By the end of the 18 days, students in the course will have tried their hand at calligraphy, made sweets and bento boxes and learned how to use Japanese traditional wrapping cloth. A tea master will have taught them the art of a tea ceremony.
DAY 10 - Choir tours central Europe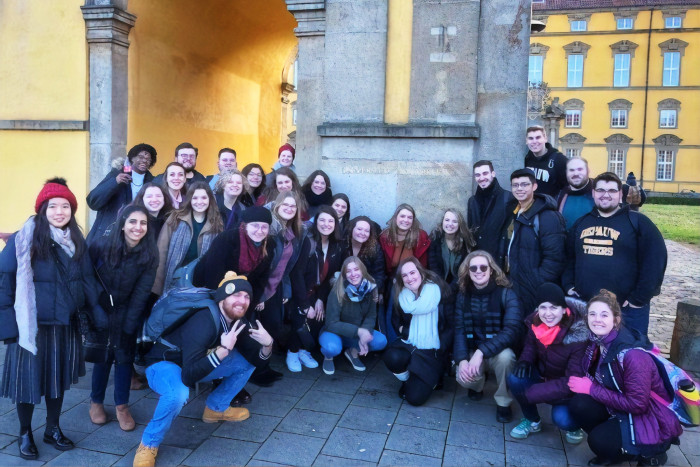 This January, members of the DePauw University Choir are in Central Europe for a combination tour of performances and immersive learning.
Traveling with choral director Eric Schmidt and vocal coach Amanda Hopson, the choir is sharing its talent with audiences in the German cities of Osnabrück, Hamburg and Berlin where musical tradition runs deep.
"So much of the music we study was designed to be sung in the exact spaces that we are performing in on this trip," Anna Louise Martin '20 says. "It's so rewarding to bring art to life in these spaces, all while having the opportunity to learn about German and Dutch culture."
Between performances, the group is also visiting historical and cultural sites in the Netherlands and Germany.
"Besides our own performances, we are going to attend two concerts in world-class houses—the Elbphilharmonie in Hamburg and the Staatsoper Unter den Linden in Berlin," Schmidt says.
"In addition to that, we are going to explore the Anne Frank House in Amsterdam, dive into the history of the Thirty Years' War, climb into the catacombs of Berlin and visit the memorial of the former concentration camp Sachsenhausen."
Day 9 - Investigating Non-coalescence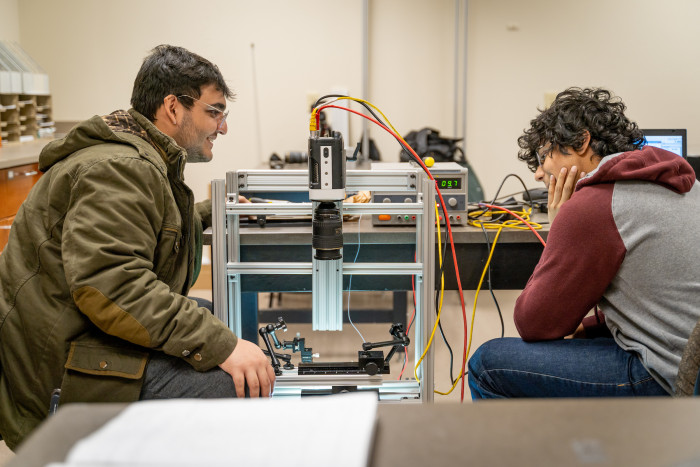 While it isn't a course, professor Jacob Hale's physics lab shows just how flexible DePauw's winter term can be.
This January, Taha Babar '23 and Apurv Patwardhan '23 have been collaborating with Hale on high-speed fluid dynamics research. The first-year students are helping to investigate a largely unnoticed phenomenon in liquids called non-coalescence, which can occur when a small droplet meets a larger pool.
This interaction happens so quickly that it can be difficult to see with the naked eye, so Hale uses high-speed cameras to capture these moments in incredible detail. Slowed down, you can watch as a droplet of water literally rolls across the surface of a larger body before it is absorbed in small increments.
"The way water droplets behave is not something that you would expect, and that's what really intrigues me," Hale says. "The world is full of these non-intuitive ideas, but we can explain them using the fundamental principles of physics."
The study of non-coalescence is important to surface coatings like those found on phone screens and camera lenses because the coatings must adhere to the surface evenly. Engineers also consider coalescence in attempts to reduce the friction on airplanes as they move through clouds and collide with water droplets in the air.
Babar and Patwardhan have been learning nearly every aspect of working in the lab, from operating the high-speed camera system, to using code to sort the large amount of data they collect.
"Working on research with students gives them an opportunity to get experience outside the classroom," Hale says. "It gives them an opportunity to develop creativity and detail-oriented focus in their work."
DAY 8 - PRODUCING THE SHORT FILM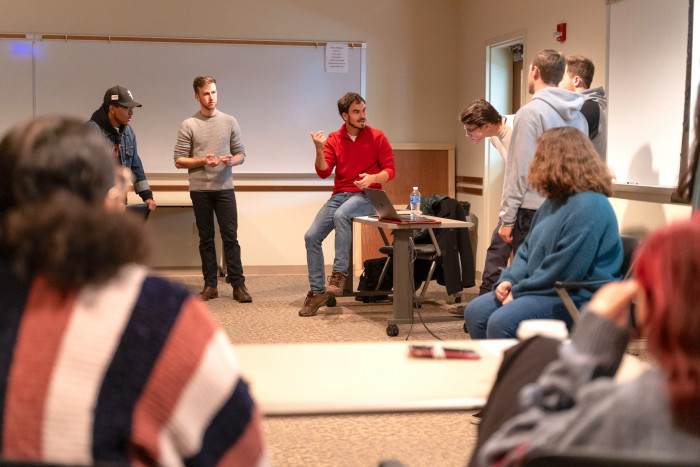 This course for aspiring filmmakers is taught by Alex Thompson, a 2012 DePauw graduate. Thompson is a film producer and director, and is having fun sharing his expertise of short narrative film production with students.
"It's an intense course," Thompson says, "because not only are most students starting from near zero with their production experience, they're working with limited resources in doing so."
Students pitch and workshop story ideas, learn proper screenplay format and write original screenplays of five to seven minutes. Three screenplays are be chosen to produce, and cast and crew is be assigned, including director, gaffer, production designer, cinematographer, camera assistant, script supervisor, editing assistant, first assistant director and actors. Students also are learning basic functions of the editing software Adobe Premiere Pro, sound design and score.
Sage Sherfick '22 is serving as assistant director and assistant producer for her group's short film, "Never Used." During a class visit by Jarrett Morgan, a friend of Thompson who has worked as a camera operator on the FX series "Atlanta," Sherfick said she was learning how to be more efficient in the filmmaking process.
"We're basically trying to turn 12 shots into 4," Sherfick says. "We have a budget in not just in terms of money, but we also have limited shooting and screen time. So, it's very helpful to know how to shoot our scenes more effectively."
Day 7 - Geology of New Zealand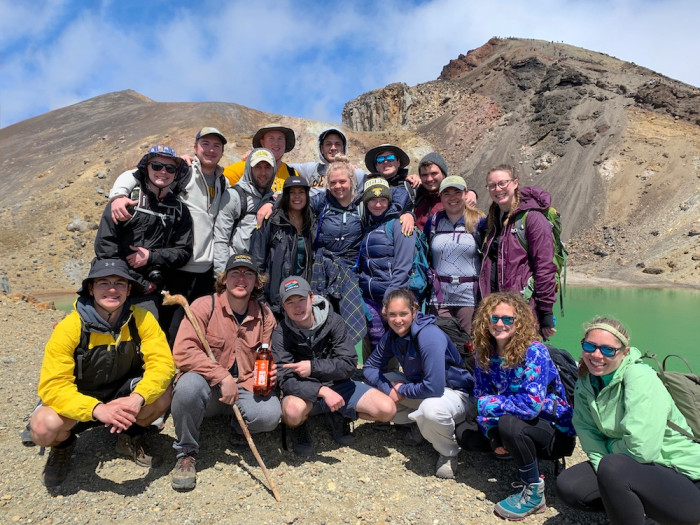 New Zealand is home to one of the broadest collections of geological features on the planet, densely packed in an area the size of Colorado. For budding geologists who want to see their field in action—without having to drive across an entire continent—this Winter Term course is the place to be.
"It's a small country, but in some ways it's also a huge country," geosciences professor Tim Cope says. "There is so much topography there that if you were to flatten New Zealand out, it would be a whole lot bigger than it looks on a map."
Beneath New Zealand's North Island, the Indo-Australian tectonic plate is forcing the Pacific plate beneath it, releasing molten rock that forms a chain of volcanoes on the surface above. On the South Island, the Pacific and Indo-Australian plates collide head-on, pushing the Southern Alps nearly four kilometers high at a geologic pace of 1.1 centimeters per year.
"Students get so excited by what they see here," geosciences professor Jim Mills says. "It puts all the learning they do in the classroom into a real-world perspective that simply cannot be conveyed any other way."
"You can't learn science without a laboratory," Mills says. "Chemists have chemistry labs; we have the planet."
DAY 6 - ATHLETICS ADMINISTRATION AND SPORTS MANAGEMENT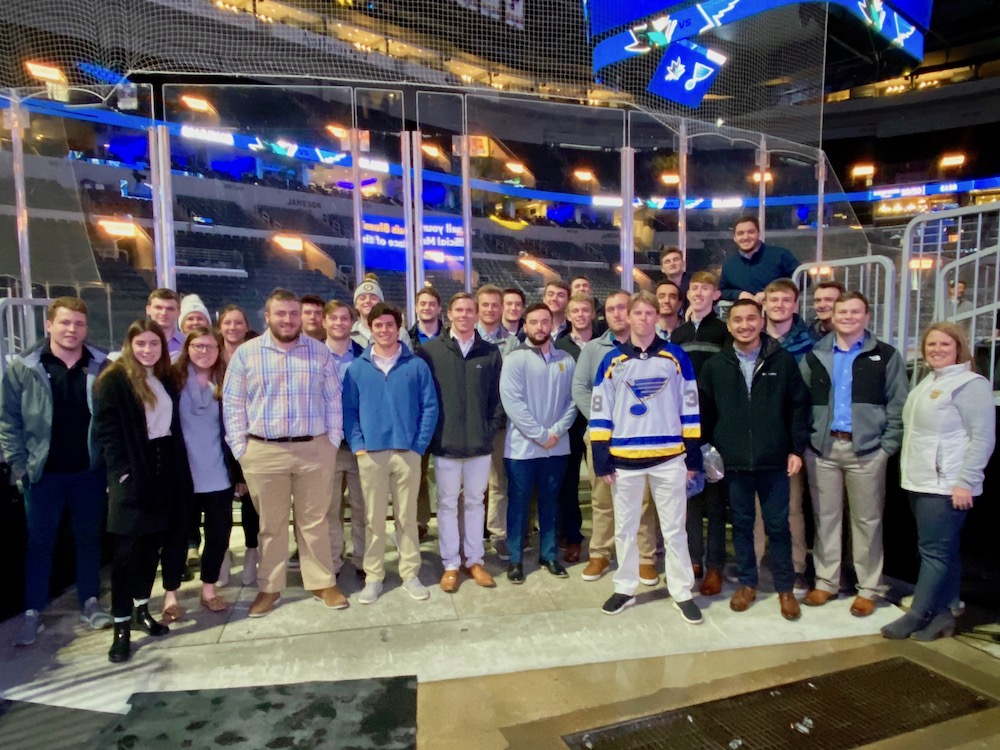 This course offers a firsthand look at the business of collegiate and professional sports. Not just about the flashy and fun fan experience, the class gives students a basic understanding of consumer behavior, segmentation, strategic management, budgeting, facility management, risk management and ethics in the sport setting. The RISE Foundation, a nonprofit that seeks to eliminate racial discrimination and champion social justice in sports, will visit to discuss sport as a platform for race, diversity and inclusion, and students are going on a series of trips off-campus as well.
"Something that I hope to come out of this course is learning about what individuals in athletics administration do and what their daily life can be like," said Carlos Martinez '21, a peace and conflict studies and Spanish double major. The class, he said, also will help him determine if he wants to work in athletics administration and, if so, what classes he should take to pursue that path.
Martinez will be learning from alumni and visitors in the field as well as from Stevie Baker-Watson, DePauw's associate vice president for campus wellness and the Theodore Katula director of athletics and recreational sports. This is her fifth year leading the course.
On the second day of the course, students visited the Enterprise Center in downtown St. Louis to attend a game and learn about the St. Louis Blues hockey team, the 2019 Stanley Cup champions. DePauw has a friend in the Blues' organization – Eric Stisser, a 1994 DePauw graduate, who is vice president for corporate partnership and helped to facilitate the visit.
"The best part of the course so far was going to the hockey game," Martinez said. "One, because it was the first hockey game I have ever been to, but also because I very much enjoyed talking to the workers and learning about their experiences."
Day 5 - Beyond Berets and Boulangeries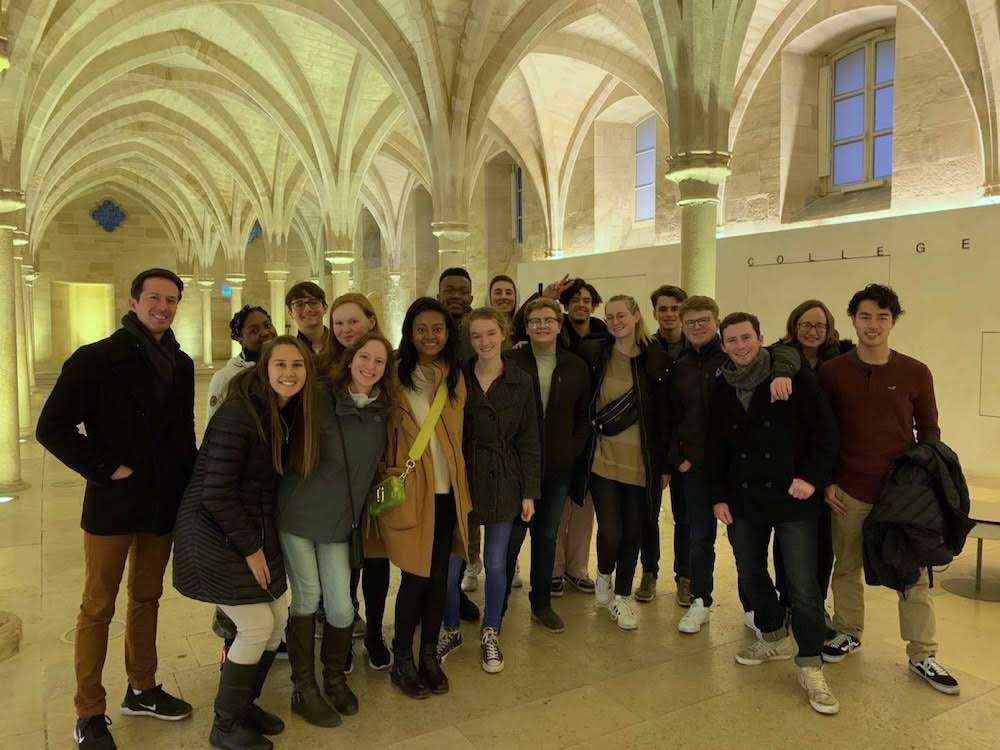 How does place shape identity? On trips to some of France's most iconic locations, students are exploring spaces and places that have shaped ideas of "Frenchness" throughout history.
Sites of national pride—from cultural hubs such as Paris, Bordeaux and Strasbourg to prehistoric painted caves and Renaissance castles—contribute to French cultural DNA.
But many of the same locations contain reminders of transatlantic slavery, religious persecution, colonialism, and other injustices that have no less defined who is—or isn't—French.
The group heard about a different kind of tension between space and identity during a visit to a French LGBTQ+ center, where a volunteer who runs a gay club described the difficulty of maintaining his club's identity.
"He wants to be inclusive and allow gay members to bring friends with them who are not gay," Anna Nagy '20 says, "but allowing that means that there are times when the majority of the crowd is actually straight, which causes a shift and puts the gay patrons back into the minority. I think it demonstrated how hard it can be for marginalized groups to hold on to their identities while trying to avoid being labeled as a group that excludes others."
Modern languages professors Carrie Klaus '93 and CJ Gomolka drew inspiration for their winter term course from Chinese-American geographer Yi-Fu Tuan's "Space and Place," which asks how we might think about human experiences in spatial terms.
DAY 4 - Happiness: How to Live with Purpose, Accomplishment and Joy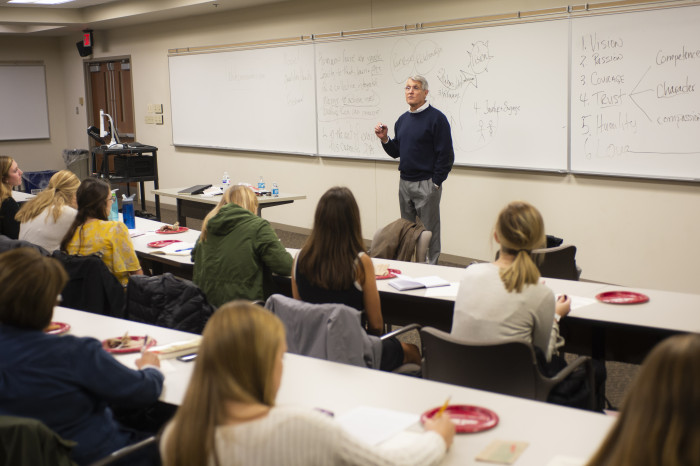 While the quest of finding true happiness in our lives isn't new or novel, it's at the forefront of discussions today associated with myriad mental health issues. Authentic happiness is about feeling good and doing good, and as such, it epitomizes mental health.
That's the message that students in this course are getting as they learn 13 skills that lead to peace with the past, confidence in the future and joy and accomplishment in the present – skills that lead to happiness.
Doug Smith '68 developed the winter-term course based on the science of positive psychology.
"Many courses seek to answer the question 'How can you be successful?''' Smith says. "This course considers that question, but also challenges students to answer a somewhat different, perhaps deeper, question: 'What does it mean to be a successful human being?'"
Required texts include "What Happy People Know" by Dan Baker, who has devoted his life to teaching people how to be happy, and "Man's Search for Meaning" by Viktor Frankl.
Students learn skills such as gratitude and flexibility, how to avoid traps and have greater resilience or grit in the face of setbacks in order to live with joy in the present and flourish.
DAY 3 - Marketing for businesses & nonprofits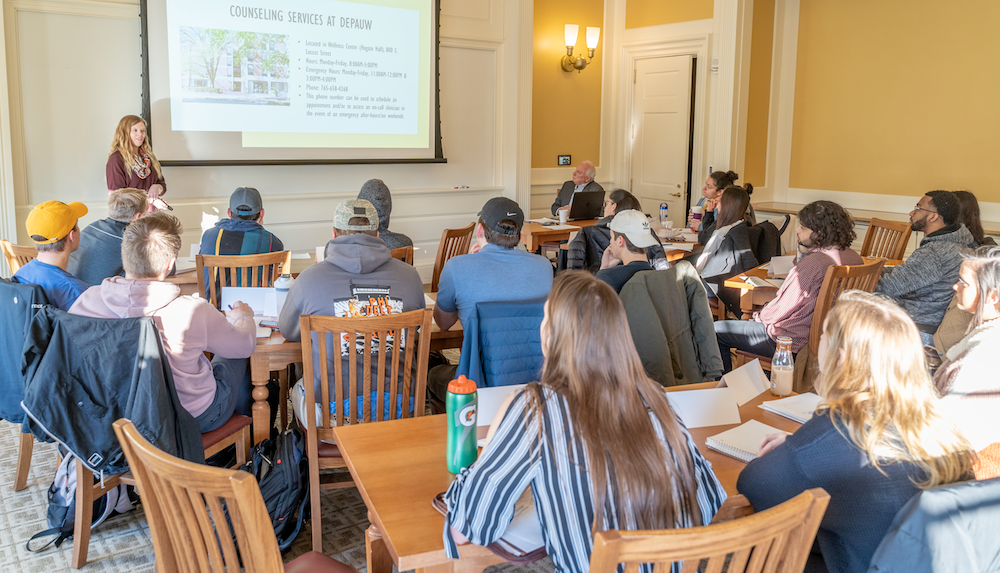 The bank, too humble to brag about itself and stumped by digital banking, needs some marketing pointers.
DePauw Health Services is looking for ways to inform students about the array of medical and mental health services it offers and the dangers of smoking and vaping.
The Putnam County Community Foundation just wants the public to know its exists and why.
Those entities are among six businesses and nonprofits that will benefit from marketing consultations with the students taking the Marketing for Businesses & Nonprofits winter-term class taught by Vin Hoey '65, a marketing professional with decades of experience in the private and nonprofit sectors.
"I've used Harvard Business School cases; I've written cases," Hoey said. "But the live cases with real clients really are more educational and rewarding for students."
Yesterday, during the class's second meeting, students heard from leaders of the six organizations about their work and their needs. At the end of the day, the students identified the organizations that most interested them, and Hoey assigned teams of four students to each of the organizations. The teams will develop marketing plans and help the organizations implement them.
Serena Rodriguez '20, a communications major, said she chose the class because "I'm really interested in marketing" and saw it as "a perfect way to really see if this is something I want to do with my career right before I graduate. If it's something I really like, I can apply for more jobs that are in the marketing field. And even if not, that's still educating me on what I like to do and what I don't." 
Some of the presentations surprised her in "what exactly they needed our help with or how I could match with their brand or their company. Actually, it was a lot more interesting to me than I expected."
Rodriguez will be working with Conspire: Contemporary Craft, a retail boutique on the square in Greencastle that specializes in products handmade by more than 130 local and regional artists.
Maria Flores '20, a gender studies major, likewise was surprised by what she heard. "I came into this wanting to work with a nonprofit," she said. "But (of) all the presentations, the bank really surprised me. I was like, 'I'm not going to work with a bank.' But then their presentation was so cute to me."
Flores will be working with Family Support Services of West Central Indiana, which seeks to prevent child and domestic abuse. She chose this class for her last winter term, she said, because "I like marketing and I've done some internships that revolve around marketing; they've just had different titles. And I work with some nonprofits in Putnam County already. So I was like, oh, this seems like it would help me."
DAY 2 - WILDERNESS WRITING: PADDLING FLORIDA'S EVERGLADES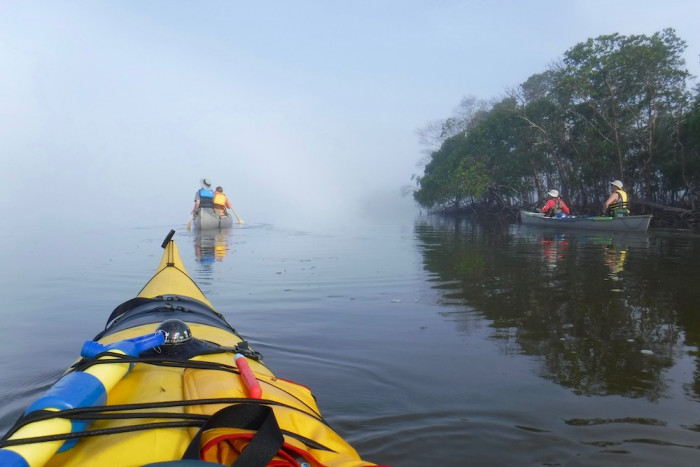 This physically rigorous course examines the human and natural history of Florida's Everglades through research and the challenges of paddling the length of the Wilderness Waterway.
Students paddle 10-12 miles a day, camp out in small clearings in the mangroves and sleep on chickees, 12-foot square platforms above the water.
"The physical challenge of paddling 120 miles, mostly against wind and tides, tests the students' physical and mental limits," says trip leader Steve Timm, communication and theatre professor.
"Coupled with spending two or three hours writing about those experiences each night, and discovering the complexity and fragility of the surrounding ecosystem – along with the human history of the Everglades – students are fully immersed in the tactile experience of place."
Fun fact:
In September students learned self and assisted rescues for kayak and canoe in biology professor Wade Hazel's pond, followed by a 12-mile paddle at Lake Monroe near Bloomington.
DAY 1 - Radio Management and Programming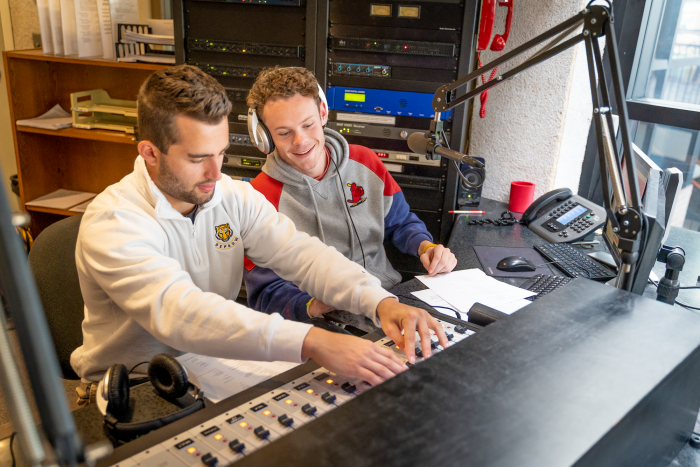 Students learn the ins and outs of this winter-term course by participating in the daily operations of WGRE-FM, the nation's first 10-watt college station.
No experience is necessary – the beauty of WGRE – allowing any student to host a radio show of their choice or be involved in the operations of the station.
"We don't just train DJs; we teach students about writing and reporting in the news and sports departments, station promotions, including social media, video and audio production necessary to keep the station going from week to week," says Chris Newton '85, assistant director of the Pulliam Center for Contemporary Media and operations coordinator for WGRE-FM.
By the end of this intensive winter term, students will keep the station on the air 24-hours a day. In addition, students will spend time in the community reporting, doing promotions, running a philanthropy and making sure WGRE is involved in the life of Greencastle, as well as DePauw.
The winter-term course has been offered for more than 30 years, and students thrive with the hands-on approach. "They won't get much sleep, but they will understand that radio involves more than just being a jukebox for the listener," says Newton.
In addition to class time, each student takes an on-air shift during the term.
WGRE is the largest student-run organization on campus. 160 student volunteers participate, providing live broadcasting 24/7 over the airways and through live streaming at wgre.org.