Brooke Bandy '19 is just weeks away from her graduation from DePauw and a job as a financial analyst in the private wealth management division at Goldman Sachs in Chicago.
"A primary part of my job will be portfolio construction and investment management, two skills I have learned through the DePauw Investment Group," she says.
The investment group, which provides its student members with the experience of making growth-oriented investment decisions, got a significant infusion of lifeblood in February when the DePauw University Board of Trustees voted to add $1 million to the group's $160,000 portfolio. The new allocation came after a restructuring of the group, the vitality of which has waxed and waned over its 56-year existence.
Bandy, the group's co-president this year, asked the board in December to make the investment to give students more expansive experience. She was following up on a request made the previous May by Mitchell DeShurko '18, the previous president, while he was still a student.
"To this day, I can remember the exact interview when I had trouble explaining what the investment group did or how my experience with it supported any development of financial acumen," says DeShurko, now a private banking analyst for J.P. Morgan. He had been an investment group member since his first year at DePauw and, while he and his peers managed a portfolio, the haphazard meeting schedule rendered the experience less than ideal.
That interview took place in January 2017 when DeShurko was a junior economics major looking for an internship. He remembers the interviewer asking him why the group didn't meet weekly and become more organized. The exchange got him wondering the same thing, and he recognized that DePauw students interviewing for internships or jobs would be at a disadvantage compared to students who were studying finance, with investment-oriented courses and on-point organizations, at other universities.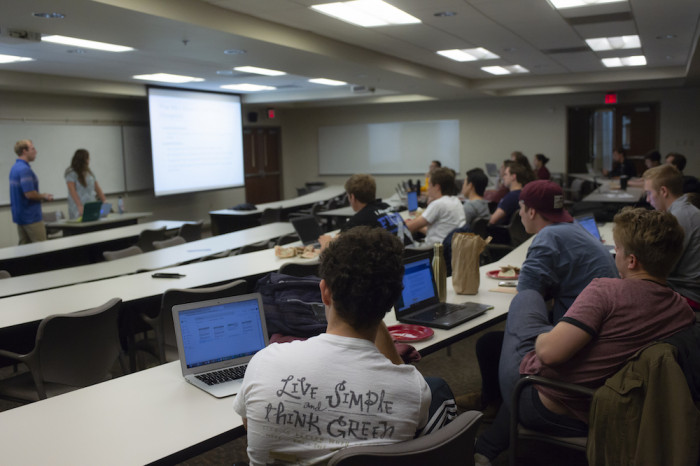 So DeShurko met with the group's adviser, Jeff Gropp, the Joseph Percival "Perk" Allen III university professor of economics and management, to identify ways to make the group more purposeful.
Financial institutions, DeShurko says, look for new hires with technical experience and DePauw graduates, while equipped with critical-thinking skills, wouldn't necessarily have technical skills. The larger portfolio, he told the board, would "better position DePauw as a whole when recruiting prospective students" with interest in finance and put current students in better position to secure internships and jobs.
DeShurko says his experience with the group, especially his role in the reorganization and inclusion of students from disciplines other than economics, "deepened my conviction that DePauw is uniquely positioned to produce talented professionals with both the technical skills required to be hired initially as well as the soft skills required to have a successful long-term career."
Bandy says the $1 million infusion broadens the group's investment opportunities and thus the experiences of the members. Her involvement, she says, has taught her leadership skills, such as assigning tasks and delegating responsibilities; communications; and what she calls "behind the scenes" logistical skills. She enjoys working with younger students "as I pass along the knowledge I have learned from past leaders of the group and my internship experiences."
While the group's primary goal is to "preserve capital while successfully implementing a growth-oriented investment philosophy," Gropp says, its second purpose is to "complement the university's strong liberal arts curriculum…
"The organization reinforces DePauw's emphasis on the importance of intellectual curiosity, critical thinking and communication skills while providing students with exposure to capital markets," he says, "thus serving as an educational platform and experiential learning opportunity."