DePauw Magazine
Spring 2019
A GATHERING PLACE FOR STORYTELLING ABOUT DEPAUW UNIVERSITY
Some students come to DePauw University with a strong social conscience, an abiding desire to do good and the self-possession it takes to make a difference.
Others thoughtfully apply lessons learned in the classroom and in cocurricular experiences; take inspiration from professors, alumni and fellow students; and open their eyes, minds and hearts as they develop into well-rounded leaders the world needs.
So which is it? Does DePauw attract socially conscious students or does it encourage, enable and empower young people to emerge as the people they want to be?
Both. These six DePauw alumni, whose life work is intended to benefit others, demonstrate how.
Guiding young men of color
"I come from a single parent who taught me at an early age that life is full of sacrifices and you can't really leave a mark without adding value to the community, to the world," says Kareem Edwards '07, who grew up in Queens, N.Y., and came to DePauw as a Posse scholar, a development program for young leaders. "There is nothing like helping someone develop and become better in terms of a self-gift."
Edwards, who earned an MBA from the University of Michigan, joined Google as an account executive last April after more than two years with Kraft Heinz, where he oversaw, from concept to shelf, the launch of Just Crack an Egg, an instant breakfast product. He is so committed to providing professional support to others, especially young African-American men, that he was listed by Crain's Chicago Business as one of "20 in Their 20s" who demonstrate, Crain's says, "confidence in their own abilities, commitment to social causes and civic issues, entrepreneurial spirit and a willingness to embrace change." His former employer, Bank of America Merrill Lynch, likewise recognized him for volunteerism.
While at DePauw, he spent winter terms in service in Brazil and Cameroon. As a volunteer through the Bonner Scholar program, he encouraged leadership and camaraderie while teaching step dancing to juveniles at the Plainfield Correctional Facility and coaching basketball at Greencastle Middle School.
He is the Chicago chapter president of Suit Dreams, a nonprofit founded by his fraternity brother, Jerrell Horton '09, to provide professional attire and personal mentoring to graduating high school seniors of color. He also is a co-founder with Jourdan Sutton '05, a DePauw alumnus and Michigan classmate, of Next Wave in Business, an organization that places black and Latinx students in internships with top companies. 
"I feel privileged because many, many people from my neighborhood would never have the opportunity to work at the Googles of the world, go to business school, attend DePauw and so forth," Edwards says. "So privilege and gratitude come to mind a lot to help the next generation of people."
Empowering the poor
Having spent her entire junior year of college in Chile, Lisa Kuhn '98 had to face the music: There was no way she could complete the requirements for her major in piano. So she switched to an applied music minor and, with a good bit of Spanish mastered, majored in romance languages and Latin American relations, an interdisciplinary major she created.
Not only was the switch practical, it enabled her to pursue a new dream. As a child growing up three miles outside tiny Waldron, Ind., population 804, she was always scouring the library to expand her world with stories about other cultures. And while in Chile, she enrolled at Catholic University to learn "how Latin Americans saw their political, economic and social history" rather than relying on North American interpretations.
So began an evolution during which Kuhn, who has a master's degree from Georgetown University, considered democratization and human rights work, then shifted to microfinance, "which fit my criteria for wanting to create systemic change and opportunities for people to reach their potential." More recently, she has sharpened her focus to advance women's business goals and demolish barriers to their economic and social empowerment.  
Microfinance seeks to help poor people become self-sufficient by providing loans to those who otherwise would be unable to get them. Kuhn's work to empower women, battle hunger, make health care and education accessible and effect social business strategies has taken her not only to Latin America but also Africa, Eastern Europe and Asia.
She left her most recent post – executive director of the Foundation for Sustainable Development – late last year and is in "exploration mode," looking for a new way to use market-based approaches to address social problems. "That seems to be my specialty, if you will: creating ways of combining the best of both," she says.
Kuhn, who was a Rector scholar, credits DePauw and its "volunteer ethos" for giving her "a foundation and a direction." She volunteered through the Kathryn F. Hubbard Center for Student Engagement, participated in multicultural events and spent a winter term in service in Nicaragua, experiences that "give you an opportunity to release a little bit from your own identity and focus on the needs of others."
DePauw, she says, "really very profoundly shaped my awareness of my role in society, the privilege that I have, and solidified my calling to find a way to use my privilege (and) my talent to serve others."
Making votes count
Surely Chelsey Tyler Hall '13 can be excused if she's stinging a little.
Stacey Abrams, for whom Hall has been a close governmental and political aide for five years, lost her bid for Georgia governor in November by only 55,000 votes out of 3.9 million cast. The race pitted Abrams against the sitting secretary of state, the Georgia official who controls elections and who has been accused of voter suppression.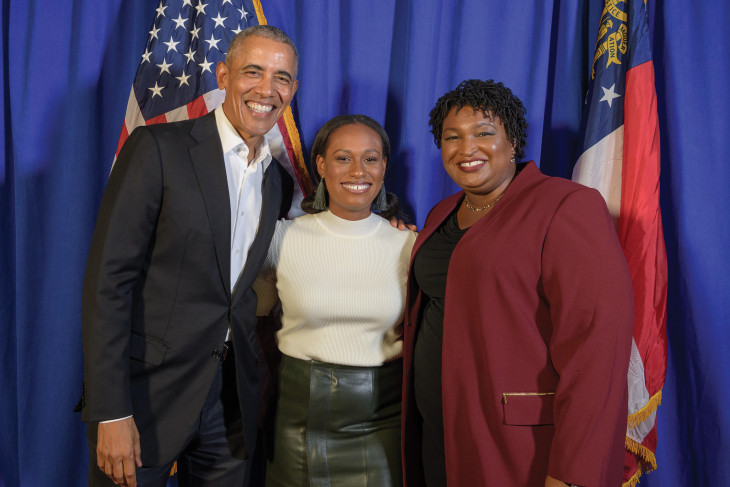 Chelsey Tyler Hall (c) met President Obama when he went to Georgia to campaign for Stacey Abrams.
"If we had a fair election, Stacey Abrams would be the first African-American woman to be governor in our United States history," says Hall, who grew up in a Detroit household where politics were frequently discussed. Politics deeply interested her, but she became disillusioned when Kwame Kilpatrick, whom her parents had strongly supported for Detroit mayor, was convicted of perjury and obstruction of justice.
It wasn't long, however, until she was reinvigorated by Barack Obama's candidacy, which enabled her to cast her first vote ever for the first African American chosen as a major party's presidential nominee. "I just knew deep in my soul that my vote counted for him and that my vote helped move our country forward," she says.
When she started at DePauw, Hall figured she would go to law school someday. An internship with a Greencastle law firm dissuaded her, though the folks there, she says, are her "second family." A class with political science professor Bruce Stinebrickner "sparked something in me" and Hall found herself studying as much political philosophy and theory as she could.
She worked briefly for a friend's nonprofit after graduation and then was hired as a legislative aide by the Georgia House Democratic caucus. She lucked into an amazing assignment: aide to the minority leader, Abrams, who she says "is probably the smartest person I have ever met. And I met President Obama."
Hall's belief that her vote for Obama counted haunts her these days; she feels as if the Abrams campaign promised voters theirs would too, only to let them down. So her first post-election job is with Abrams' new organization, Fair Fight Action, formed to guard the integrity of Georgia's elections.
Despite Abrams' urging her to run for office someday, Hall says she doesn't have the appropriate temperament; she's too outspoken.
"Right now, it is my job to uplift women and women of color who want to run for office or who are elected officials," she says. "This is the best way that I know how to effect positive change. And that's all I want to do – just be a part and help us move forward. I'm not great at math; I'm not great at science. So this is what I'm going to do."
Sparking conversations to create change
He grew up in Indianapolis and went to one of the biggest high schools in the state with people from "the full range of socioeconomic backgrounds (and) demographic backgrounds, and was lucky enough," says David Dietz '11, "to grow up making friends with folks from different backgrounds."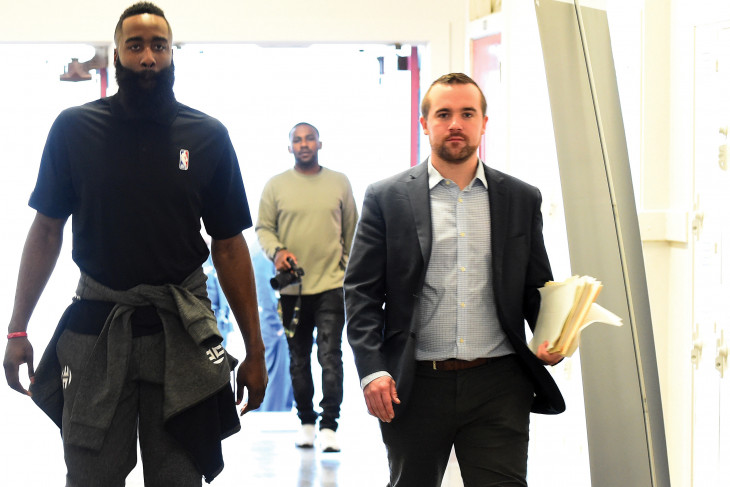 David Dietz (r) escorts Houston Rocket James Harden, the NBA's Most Valuable Player in 2018, to an NBA-sponsored Community Conversation in February 2018. (submitted photo)
Though he was "struck by how many of my peers were struggling to figure out what their future would entail," he says he "never had a super coherent political philosophy."
That changed abruptly in his first semester at DePauw, when he heard a talk by Bess Evans '07, who returned to the university to speak to participants in the Media Fellows Program about her experiences working as an organizer for then-U.S. Sen. Barack Obama's nascent presidential campaign.
"She just talked about the power of our generation of young folks speaking out for the values we believe in, creating an inclusive society where everybody has an opportunity to succeed," he says. "… I just was extremely inspired and in that moment decided to volunteer." A few weeks later, during the first week of winter term, he went to Iowa to organize for that state's caucuses; he spent the rest of the term in Nevada, organizing for its primary. When he returned to Greencastle, he volunteered through the election, helping Obama become the first Democrat in 44 years to win Indiana.
A year and half later, in the spring of his junior year, Dietz interned in the White House social office, where he worked for first lady Michelle Obama. That led to an offer to do advance work, making logistical arrangements for the Obamas' events, during his senior year. In between travels to such places as New Delhi and Hawaii, "I did my fair share of makeup assignments and reading on the road, but I was in large part able to continue working for the administration while I was in school my senior year."
After graduation, he went back to politics, working at Obama's re-election headquarters in Chicago through the election, and then he returned to the White House, where – among other things – he served as the president's liaison to athletes, leagues and teams. In August 2015, he joined the NBA's social responsibility team, helping to manage NBA Voices, "our effort to use the power of conversation and the game of basketball to demonstrate the importance of equality, diversity and inclusion and get conversations started in the community about our shared responsibilities to create change."
Dietz credits his parents for emphasizing reading and challenging him to develop his own points of view. And he credits DePauw for nurturing that.
"That's what really makes liberal arts special," he says. "… It's pairing those light-bulb moments with really strong professional-development opportunities and the chance to get into the real world and try your hands at different fields and on different issues and create mentors who can help you figure out what to do with your passion. I'm a little bit of a poster boy for that when it comes to DePauw because that was definitely my experience."
Investing for social impact
Even as a teenager, Aunnie Patton Power '07 – influenced by her "ethically and morally very strong" parents – was interested in international affairs. "I was always very much taught to have a compassion for those around me," she says.
She was so driven that she proposed and was permitted to create an international political economy major at DePauw. Her study of policy and the variety of her experiences at DePauw, especially a winter-term trip to Cameroon where she witnessed "the imperative to change," is what "really pushed me into the truly global work."
Upon graduation, Patton Power, who was a management fellow, went into banking. "To be honest, in that time period, the people who were the smartest and brightest went into banking and so it just felt like the place," she says. She handled mergers and acquisitions and worked "ridiculously hard" as she built a foundation that would benefit her down the road.
She spent a rare lunch break in a Chicago park, reading "Creating a World Without Poverty" by Muhammad Yunus, which is about building businesses that combat poverty. "I was in the midst of a couple of deals at that time" – major deals that had an unscrupulous tinge to them, she says – "… and I just realized that these were not the types of businesses that I wanted to be working with. And so I just made the decision. I wasn't sure exactly what I wanted to do but I wanted to figure it out."
She quit her job and embarked on a 14-month trip on which "I got to see a lot of the world that we live in and it wasn't the type of world that I wanted to live in," she says. "I see the value of financial markets and I really believe in the value of capital and so, for me, it's very much about redirecting capital and changing the financial system to work for everyone, not just for a few people."
That's the concept behind "impact investing," which "is about seeking out investments that make positive social environmental impacts alongside a financial return," she says. The term was so new at the time, late 2010, that she had trouble finding an employer who offered such a job; she finally landed one in India.
These days, she is based in South Africa, from where she runs a global enterprise. Through her organization Intelligent Impact, she lectures and consults around the world about impact investing and explores how to harness artificial intelligence to use in innovative finance. She is an adjunct faculty member at the University of Cape Town's Graduate School of Business and an adviser to the Bertha Centre for Social Innovation and Entrepreneurship. And she commutes eight or nine times a year to the University of Oxford in England, where she is an associate fellow at the Saïd Business School and the entrepreneur-in-residence at the Skoll Centre for Social Entrepreneurship.
Encouraging Hoosiers to think, read and talk
She served a fellowship in the Indiana governor's office and an internship with a congresswoman, managed finances for a political campaign and worked eight years in the Indianapolis mayor's office. She even passed out flyers promoting her grandfather's candidacy for county commissioner when she was five.
But Keira Amstutz '91 has found contentment away from the grind of politics and government in her job as the executive director of the Indiana Humanities Council.
"I'm so grateful for my time in public service but one of the things I have recognized is, for those of us who do get bitten by the bug, you can't stay in too long. Getting in and out is helpful because I think you lose perspective. It's just so intense," she says.
"… This job now is unbelievably rewarding, challenging, creative, interesting. It's just been the joy of my professional career and somewhat unexpected. I didn't even know that humanities organizations existed, so I don't know how this could have been a career plan."
She studied political science at DePauw and spent a semester at American University, when she interned for U.S. Rep. Jill Long Thompson. The congresswoman had won a special election in 1989 that was triggered by the ascendency of Dan Quayle '69 to the vice presidency (then-Rep. Dan Coats was appointed to Quayle's vacated Senate seat). With the regular election looming, Amstutz spent the summer and the first semester of her senior year working for Long Thompson's re-election, taking classes at the local university so she could graduate from DePauw on time.
She spent the next year in a fellowship in Gov. Evan Bayh's office, surrounded by lawyers, and came to appreciate "the way they thought, the kinds of questions that came up and the things that we needed to know how to process and think through. That, I think, pushed me in direction of law school."
After graduation, she worked for a boutique litigation firm until she got a call from one of those lawyers in Bayh's office. Bart Peterson was mounting a campaign for Indianapolis mayor; would she be finance director?
She took the job and Peterson won, leading her to work eight years as assistant deputy mayor; administrator of cultural development; and chief counsel and policy director.
After Peterson's unexpected loss in 2007, Amstutz landed at the humanities council, a nonprofit organization that creates programs and provides grants and toolkits so communities, schools, organizations and institutions may act on them.
The council, according to its website, "encourages Hoosiers to think, read and talk." Last year, for example, it facilitated more than 600 locally planned programs around the state based on the 200th anniversary of "Frankenstein," a book whose themes resonate today, she says. A weekend retreat at which attendees mulled the book's messages was held at DePauw's Janet Prindle Institute for Ethics.
The council, Amstutz says, is "constantly evolving to try to meet the needs of the state. … We identify something that's going on, that is mattering to people at the time, and then we create our program models to align with those themes."