When soprano Alicia Berneche '93 added "librettist" to her long list of achievements, the accomplishment could be "be traced back to DePauw," she said.
"I took a lot of poetry classes with Marion McInnes in the English department when I going there and wrote a lot. She was always my mentor and always encouraged me," Berneche said. "She saw me perform and she was, like, 'yeah I get it; this is what you do, but you really should keep writing and always keep writing in your life. I took that to heart. I always kept writing poetry. Over time, I had amassed these poems about what it was like to be a singer on the road."
And when a friend, Jill Anna Ponasik, producing artistic director at Milwaukee Opera Theatre, approached her about writing an opera, Berneche showed her the poems.
"She said, 'You know what? These kind of fit with this other idea that a friend of mine, who is a composer, had for writing an opera about what is it like to be outside the audition room for an opera company,'" Berneche recalls. "We have these strange conversations that go deeper than you would have with a spouse. But then you often have the people who deal with stress in a very conflict-oriented way where they try to psych each other out. You have these really interesting, unique conversations that you really only have in this high-pressure environment.
"Performance is 99 percent preparation. So if I have done my job correctly, if I have put in the hundreds of hours of learning, memorizing, staging, language work, working on the acting and the character, if I've done all that work, when I step on the stage I am so safe and loved and happy and blissful. I am in my element."
"So we decided to use these poems," she said. "A lot of them fit for that, into this setting. And so we created this opera where, basically, you are sitting outside the audition room of an arts festival with all these singers. It's the conversations they're having. You also hear the opera arias that the singers are singing to audition with, which are woven into the fabric of the newly composed music."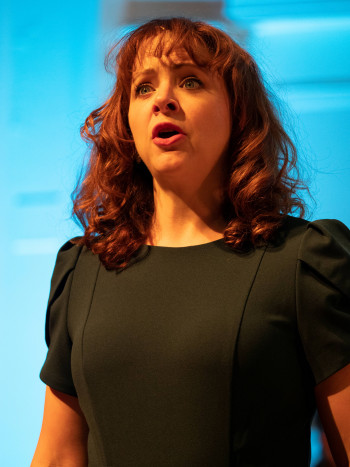 The resulting opera, "Thank You. NEXT?," was performed at the Milwaukee theatre in 2016.
"Drawing on her experiences as a singer, Alicia was able to bring an unrivaled sense of empathy to her characters, who are going through the same grueling auditioning process that she herself knows well," Ponasik said by email. "Producing this project was truly a joy."  
Berneche's poetry – and personal experiences – provided plenty of experience on which to draw. For 20 years, she performed worldwide with renowned conductors and ensembles, singing classic roles but also winning praise for taking on – and triumphing over – difficult and dissonant contemporary works.
Her husband, a software designer, and their son frequently traveled with her. But in 2013, when the boy reached school age, Berneche began limiting her performances in favor of teaching voice at Glenbrook North High School and giving private lessons in suburban Chicago.
"Being an opera singer is a very jealous mistress," she said. "The singular focus doesn't lend itself well to being married or having a child."
Each of the artistic endeavors – writing, teaching and singing – leaves Berneche satisfied, but for different reasons. Writing is like "creating a child that, when it is done, has its own life and you have to let it go. Which is really hard." With teaching, "I really feel like I have that chance to give back" and follow in the footsteps of her teachers. They include DePauw music professor Vergene Miller, with whom Berneche lived during the summer to continue her studies and whose "generosity and care was such a great example for me."
And singing? "Performance is 99 percent preparation," she said. "So if I have done my job correctly, if I have put in the hundreds of hours of learning, memorizing, staging, language work, working on the acting and the character – if I've done all that work, when I step on the stage I am so safe and loved and happy and blissful. I am in my element. …
"They'll have to drag me off the stage at 90. I will never stop."
Listen: aliciaberneche.com/