Sometimes professors inspire students. Sometimes it's the other way around.
For Lukas Schooler '09 and Gigi Jennewein, assistant professor of communication and theater, the inspiration goes both ways and is being manifested in their collaboration in a theater production in Indianapolis.
Jennewein is playing the lead in "The Mutilated," a Tennessee Williams play being staged by NoExit Performance, for which Schooler is executive director.
"If I had to plan it – which I didn't do – it's exactly the way I would want my life to go: that I would teach and inspire those who would turn around and create work that I would be interested in working in and being a part of," Jennewein says. "I didn't plan it. I've just always been really attracted to Lukas's aesthetic sensibilities, the way he has gone about combining his multiple skills and talents and also felt like he was somebody who was taking what he got at DePauw and then shaping that in a way to move the field forward in interesting and unique ways."
As Schooler was videotaping last Sunday's show, he says, he realized that he had become so lost in Jennewein's performance that he momentarily forgot he was watching his friend on stage.
"I got goosebumps," he says. "It was like, this is really cool. I hadn't really reconciled the fact that this has been a big evolution of our relationship, our working relationship together. … I was proud to be able to work with her because I just have so much respect for her and the work that she did. When I was younger, she molded a lot of my understanding of what art can be, what theater can be."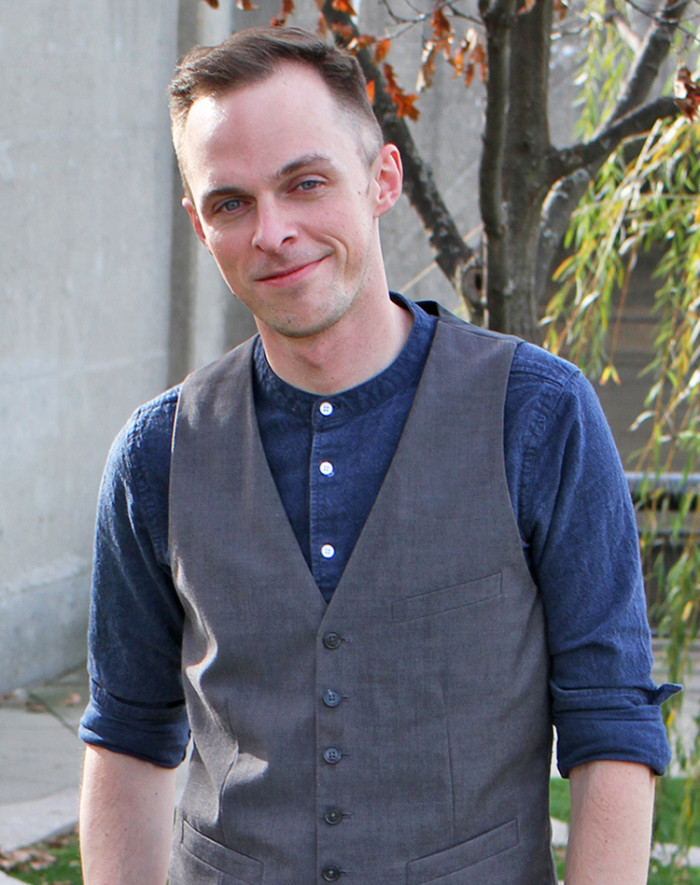 Schooler (pictured above) had come to DePauw as a first-generation college student intending to major in math, physics or a business-related discipline. "I had this grand idea that I had to do something like that in order to be successful," he says. "My mother was a huge proponent of my artistic ability. I took art classes all through school but I never really saw a career in it. And then I took a sculpture class my freshman year and Lori Miles (professor of art and art history), who was my sculpture professor and was also a huge influence on me, introduced me to a style of art I hadn't really even heard of, including installation art."
He ultimately declared a studio art major and focused on creating installation art – huge environmental pieces that immerse the viewer visually and sometimes physically. He became involved in theatre too, and Jennewein cast him in the play "Venus" during his first year.
"And from there on out he was always engaged in working in theater, more so with regards to set design and that sort of thing," Jennewein says. "So I worked with him on and off throughout the four years on a couple of shows."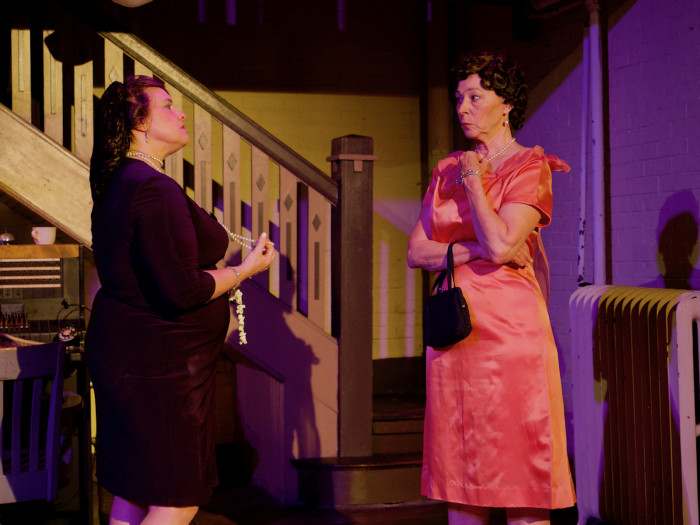 When Schooler and another student headed up the Student Arts Council, "we came up with these crazy ideas," he says, "and (Jennewein) was the one who was like, 'OK, let's figure out how to do this.' She was really a huge driving force behind us, figuring out how to make what seemed impossible happen."
Among the ideas: Get 15 concrete tigers and award competing student groups the opportunity to decorate them, similar to the Cows on Parade in Chicago in 1999 or the Elephant Parade in Singapore in 2011. Bring 150 bicycles to campus for a similar competition.
Jennewein also allowed Schooler and another student, in their senior year, to open the Low Road Gallery in a building she owned with her husband and another professor.
Schooler says he was exhausted while at DePauw, enough that many people suggest he slow down.
"There is this idea, though, at DePauw, at least when I was there, that if you want to try something, go for it. You know?" he says. "At the time, I wouldn't have known that this was what it was (but) I have an entrepreneurial drive that was driving all of these ideas – like, building something out of nothing or, I have an idea; I don't see it, let's make it happen. That was something that I really appreciated from my time at DePauw."
After he left DePauw – he graduated in 2009 and served a fifth-year internship in the art department until spring 2010 – he and Jennewein stayed in touch as he exhibited his work in galleries for three years. When a friend of a friend saw one exhibition, he suggested Schooler could design sets for NoExit Performance, a company that has no permanent theatre and thus stages performances in venues around Indianapolis. Schooler signed on, designing sets and performing.
After a year away (his partner was awarded a prestigious fellowship in Boston), Schooler returned to find NoExit teetering on extinction. He agreed to become executive director, focus on shoring up the company's financials and thus step away – for the most part – from his artistic involvement.
He asked Jennewein to join the company; she declined but agreed to serve on the board. Eventually, she was lured back to the stage, she says, by "seeing this person creating theater in a way that was inspiring to me and I wanted to be involved in that. And here we are, full circle."
Even then, it almost didn't happen. Jennewein broke her ankle while running in the DePauw Nature Park on the first day of fall classes. Then her mother, living in Florida, fell and broke her hip. Both times, the NoExit folks were patient.
"What was so nice about working with them – and this really comes from Lukas; he has set the tone for this company – is that the tone of the company is one of inclusion and acceptance. It's such a refreshing environment to work in."
"The Mutilated" is staged at the Indianapolis Propylaeum Carriage House, 1410 N. Delaware St. Tickets are $20 and available at themutilated.bpt.me. Performances are set for 8 p.m. Thursday through Saturday, Nov. 15-17, and at 7 p.m. Sunday, Nov. 18.