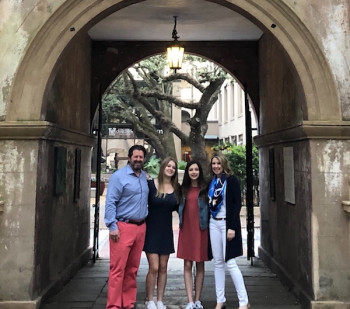 "I think I really figured out post-graduation what the liberal arts had done for me after joining a management training program at Harris Bank in Chicago," says Andy Claar '94. "Many of my peers in that program came from larger non-liberal arts schools with business or finance degrees, but I was able to quickly level the playing field and become a top performer."
(Pictured: Andy Claar '94, daughters Caleigh, 16, Libby, 14, and wife Sue Claar.)
How? Claar says a DePauw education, in particular, teaches a student how to learn and think, develops a person's intellectual curiosity and teaches how to work hard.
"Intellectually curious people are more engaged and more driven. Fundamental to all of these things, DePauw students graduate with exceptional written and oral communication skills that often vault them ahead of those who don't have a liberal arts background in their career field or graduate school program," Claar says. He has experienced this in his own career and has seen it in the new college graduates he has hired over the years. 
"I'm in the banking business and lead the middle-market banking business for Minnesota. My team and I have two sales jobs: We need to sell our prospects on our lending products, and we also have to sell our credit partners internally on these potential clients," Claar says, adding that excellent communication skills are the key. "You can be the smartest person in the world, but if you can't communicate your thoughts and ideas, if you can't convey a message internally and externally, you'll have very little success."
In the late 1980s, when Claar was beginning to think about colleges, his mom Constance Evans Claar '58 persuaded him to give the small-town, liberal arts college a try. "I stayed overnight and connected with the swim team," he says. "Then I was invited back for Little 5 weekend and just fell in love with the place. "It was just a great fit for me. I loved swimming, and DePauw was the right size to make intercollegiate swimming a reality for me, something I couldn't have done at a big state school. The size also meant there were an abundance of leadership and growth opportunities I likely wouldn't have had at a big school."
In addition to swimming and serving as captain of the swim team his senior year, Claar was a member of Delta Upsilon fraternity and served as treasurer and president for the Interfraternity Council. "At DePauw, if you want to be involved and be in leadership roles and be pushed, you can; whether through the radio or television station, The DePauw newspaper, Greek Life, student government or science research, there are countless opportunities to get involved and broaden your base of knowledge," he says.
Now a senior vice president and market manager for TCF Bank, Claar has remained involved at DePauw, as co-chair of his 25th class reunion, an annual fund volunteer and a speaker for the McDermond Center for Management and Entrepreneurship. He is also a member of the Washington C. DePauw Annual Society, giving at a leadership level to The Fund for DePauw.
Claar has even more interest in remaining involved with DePauw now that his daughter Caleigh has committed to play lacrosse and become a member of the university's Class of 2025. "I'm searching for ways to interact with existing students or prospective students," he says, "and to be more involved with campus recruiting."
If you are interested in learning more about the Washington C. DePauw Annual Society, philanthropic giving or student recruitment, please call 765-658-4085 or email annualgiving@depauw.edu.