Anita Deckard '69 was on campus in June to celebrate the 50-year reunion of her graduating class, and the milestone anniversary prompted her to reminisce about her DePauw experience and to imagine what DePauw might be like for future students.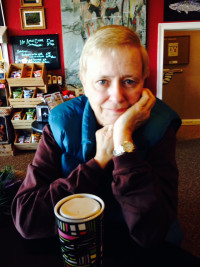 "Our 50-year reunion speaker talked about how DePauw prepares you for excellence, accountability and personal responsibility, and I feel that perfectly embodied my DePauw experience," Deckard said. "DePauw is consistent, and it prepares you for leadership and success in anything you do. I believe that my DePauw experience significantly shaped my life and groomed me in excellence, personal responsibility, and accountability."
In honor of her reunion year, Deckard added DePauw to her will and established the Anita Deckard Endowed Scholarship, which will benefit a student from an Indianapolis high school planning to study psychology.
"Without scholarship support, I would have been unable to attend DePauw," she said. "Now is the time to pay it forward for future students."
Deckard, who graduated Phi Beta Kappa with a degree in psychology from DePauw and earned a master's degree in counseling psychology from Ohio University, made her career in health and human services administration. She also worked for many years as a mental health counselor, including a stint with hospice work when she counseled patients and their families about death, dying, grief and loss.
"I have always been fascinated by people, and you learn a lot about somebody during the end stage of life," she said. "They want to talk about their loved ones and say things to their loved ones. I considered it a privilege to be invited into people's lives at that stage."
She credits DePauw for preparing her for her career and Grover L. Hartman '35, for whom the Hartman Center for Civic Education at DePauw is named, for prompting her to choose DePauw. Deckard attended church with Hartman and his wife, who "taught me about diversity and being able to see the world a little differently – from more than one vantage point," she said. "I wanted a small school and a liberal arts education. Grover Hartman directed me to DePauw, and I will always thank him for that. His family started me on the path I'm on now, helped teach me that we're all part of the brotherhood of man and we must respect that to get anywhere in life. I'm sure Grover Hartman is looking down from somewhere very happy with the Hartman Center."
Deckard said her DePauw experience was exactly what she wanted it to be. "I learned so much there. The coursework and professors, my involvement in the Greek system all shaped me into the person I am now.
"The Greek system teaches you how to engage in philanthropic work and gives you real opportunities for leadership in those developmental years," Deckard said. "I was president of the house, and that was the first time I'd ever had that level of responsibility for an organization and other people. You are learning and doing the types of things you would do as a CEO of a company. It was great preparation for stepping out into the world. And if you look at the alumni, you'll see that DePauw clearly prepares people to be leaders in whatever field they choose."