Wondering if a liberal arts university is a good choice for a future scientist?
The answer, in the person of Mahmoud Abouelkheir '21, is a resounding "yes."
Abouelkheir is the latest DePauw student to win a coveted Goldwater scholarship, given to students who plan to pursue a research career in science, math or engineering. He was the fourth DePauw winner in four years, a period during which three other DePauw students were given honorable mention.
Abouelkheir's achievement is all the more remarkable because he won the award last April as a sophomore, one of only 86 second-year students of the 496 awardees in 2019, according to Judy Zang, a spokeswoman for the Barry Goldwater Scholarship and Excellence in Education Foundation. More than 5,000 students were nominated by 443 institutions.
"Mahmoud is absolutely fabulous," said Gloria Townsend, a computer science professor and chair of the computer science department. As DePauw's Goldwater adviser, Townsend counsels students on how to apply for the prestigious award, which is made by the Goldwater foundation to encourage highly qualified students to go into scientific research.
Abouelkheir is the first sophomore that Townsend and Khadija Stewart, the Herrick E.H. Greenleaf professor of computer science and an associate professor, have nominated in the 11 years they have handled the process for DePauw.
"It's extremely rare for a sophomore to win," Townsend said. Because a school may nominate only four students a year, "all things being equal, Khadija and I nominate a junior – over a sophomore – when considering qualifications, since sophomores have another chance, plus time to build applications even more. Mahmoud was so clearly a contender."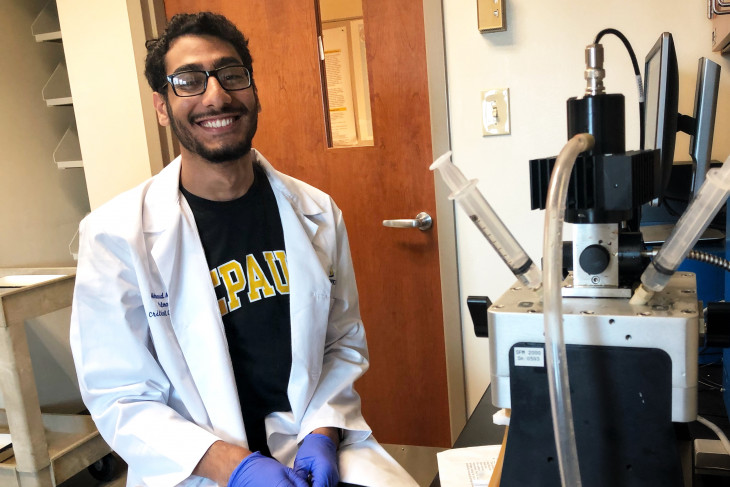 The professors here are super helpful and very invested and I can see that, just based on how much time I was able to meet with and interact with them outside of the classroom.
David Harvey, a professor of chemistry and biochemistry who was one of Abouelkheir's recommenders for the Goldwater, said "Mahmoud's passion for science shines through" in three areas: "the desire to develop a deeper understanding of course material, the desire to apply that understanding to new problems through supervised research projects and the desire to help create a more inclusive and welcoming environment for our students through his work with SoCiS (Students of Color in STEM)."
Abouelkheir, who is double majoring in biochemistry and cellular and molecular biology, won a Posse scholarship to attend DePauw. His Brooklyn, New York, family is low income, having immigrated from Egypt when he was 4, he said. His father was a French teacher and his mother worked in the veterinary field in Egypt, but they could not pursue those careers after coming to the United States. The Posse scholarship covers his tuition, but the $7,500 annual Goldwater scholarship – which he will receive this year and next – will go a long way to offset other expenses, he said.
Abouelkheir's interest in research began in high school. His school operated a research program in which participating students were required to identify a lab where they could work during their senior year. He connected with a professor at nearby Brooklyn College who was "an incredible mentor, and the lab was one of the best communities of people I've been with. Everyone was so excited and passionate to work with each other. … That's when I started to realize maybe I'd want to continue and pursue research more seriously when I go out to college."
When he was accepted into the Posse program, he investigated partner schools and learned that DePauw offers the Science Research Fellows program. "Something about that was appealing to me," he said. "I looked over the website and I saw the components of the program and felt like it was something I would be interested in."
He joined the fellows program and has found that DePauw's professors have provided the same support that he enjoyed in Brooklyn, he said. "The professors here are super helpful and very invested and I can see that, just based on how much time I was able to meet with and interact with them outside of the classroom," he said.
During his first year at DePauw, Abouelkheir applied to Johns Hopkins School of Medicine and won a summer internship in biomedical research; the work involved finding and quantifying a type of protein associated with cardiovascular disease.
He also learned that Emily Guinn would be joining DePauw in fall 2018 as a new assistant professor of chemistry and biochemistry and would be setting up her lab; he contacted he and asked if he could work with her.
"Mahmoud has been instrumental in helping me to set up my lab and get my research program started," Guinn said. "He is extremely motivated and hard-working in lab. He is very devoted to his research and is definitely deserving of the Goldwater award."
Abouelkheir, who is president of Students of Color in STEM, an organization to help underrepresented students overcome obstacles that could hinder their career plans, worked with Guinn last summer to study how environmental conditions affect the process of protein folding, a process that determines a protein's function. The work could have medical and pharmaceutical applications, he said.
He plans to apply for research programs next summer at universities where he might like to pursue a doctorate, the better to determine if each is a good fit. Despite his ambitious academic and career plans, Abouelkheir is humble about his abilities.
"I feel like there is so much I have to learn and I have to grow as a person and as a scientist as well. There's so much I don't know and I have to learn, so I don't consider myself smart," he said. "I got really lucky with some amazing mentors …  who invested so much time into me as a person and were passionate about what they were doing."