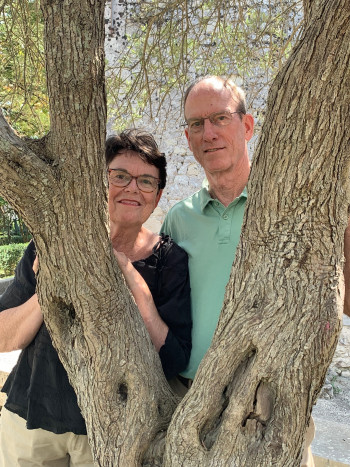 Stan and Bobbie Hendricks Bahler, both members of DePauw's Class of 1966, moved to Virginia at the U.S. Air Force's behest shortly after Stan earned an MBA in 1967 from the University of Michigan.
There, they met three other DePauw couples, some of whom they hadn't known on campus, and all became solid friendships in the couple's lives.
"DePauw seems to attract good people," Bobbie says, "and when we look back at what DePauw has done for us, one of the biggest advantages is the neat people that we have met and continue to meet. Wherever we go, there seem to be nice people from DePauw."
Meeting those three DePauw couples during their military service solidified the Bahlers' connection to DePauw. When they moved to Cincinnati, they soon found 13 DePauw alumni of varying ages lived in their neighborhood.
"Those kinds of connections especially happen if you stay in touch with the university," says Bobbie. "We went on a DePauw trip several years ago from Moscow to St. Petersburg on a river boat and, as we were signing the roster, we noticed the names of someone who'd been in my sorority house and someone Stan had waited tables with at the Alpha Phi house. So, we reconnected with people and also made new DePauw friends that way."
Supporting DePauw financially has become a gratifying annual habit.
The couple, who met at a Mason mixer in their junior year at DePauw and were married shortly before Stan completed graduate school, say their experiences at DePauw have influenced their lives.
High school counselors steered both of the Bahlers to DePauw. Stan won a Rector Scholarship and majored in math and economics, Bobbie in elementary education. Both were presidents of their Greek organizations, Delta Gamma and Beta Theta Pi, and Stan played on the basketball team for four years.
Bobbie says they agree that their roles in their Greek organizations created lifelong friendships, a sense of responsibility to others, leadership opportunities and self-confidence.
"I felt like I had a stake in the school and was ready to be a leader," says Stan. With the university's small size and liberal arts focus, "I had a chance to be my best, to take on challenges I wouldn't have had at a large school, and to interact with all different types of people through my classes, fraternity and athletics." His basketball experience, with long post-game rides back to campus crammed into a van with teammates, as well as small class sizes where he developed strong relationships with professors such as math professor Clinton Gass and economics professor Perc Allen, are some of his cherished memories.
The Bahlers return to campus on occasion for events such as the recent Ubben Lecture with "Jeopardy!" champion Ken Jennings. And Bobbie recently served on the Class of 1966's 50th reunion committee, along with some of those friends they met through the Air Force in Virginia many years ago. The couple was scheduled to take a trip through the DePauw Alumni Travel Program in April from Amsterdam to Antwerp during the tulip-blossoming season. The trip was postponed because of the Covid-19 pandemic, but the Bahlers look forward to returning to their travels once the health crisis has been resolved.
They are now retired, Stan from his role as a financial manager at Procter & Gamble and Bobbie from her career in teaching and consumer relations at P&G. In addition to travel, they enjoy playing pickle ball and tennis. Stan golfs, practices conversational German and reads. Bobbie enjoys knitting, reading, gardening and photography. They have two grown children and two grandchildren.
They plan to stay involved with DePauw for all the joy and friendships it brings them. They also contribute yearly to The Fund for DePauw. "Supporting DePauw financially has become a gratifying annual habit. Our continued involvement has reinforced our pride in the university and trust in its future goals, student body and administration," says Stan.
Adds Bobbie: "We have always been impressed by the outstanding devotion to DePauw shown by the alumni engagement staff and administration and their enthusiastic willingness to encourage and enjoy alumni participation. DePauw has been a significant contributor to our success, so to give back financially and remain an active part of the ongoing growth of the institution makes it easy for us to choose DePauw as a top recipient of our charitable giving."