Austin Brown '07 knows how it feels to score big.
His 61-foot, buzzer-beating shot, which won the Southern Collegiate Athletic Conference's basketball championship, was ESPN's "Play of the Day" back in February 2006.
But neither that nor any of Brown's many other accomplishments on or off the basketball court has come close to garnering the attention he has received in the past month since it became known that Zion Williamson, one of the most talked-about and sought-after NBA draft prospects since LeBron James, had signed to be represented by Brown, a sports agent with CAA Sports in Chicago.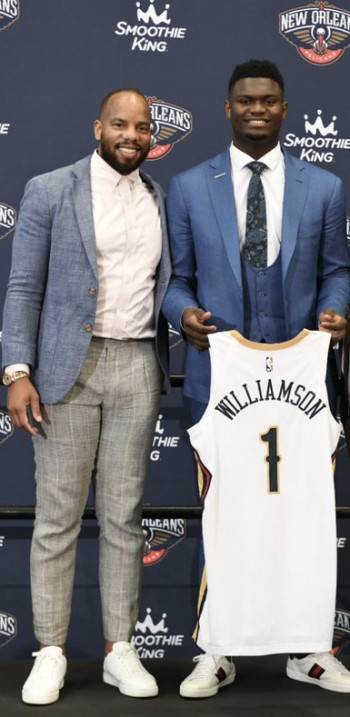 As predicted by virtually every sportswriter on the planet, Williamson, 18 and a Duke University freshman, was the No. 1 pick by the New Orleans Pelicans in last Thursday's NBA draft.
"It's very, very exciting. Very exciting," Brown says. "Obviously, with Zion being who he is, to have his and his family's trust for me and our company to be able to usher his career into the NBA, that's incredible."
Brown says that, when seeking clients, CAA looks not only for stellar basketball players but also "great young men who come from great families." He found both in Williamson, he says.
"Once we got a chance to sit with him and his family and really hear what their beliefs are and how they are as people, that's when it really made us say we have to be involved with people like this," he says. "They're just salt of the earth, an incredible, incredible family. They're the epitome of what we look to work with in terms of clients."
When Brown was at DePauw, where he majored in communication and minored in economics, he anticipated following in his father's footsteps into finance. He briefly considered playing professional basketball in Europe, but instead took a job at JP Morgan Investment Banking. Before long, he decided to go to law school, with plans to become a corporate lawyer.
In the summer before he started at Washington and Lee University School of Law, he interned at a sports agency. "I sort of had my light-bulb moment: This is literally what I was meant to do." He still studied the law and earned his J.D., but with the intention of becoming a sports agent.
Williamson may be his biggest catch, but Brown has had remarkable success, leading Forbes magazine to list him in 2015 among its "30 Under 30: The Sports World's Brightest Young Stars." He represents several other Round 1 picks: Gary Harris of the Denver Nuggets, D'Angelo Russell of the Brooklyn Nets, Donovan Mitchell of the Utah Jazz, Colin Sexton of the Cleveland Cavaliers and Jaren Jackson of the Memphis Grizzlies.
His goal, Brown says, is to develop a strong relationship with each client by being involved in his life on the court and off. That includes helping players through slumps and personal issues.
Those relationships, he says, are "predicated on us being able to go back and forth and be open with each other. We might not always agree, and that's OK. As long as we both know that at the end of the day it's going to be for the betterment of the client, that's what it's all about. I try to take the approach of being a former student athlete, what would I want to hear or what would I be looking for if I were hiring an agent? The top of that list for me would just be honesty."
Brown says his experiences at DePauw, especially playing with a "really eclectic and diverse group of people" on the basketball team, inform his work now.
"Just being around, especially on my team, guys who had gone through different things and come from different walks of life just helped me understand that, even though you might not have come from the same place, you all have something in common," he says. "Finding that commonality is important. That's the same thing you do, at least in my end, for recruiting."
He also recalls professors talking about having integrity and doing the right thing, lessons that have stuck with him.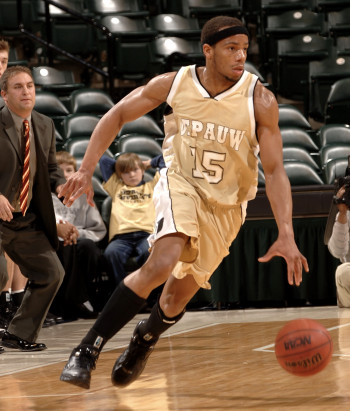 "DePauw is such a small, intimate community, you feel like you really get to know everybody and the access you have not only your classmates but your professors gives you that sense of community. …
"That's one of the reasons I was so happy that I went to DePauw," he says. "I try to take that same approach with my clients. It's more than just an agent-client relationship. They know it's always an open-door policy with me. They know that, it doesn't matter what time of day it is, it doesn't matter what time of year it is, they can call me 24/7. I appreciated that. It's one of the things that actually made me thrive as much as I did at DePauw because I had that small, intimate community, and so that's the same approach I take with the clients that I have."