While DePauw and Wabash were competing to bring home the Bell during the 125th Monon Bell Classic football game Nov. 10, Tim Hreha '73 was there. In fact, he's been there for the last 50 games.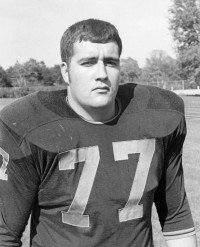 Hreha's first game was in 1969, when he was a freshman on the DePauw football team. NCAA rules barred freshman from competing in games, so Hreha worked the sidelines. However, he played in the following three Monon games. And since his days as a football player, he has coached players in 44 Monon games and was spectator for two.
These days, Hreha is a DePauw assistant football coach and assistant track and field coach. But, in his usual style of deflecting attention, he says, "I'm just a little cog in the wheel that was rolling."
A "cog" who was a three-year starter at defensive tackle, a three-year letterman and co-captain during his senior year. During his junior year, Hreha earned the team's spirit award.
After graduating from DePauw with a bachelor's degree in history, Hreha earned a master's of arts in teaching in physical education in 1976 while serving as graduate assistant football coach.
When Hreha was head men's and women's track and field coach, he coached Alan Hill '81, DePauw vice president for student academic life and dean of experiential learning. He describes how their lifelong friendship began.
"I didn't know anything about pole vault, and we worked it out together," leading to Hill becoming a national pole vault champion and an All-American in track and football.
The two coached together when Hill was a graduate assistant, and that was the year Hill's wife Jennett (McGowan) '85 ran track. "They met at DePauw," says Hreha, who is their daughter's godfather. "They're family. When you develop relationships like that, that's what it's all about."
"DePauw is not for everybody. But if it's for you, then it can be the best thing in the world that can happen to you."
In his early 40s, Hreha developed what he describes as a center-of-balance problem, which has since been diagnosed as cerebellar ataxia. While the wheelchair is now a necessity, it wasn't always and for a long time it was a matter of convenience. "I'd ride on the sidelines in a golf cart and take players," he says. But it was the 1981 football team who pitched in and bought him his first cart, and he recalls how very appreciative he was.
Hreha's wheelchair hasn't stopped him from doing what he loves to do: Coach. "But," he says, "I'm very thankful of DePauw and the coaches I've worked with: Coach (Bill) Lynch, Coach Nick (Mourouzis) and all those who allow me to continue to do this."
He remembers when the deterioration of his small motor skills began to affect his writing. "We used to write and draw plays on cards. I kept trying, but my writing was really hard to read. And finally, the coaches told me, 'Do what you can do, and whatever you can't, we'll do for you.'
"I'm not sure if any other place would have done that for me. I really mean that. The guys who I've worked with over the years have all been supportive."
When asked about his approach to mentoring and coaching players throughout the years, he says, "It may sound corny, but I try to get to know them all personally.  
"Former players tell me that I said certain things that they remember. And now they use what I said in business. Every person is a little different. Some guys you have to push harder, and a lot of those guys call me once a month and say thanks. There are other guys you can put your arm around."
He tells recruits, "Come to DePauw. You're going to have a great time. But the thing that is going to make me feel the best is when you come back after you graduate and say, 'Coach, it was a great time. I got a great education, but boy did I have fun.'
"DePauw is not for everybody. But if it's for you, then it can be the best thing in the world that can happen to you."