Much to Jacob Hale's disappointment, that new-toy luster had worn off the backyard treehouse he had built for his kids.
So Hale occasionally climbed the ladder into the all-but-abandoned 12-by-12-foot space, where his family previously enjoyed outdoor overnights, parties, dinners and even a Christmas celebration. He'd use the space to do some quiet reading or write in his journal.
Then the COVID-19 pandemic hit, and Hale – who, as an associate professor of physics and astronomy, is a problem-solver – had to figure out a way to teach remote classes from a 1,900-square-foot, three-bedroom house filled with the sounds of eight children ages 7 to 20.
"I recognize and count my privileges because that's still a lot of space compared to what other people in the world have to accommodate with," Hale said, "but we're also a very happy, loud family and the main bathroom to the house is right outside my bedroom door, which would have been the only quiet space I could have found."
He sent an email to Dave Berque, vice president for academic affairs, to say "I don't think I can do this; I have no quiet space to be able to function."
But then it occurred to him: During a recent sabbatical, he did a lot of his work in the treehouse. His task was to work on a computational problem so, while he had no internet, all he needed was his computer. This time, of course, he'd need internet access to teach a remote class.
He sent another email to Berque: "Dave," it said, "if IT can loan me 150 feet of Ethernet cable, I can make it work. That's all I'll need; I can make it work. And he said 'done; that's the easiest request I've gotten.'
"I walked into the office the next day and I had 150 feet of Ethernet cable up against my office door. I hooked it up to the modem in the house, wired it through our crawlspace, attached it to the corner of the ridgeline on my house and draped it across a pole to the tree. And I created an office in here."
Besides the Ethernet cable, the idea presented some challenges. Traffic noises sometimes force Hale to wait a moment before responding to a student's question. In the early days of working from home, he wrote lessons plans inside a mummy sleeping bag rated for minus-20 degrees. When a cold snap in September reminded him that winter was just around the bend and that the little space heater couldn't keep up, he used discarded Olin greenhouse panels that Facilities Management allowed him to salvage a couple of years ago to create a warmer corner from which he teaches class.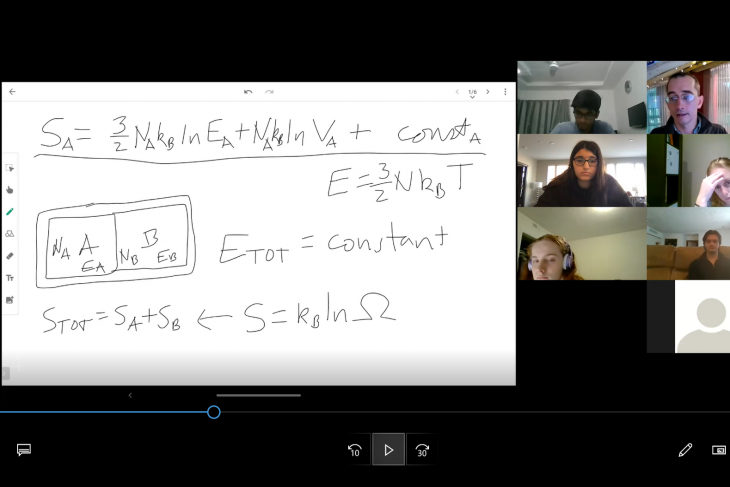 Physics 340 class works on a computation.
"On the second day of class, I realized that he was standing next to a tree while teaching," Christine Bourantas '22 said by email. She is taking Physics 340 - Biophysics with Hale and double majoring in physics and kinesiology, with plans to go into biomechanics or prosthetics and orthotics. "A couple of classes after that, professor Hale told us that he was in his treehouse, and I think that is so creative and really embodies this new era that we are all experiencing.
"These difficult times have taught us all to think outside of the box and accept the difficulties. I appreciate the creativity and the fun that has come out of professor Hale teaching from a treehouse."
Hale worries that some may perceive his approach to work as too jovial during these serious times or his circumstances as too plush compared to living arrangements some students may have.
"I'm hoping it instills in those I interact with this idea of solving problems," he said. "It requires a level of optimism and hope that you could solve the problem. It requires a level of curiosity. It requires a creative nature."