Clay art.
That's how Deborah Bushouse Thenen '04 describes the work that emerges from her potter's wheel and kiln. They're functional yet artistic ceramic pieces with a contemporary design, glazed to accentuate curves and edges, hand thrown and thus unique, no two ever alike.
Mugs and bowls, vessel sinks and vases. Tiles and house numbers and wall art. Even paw prints of cremated pets. 
(Painting by Katharine Taylor)
"I focus on pieces that bring a bit of function and beauty into your home on an everyday basis or commemorate a special time in your life, be it a wedding or new baby," she said. " … I like to create work that challenges me, asking myself 'Could this be made out of clay?' Almost a problem-solving with clay."
"I love that my art can give that bit of happiness to someone over and over again, allowing them a happy way to start their day. I find that, with art, the message is interpreted differently by each viewing individual and doesn't necessarily transfer the artist's intended message. But isn't that what makes art interesting and fun?"
Thenen first worked with clay in high school. "Then, when I took my first pottery class at DePauw, it just became a part of me," she said. She looked at DePauw because her mother, Judith Staebler Bushouse '63, and sister, Karen Bushouse Grogan '01, had attended. She chose it, she said because "I found my visit to DePauw to feel like a home away from home." That, plus she was able to run track for four years.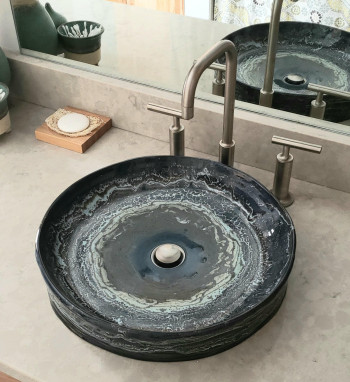 Upon graduation, she returned to Michigan, pursued graduate programs in ceramics, set up a studio and joined the Open Door Gallery, a regional artist cooperative in Sturgis where she exhibits and sells her wares. She also makes custom pieces.
"I care that my art brings others joy that brings a smile to their face and a calmness to their heart," she said. "I hear often, 'I drink coffee every morning out of your mug!' or 'I love using your bowl every time I eat my cereal!' I love that my art can give that bit of happiness to someone over and over again, allowing them a happy way to start their day. I find that, with art, the message is interpreted differently by each viewing individual and doesn't necessarily transfer the artist's intended message. But isn't that what makes art interesting and fun?"
Look: dleigharts.com/