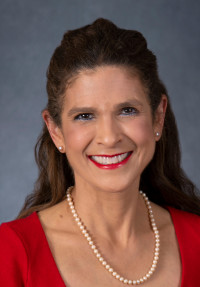 Jacqueline Bauer is DePauw's new director for southeast recruiting and alumni recruitment team. While she is based in Florida for student recruiting purposes, she works with alumni all over the country and even internationally who are interested in volunteering for DePauw admission and enrollment efforts.
A year ago, alumni volunteers would have been basking in the glow of their recent "Summer Send-off" events for admitted students and their families. They would be getting ready to staff college fairs and participate in panel discussions for prospective students. This year, with a pandemic restricting in-person events worldwide, DePauw will rely on alumni volunteers to make students feel welcome by other means, including Zoom video panels, handwritten holiday cards and one-on-one video chats.
"Some of our events for which we would like to have alumni volunteers include chats with prospective students interested in a similar major or career field, a DePauw Zoom Bingo night and an alumni panel with graduates and prospective students from a particular geographic area," Bauer said. "The purpose is for students to be able to ask questions about campus life, academic majors, student activities and even careers. "Everyone's a little stressed out, and alumni volunteers can alleviate some of that stress and uncertainty for prospective students."
"We'll be seeking Graduates of the Last Decade (better known as the GOLD alumni group) to work on a notecard campaign as we head into the fall," Bauer said. "Volunteers will be reaching out to high school seniors in their geographic areas to offer encouragement and support."
All alumni are invited to participate in a holiday card-writing campaign in the late fall/early winter. "We'll send you neat holiday cards and a list of students who match your geographic area, degree major, the activities you were involved with on campus or other interest area," she said. "Alumni volunteers will send out about 10 cards to students who are in the process of applying to DePauw. Volunteers can choose whether they want to include their personal contact information. In typical years, students are unlikely to contact volunteers, but with everything virtual this year, we're finding a student might be more inclined to follow up with a phone call or email because everyone's missing that personal contact."
Other options for volunteers include making short (three minutes or less) videos to reach out to students, as well as referring high school students to the Admission Office. Bauer encouraged alumni to think about referring students earlier rather than waiting until their senior year of high school. "Refer the ninth and 10th graders you know," she said. "It's really beneficial for DePauw and the students to connect as early as possible."
Bauer said fall is a busy season for Admission. "September, October and beginning of November are the best times to connect with students. Then we break during the holiday season and start up again in the spring, when the focus shifts from applicants to admitted students. It's going to be difficult this year, because we normally do live events, receptions and parties. If alumni have outside-the-box suggestions, we're open to ideas on how we can connect with these students and make them realize DePauw is the right place for them. I think we might have alumni who are working at companies that are doing neat virtual things we may not have considered. For all colleges it's going to be a tricky year, and we're hoping our alumni can give us the edge."
Bauer wants alumni to understand that DePauw will train them for their volunteer experience. "We're working on a training manual that will offer information about the application process, unique talking points and fun facts about campus so they feel empowered to know the answers to the questions students might ask," she said.
If you're interested in volunteering with student recruitment or admitted students, click here to fill out an interest form. To recommend students, click here.