Eric Malm '14 believes DePauw alumni are largely responsible for the strength, improvement and future of the university, and he puts this passion into action as a frequent volunteer and philanthropic donor. The former management fellow returns to campus to speak on panels for the program, to give lectures and to participate in mock interview days with students. As an employee of J.P. Morgan, Eric also helps coordinate the company's recruiting efforts at DePauw.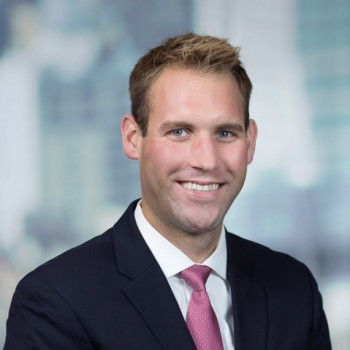 In the five years since he graduated, Eric has worked at J.P. Morgan in a variety of roles, starting as an analyst in the Indianapolis private banking division and then transitioning to New York to take on a role in the corporate banking group covering technology companies. Beginning this summer, he will be an associate on the regional investment banking team in Chicago.
"My most influential experiences at DePauw were the various internships that I completed during my four years. These internships allowed me to pursue a variety of career passions and experience new cities. I was able to get a glimpse into what life would be like after college," Eric says, adding that he learned about the things that he did and didn't enjoy in a job, which helped determine his career path.
Volunteering for his five-year class reunion committee has had Eric thinking about his favorite memories of his DePauw years, as well as the university he hopes to visit for his 10th, 25th and 50th class reunions. "My favorite memories at DePauw were made on the football field and in the Delt house," Eric says. "Whether it was going to the NCAA playoffs in 2010 or the countless times I sat with fraternity brothers and talked about the ups and downs of college, I am able to fondly look back on those moments and identify them as paramount to my DePauw experience. I maintain a close relationship with many of my teammates and Delt brothers today and they are the first people I call when I have major life news. I couldn't be more thankful that I was able to meet them at DePauw."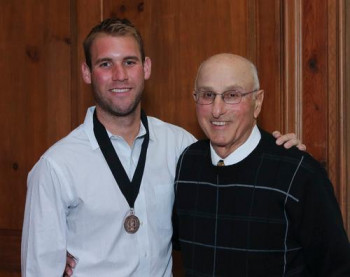 Eric says he wants students who graduate today and in the future to have even better opportunities. "DePauw has a history of producing some of the brightest business persons, politicians and academics in the world, but I want DePauw to take the next step as an elite institution," he says.
Eric says that in order for DePauw students to have better resources and opportunities, academic buildings need high-tech renovations and modern student housing needs to be built; athletic facilities need facelifts; students need access to scholarships and affordable loans; salaries and benefits for professors need to be endowed so that the university can continue to attract top talent. "It shouldn't matter if you are able to give $1 or $1,000; alumni shoulder the responsibility of carrying the value of a DePauw education forward," he says. "This responsibility is agnostic to the administration holding office. The core values of DePauw as a 200-year-old institution do not change. I give because I want to make sure the institution and these values are around for another 200 years.