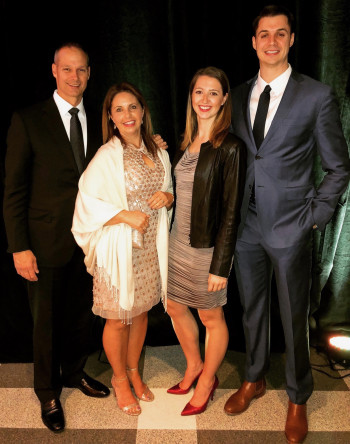 For Lauren Falotico '16, experiential learning was at the heart of her DePauw education and one of the main reasons she chose to attend the university. From enrolling in the Management Fellows Program and participating in many internships to balancing academics and athletics as a member of the volleyball team; traveling to Ireland, South Africa and Thailand through winter term and May term Extended Studies programs; and collaborating with professor Francesca Seaman to develop the minor in Italian Cultural Studies – such experiences complemented and enriched Falotico's academic coursework in ways she could scarcely have imagined would be possible.
"The Management Fellows Program is what initially drew me to DePauw because of its emphasis on hands-on development. DePauw alumni are very invested in helping students; we had multiple mock interviews within our second year, which set us ahead of most undergrads seeking out internships. And, of course, the junior year co-op set DePauw apart," Falotico says. "You can't prepare for your career solely by sitting in the classroom. Having a trial run in the professional workplace before graduation gets you ready for your first job and helps you figure out the type of job you really want."
I think it's important if you're passionate about something to be intentional with your giving. I can say from experience, it has a huge impact.
While she majored in economics, Falotico hoped to continue the passion she developed in high school for learning the Italian language. She thought she would minor in the language, but learned during her first weeks on campus that no such minor or major program was offered at DePauw. Falotico didn't let that deter her, though, and she worked with Seaman to create an independent study structure around Italian literature and culture that would allow her to immerse herself in her passion for the Italian language. Seaman emphasized experiential learning in the independent Italian study she collaborated with Falotico to design. For example, Falotico volunteered at a local elementary school to implement an Italian Day program with students, including Italian cultural activities, snacks, language, music and crafts.
Falotico's work with her professor, and the philanthropic gifts contributed by the Falotico family, have helped create the minor and major in Italian Cultural Studies at DePauw. Seaman has even worked with the Management Fellows Program to set up internship programs in Italy, and she is continuing to make experiential learning a major component of the Italian Cultural Studies Program.
"After I graduated," Falotico says, "my parents came to me and expressed that they wanted to give back to DePauw since the three of us, along with my fiancé Camron Burns '14, all had such wonderful and influential experiences at DePauw. They asked me for my opinion on how we could make the most impact, and the Italian program and professor Seaman were my immediate thoughts."
Seaman takes students to Italy each summer "so they can experience the culture and really use the language," Falotico says. "This is one of the many programs that our giving goes toward.
"Professor Seaman takes the time to get to know her students and finds creative ways to get them excited about learning. It's a vocation for her, not a job."
About her family's philanthropy, Falotico says, "I think it's important if you're passionate about something to be intentional with your giving. I can say from experience, it has a huge impact."