FIRST PERSON

with Tim Holt '88
DePauw Magazine
Summer 2019
A GATHERING PLACE FOR STORYTELLING ABOUT DEPAUW UNIVERSITY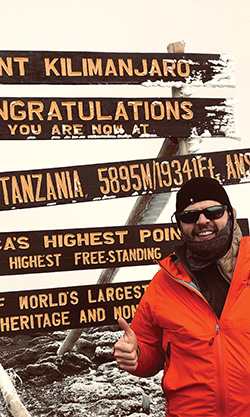 Just past midnight on Jan. 2, we gathered in our mess tent at Barafu Camp. Snacking on crackers and sipping hot tea, light from our headlamps darting about, we checked our gear and preparations. We were eager and anxious, readying ourselves to face the harshest conditions of our hike. With five days of ascent behind us, our goal was in reach: the summit of Kilimanjaro. This journey had become a life lesson about survival and achievement, persevering through challenge, trusting people and process, taking one step at a time.
Mount Kilimanjaro, the fourth highest of our planet's seven summits, offers moderate and accessible hiking routes that do not require technical climbing ability. Still, the effort to reach the "Roof of Africa" is a physical, mental and spiritual challenge, and it draws thousands from around the world to Tanzania annually. While good physical health and conditioning are a must, there is little way to prepare for the illness and exhaustion brought on by of the shortage of oxygen. Altitude sickness halts the climb for many.
For me, hiking Kilimanjaro was an unplanned and unimagined adventure. A year earlier, a longtime friend invited me to join him on his bucket-list adventure and I was hooked instantly. We invited friends to join us, creating a team of 10. Then life intervened. One of our most enthusiastic and healthy members died from a heart attack at age 52.
Scott's memory bound the nine of us together tightly and our trip became more than midlife adventure. We immersed ourselves in preparations: hikes in Raleigh's parks and in the foothills of central and western North Carolina. We consulted YouTube videos, blogs, internet sites and associates at REI and The North Face. We created lists and more lists, and checked off items one-by-one: flights, immunizations, insurance policies, hiking gear, clothing, foodstuffs, etc., etc., etc. 
Then, from various routes out of the United States, we met in Moshi on Dec. 27.
Kilimanjaro National Park requires hikers to travel with registered guides and porters who carry tents, cooking fuel and food up the mountain. Our support group numbered more than 30 and their physical strength and knowledge ensured our safety. Our guides' leadership styles varied between encouragement and edict. On the night of the summit, we would stop occasionally, but for not more than a couple minutes (preventing hypothermia in the subzero temperatures). The words "pole, pole" (pronounced PO lay PO lay) – Swahili for "slowly, slowly" – were our final instruction; if we followed in the steps of the person ahead we would make it to the top.
I have several distinct memories from those eight hours of ascent: a guide standing guard between me and a nasty fall at the edge of a sharp and rocky turn; wind blowing with such strength that I wondered if it would push me off the mountain; the morning sun breaking the horizon above the cloud line. 
We climbed through the night. At 9:05 a.m. from 19,341 feet — above the clouds, with the earth bending before us and around us — the view was breathtaking and the achievement fantastically satisfying. I was changed by the effort. As I reflect on that moment I am reminded that life's most difficult goals and challenges are overcome with energy and persistence, just like hiking Kilimanjaro, pole, pole, into the night.
First Person
is a regular feature of DePauw Magazine, which is published three times a year.