DePauw Magazine
Summer 2019
A GATHERING PLACE FOR STORYTELLING ABOUT DEPAUW UNIVERSITY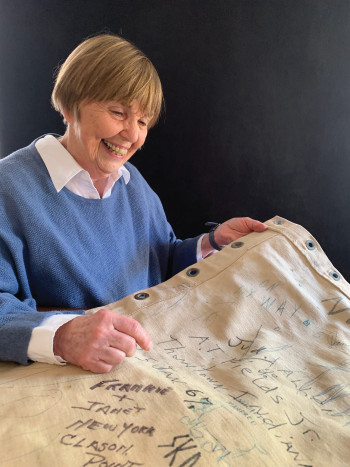 Lee Lutz Beltrone '64 didn't hesitate when her husband Art told her about the Vietnam War memorabilia he had found.
"Well, we've got to save it," she told him.
Art, a military artifact appraiser, had been a consultant on "The Thin Red Line," a World War II movie for which their neighbor, Jack Fisk, was production designer. Fisk, seeking a reference for a set design, gained access in 1997 to the U.S. Navy troopship General Nelson M. Walker, anchored two hours from their Keswick, Va., homes, and invited Beltrone on his scouting trip.
The 608-foot ship, which carried as many as 5,000 troops per trip to WWII, Korean and Vietnamese battlegrounds, "was a virtual time capsule," Art says. Nothing had been dismantled since it was inactivated in 1968. Beltrone was struck by the messages and sketches – from the pedestrian and poignant to the prickly, profane and perhaps prophetic – on the underside of the canvas bunks, stacked four high, on which Vietnam-bound troops whiled away almost three weeks at sea.
"Why me?" asked one. "How sad I am," said another. "Don't want no war!" "Will she marry before I get out of the army?" "Lyle'll be killed in Viet Nam/Do-Da/Do-da." "At least reading this gives you something to do."
The troops professed love and questioned fate. They depicted shapely women, including "Viet-Nam Susie," with a Ho Chi Minh-style goatee; cartoon characters; and a crude rendering of Robert F. Kennedy, with a dialogue balloon, "get out of Vietnam!"
The Beltrones, recognizing the historic value of the bunks, went about preserving them.
"I realized that so much from the Vietnam era was not being saved," says Lee, whose brother, a West Point graduate and Vietnam veteran, died from Agent Orange-related cancer, "and how poorly the vets had been treated upon their return. And I felt very strongly that something had to be done to honor the vets and preserve this part of history."
They got permission from the government, collected 100 canvases and distributed them to a dozen museums, including the Smithsonian Institution and the Library of Congress. When the ship was moved to Texas in 2004 to be scrapped, the Beltrones, aided by three volunteers, headed there to salvage 300 more canvases, with which they created a traveling exhibit that has visited more than 70 venues across the country over 13 years. It is booked into 2020 when, Art says, he hopes to retire it and donate the canvases.
The Beltrones, who wrote a book about the project, also are donating photos of the canvases and salvage work shot by Lee, a piano major at DePauw who taught music before turning to photography, and more than 100 recorded interviews conducted by Art, a former newspaper reporter, with the troops whose graffiti provided sufficient information for the Beltrones to locate them.
Leaders the World Needs
is a regular feature of DePauw Magazine, which is published three times a year.