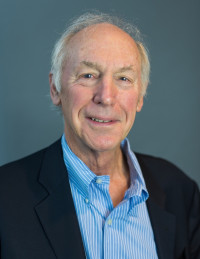 A Chicago lawyer-turned real estate developer, Greg Mutz '67 credits his DePauw education with providing many of the skills, experiences and perspectives he used in becoming a successful leader.
"My senior year was an especially volatile time as most of us in the senior class thought and talked about what to do with the Vietnam War raging seemingly without end," Mutz said. "The draft was expanding and deferments were shrinking. Like many in my class, I ended up drafted and went into the Army in August 1967, three months after graduating from DePauw.
"I attribute my experiences and education at DePauw in some important ways as providing significant training and seasoning for my days as an infantry lieutenant assigned to the Phoenix Program in Vietnam. Combat preparation was, of course, not part of the curriculum at DePauw. However, there is no question in my mind that in many ways my four years at DePauw were an important component of my training and conditioning for what followed shortly after I graduated."
After completing his military service, Mutz went on to earn a J.D. from the University of Michigan Law School in 1973. In 1980, a fortuitous real estate deal with a fellow attorney led to the creation of AMLI Realty Co. Now chair and CEO of AMLI Residential, Mutz leads the company in the development, construction and management of luxury apartment communities made up of 28,000 homes in nine major U.S. markets. In his spare time, he likes to bike, run and compete in triathlons.
The business leader also was a leader at DePauw as a member of the swimming team and Phi Delta Theta fraternity who participated in the Gold Key leadership-scholarship society and KTK, the interfraternity council.
"DePauw is an excellent place to prepare for a career in business leadership," Mutz said. "It is large enough to have plenty of opportunities to participate and to assume leadership positions and yet small enough to allow significant interaction with professors and classmates with relatively small class sizes that encouraged you to discuss, debate and engage."
Mutz's first wife, the late Carol Jean "Jeannie" Simmons Mutz, also graduated from DePauw in 1967. His sister Sondra Mutz Talley and brother-in-law Richard Talley graduated from DePauw in 1968 and his niece Maddie Jean Perry is a member of the Class of '23. Mutz was the class speaker for his 50th reunion in 2017, and he remains involved with the university as much as possible.
One of the ways he continues to support DePauw and current students is through the Jeannie Simmons Mutz Memorial Endowed Scholarship that he established in honor of his late wife with his mother and Jeannie's late mother, Georgia Palmer Greenwood '41. The scholarship, Mutz says, supports the Management Fellows Program and recognizes "all the wonderful things Jeannie accomplished in her life and her desire to help those who followed her."