DePauw Magazine
Fall 2018
A GATHERING PLACE FOR STORYTELLING ABOUT DEPAUW UNIVERSITY
I first stepped foot on DePauw's campus nearly two decades ago, in fall 1999, as a typical prospective student: awkwardly sitting in on a class, nervously interviewing with admission officers and eagerly touring the campus. My paternal grandparents, Bob and Penny, escorted me on this journey, which began 90 miles away in Anderson, Ind., in their ever-polished black Buick, whose backseat I had all to myself, as was typical for the myriad road trips I had taken with them as a kid.
DePauw certainly looked different then – there was a busy street separating East College from the quad; the Julian Center was still a post-modern monstrosity and Bowman Pond was still, well, wet. But, for me, it was an intimidating place: I hadn't yet received the Holton Scholarship that would pay my way, and I wasn't even officially accepted.
DePauw was one of several such visits, along with Hoosier stalwarts Hanover, Rose-Hulman and Butler (I didn't have the means to travel far, but luckily Indiana has excellent options). Maybe it was the isolation (albeit beautiful) of Hanover, the seeming dullness of "Rose-Poly," as my grandmother still calls it, or the relative big-city feel of Butler. Campus visits are indeed funny; conventional wisdom is that you never know why certain places "feel right" and others don't. DePauw was certainly different but I didn't know why – I only knew, for whatever the reason, I'd be back.
And return I did, nine months later on a scorching morning in August, this time with my parents and grandparents to a freshly renovated Longden Hall, marking the beginning of my college career. I settled into DePauw quickly, attending lectures, writing for The DePauw and, like most of my peers, joining a fraternity. Whatever initial intimidation I had quickly gave way to a feeling of a second home.
***
But my new home in Greencastle wasn't such unfamiliar territory after all. As I discovered this past spring through a renewed interest in genealogy, my own forebears had lived steps away from Longden, including – to my initial disbelief – one of the founders of DePauw itself: William H. Thornburgh. William, my grandmother's triple-great grandfather, made his way to Greencastle as a steamship captain and helped convince his fellow Methodists to locate their college, then Indiana Asbury, in his adoptive town. He served as president of the university's board for four years in the 1840s.
At first, it was hard for me to even imagine: Six generations separate me from one of the founders and leaders of my beloved alma mater and, for all these years, I had no clue. My own ancestors were buried down the street from my dorm, in the cemetery next to Blackstock Stadium, which I would have walked by with my grandmother on that first visit to campus.
***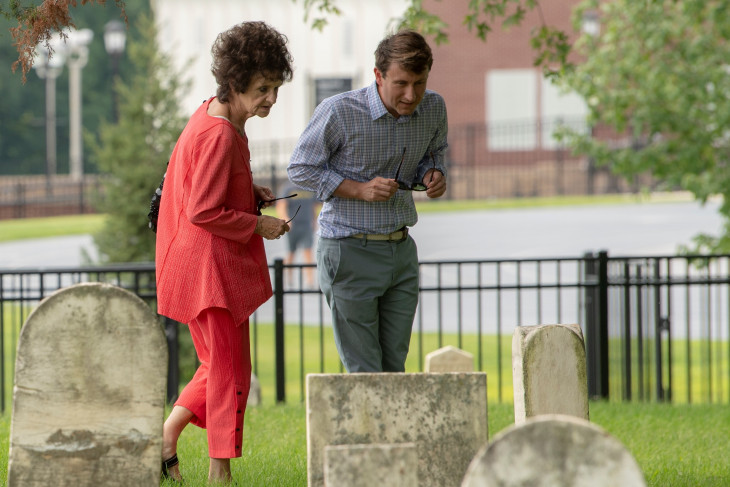 Brandon Sokol with his grandmother Penny Farlow Sokol
My interest in genealogy was sparked as a 12-year-old, when I spent virtually an entire summer in my hometown library ferociously researching my family tree. I got pretty far then; with the help of a trained genealogist, I uncovered an unbroken line to the Mayflower, now published in the manuscript, "Elkanah 'F' Gustin, Descendant of Mayflower Passenger Edward Fuller."
I can't be quite sure what prompted this curiosity at such a young age. They say people often pursue their ancestries to try to prove royal blood or discover famous cousins. I'd like to think, then and today, that my interest in genealogy remains more about self-discovery, an attempt to answer age-old existential questions: Where did I come from and how did I end up in, of all places, Indiana? Mapping one's family tree is one way to find out.
This interest, which went on pause for a long time as school and then work took priority, was reignited upon moving back to New York, a city steeped in history, from Los Angeles, where the new-and-now is all that matters. I picked up where I left off, this time armed with the internet, which makes it possible to chart one's family tree (or, in some cases, cobweb) faster than ever, latching onto a slew of already-digitized records.
I've certainly found plenty (including the good, the bad and the ugly) beyond what I knew about my more recent Eastern European forebears: the Pennsylvania "Dutch" (really, Germans) and the New York Dutch; Jamestown stockholders; "second sons" of supposed royal extraction; Southern fur trappers and planters; ministers and preachers of nearly every faith, as well as original Mormon converts; scores of Revolutionary War soldiers and even a few officers; a nephew, according to a dubious source, of a signer of the Declaration; and William Thornburgh, a half-German merchant with deeper Quaker origins. 
The fun, and ultimately most revealing, part: going beyond the facts of one's tree – names and dates of birth, marriage and death – into the actual livelihoods of one's ancestors, turning over one proverbial leaf at a time, as I did for William. Understanding his story, of how he ended up in Greencastle, what he did while there and how that affected his next generation and the one after that, is a major clue into how things came to be.  
***
At first, it was hard for me to even imagine: Six generations separate me from one of the founders and leaders of my beloved alma mater and, for all these years, I had no clue.
This news doesn't really change anything about my relationship with or respect for DePauw, but does put certain things in perspective.
For one, the difference between a first-generation college student, a camp I sat solidly in, having come from blue-collar Anderson, and so-called legacies, or those whose more privileged relatives had attended the institution, is perhaps a bit blurrier than I had imagined. DePauw is unique relative to other colleges, especially of its caliber, in its composition of student body; about a fifth of all students fall into each bucket, a statistic that seems to have persisted for decades.
Perhaps it also explains my loyalty to the institution, a devotion that was honed during my internship with the late James W. Emison III, the iconic 1952 graduate and trustee of the university until his passing in 2005. Mr. Emison, as he was known, frequently shared tales of the DePauw of yore, starting at our first lunch (my interview) over "hangover" sandwiches at Greencastle's Moore's Bar. As it turns out, Mr. Emison is also a descendant of one of DePauw's founders, William Weston Clarke Emison, meaning his ancestors and mine at least crossed paths and likely also shared kinship.
Finally, it simply makes my connection to DePauw all the more meaningful to me. This connection has played out in lots of ways: My cousin from Anderson would later attend DePauw, as does my mother's current neighbor (both at my convincing). In my current job, I walk the halls of Dow Jones and The Wall Street Journal daily, where I'm constantly reminded of Barney Kilgore, also a former editor-in-chief of The DePauw whose benevolence to DePauw shaped my experience there. I'm also just a proud alum whose nostalgia for the university borders on giddy whenever lucky enough to be back on campus.
***
I guess it is not surprising that my grandmother did not know about William, whose children or other relatives, as far as I can tell, didn't attend the institution. She did recall that that her grandfather, the late Edward Farlow and William's great-grandson, was born in Greencastle and died in Anderson, the same pattern as William's daughter Elizabeth and granddaughter Nellie, Edward's mother.
The connections between Greencastle and Anderson must have run deep, and perhaps reflect broader themes about American history. I can only guess as to why the family moved from Greencastle to Anderson, but the boomtown that was Anderson at the turn of the last century was certainly a factor. Edward, who died in 1966 at what was perhaps the peak of Andersonian prosperity, was an engineer with General Motors. William's later-in-life financial failure, which was recorded by his own pen in the Putnam County Banner, might be the reason for the lack of familial lore. Then again, it's also been 142 years since William died, plenty of time for history to become just that.
While now largely forgotten, William fascinates me: How would DePauw, or I, have turned out without him? Reading about William – whose story and picture appears in both of the books on DePauw's history that have placed prominently on my shelves for years – was a bit overwhelming. Sharing William's story is the least I can do to perpetuate his memory and commend his legacy, which I'd like to think proudly lives on through me.  
Sokol is senior vice president of corporate development at News Corp. in New York City. He majored in economics at DePauw, where he was a management fellow and editor-in-chief at The DePauw student newspaper. He earned an MBA at the Wharton School at the University of Pennsylvania in 2011.
William H. Thornburgh Timeline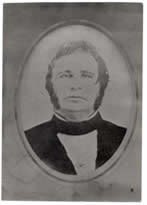 1804: Thornburgh is born in Virginia.
1824: Having worked as a captain of a Mississippi River steamboat and acquiring a lifelong title, he moves to Putnam County, where he teaches school. After his wife dies, he returns to the steamboat.
1830: Thornburgh settles permanently in Greencastle and opens a general store.
1835: He erects the first brick commercial building on the Greencastle square at the southwest corner of Washington and Indiana streets. The business changes locations but lasts 30 years.
1837: He and other locals bring Indiana Asbury University to Greencastle. Thornburgh serves many years on the Board of Trustees, including two terms as president.
1861: Financial troubles force Thornburgh to retire from his business. He announces this in a letter printed in the Putnam County Banner. He turns to a new career as an attorney and real estate agent.
1860s: A former Whig, Thornburgh becomes an ardent Republican who supports President Lincoln and the Union cause.
1876: Thornburgh dies at age 72.
2004: His great-great-great-great-great-grandson R. Brandon Sokol graduates from DePauw.
Source: "DePauw: A Pictorial History," 1986, by Clifton J. Phillips, the late professor of history at DePauw.