One line of dialogue as an orphan in a summer camp production of "Annie" sparked Kari Nelson's love of musical theatre.
Pursuing it as a career, however, did not occur to her until late in high school, when she swapped her plan to study clarinet performance in favor of focusing on vocal technique. She graduated from DePauw in 2013 with a bachelor of musical arts degree and headed to a musical theatre training conservatory in New York City.
And then she fretted. 
"We were trying to figure out where we all fit in the industry and I think that as a performer I'm not really a cookie-cutter type. It's not super obvious what roles I would play," Nelson said. "But I actually saw the 2014 Roundabout (Theatre Company) production of 'Cabaret.' … I was in the very last row of the whole theater, last row of the balcony, but I remember watching it and I saw women on stage who were playing instruments in this really dark, edgy show and they were very eclectic performers and they got to play all these things.
"And I think just seeing that production was the first thing that told me, 'oh, there's a place for me in this industry and this is what it is.'"
"Music has been the center of my life for most of my life and I think that I process things through music. … Music is just kind of how I think and how I function. I can't think of my life without that."
That's exactly where she landed – specifically, in a 2018 national tour of "Cabaret," in which she sang and danced as Rosie, a Kit Kat Klub performer, and when not in a scene dashed up a staircase to play clarinet and saxophone in the show's orchestra. She reprised her role last summer at the Ogunquit Playhouse in Maine before returning to her Chicago home for a one-year master's program in leadership for creative enterprise at Northwestern University.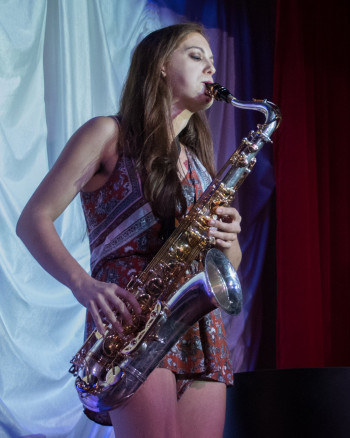 Working at a non-music job between her stints as Rosie reminded Nelson how much she wants "to come up with some sort of actual, full-time job where I would be working in theatre every day and be in control of that rather than just hoping to book a job."
To that end, she has a long-term goal of starting a youth theatre company. Meanwhile, though, she'll keep auditioning and – she hopes – performing. And, of course, keep music in her life.
"Music has been the center of my life for most of my life and I think that I process things through music," she said. "Music is just kind of how I think and how I function. I can't think of my life without that."
(Photo of Nelson with Randy Harrison as the Emcee at Ogunquit Playhouse.)