Kevin Bate '07 was 10 and had been playing the cello for only a year. But the elementary school string teacher saw a spark in him.
"Kevin had all the qualities for success," the teacher, Margaret Stenborg, recalled recently. "He was self-motivated, quick and open to learning, respectful and musically talented and confident. He and I were both very lucky to have his parents as our cheerleaders."
As Bate remembers it, his mother balked when Stenborg suggested Kevin needed a private teacher. But Stenborg persisted, mom relented and "it just fell into place all the way," he said.
Over the years since, a lot of other people have seen Bate's potential, culminating with the Nashville Symphony Orchestra, which named him principal cellist in April. 
The University of Wisconsin-Madison saw it, offering him a full scholarship. So did the Hochschule für Musik Freiburg in Germany, which lured him away two years later with a full ride. A teacher there saw so much promise that she urged him to return to the United States and study with her cello teacher, the famed János Starker, at Indiana University. Bate won scholarships there and his string quartet won a major competition, but too little of his previous coursework was accepted for credit. Bate left IU with a performance diploma and freelanced while looking for a school that would be more flexible. "DePauw," he said, "was really helpful."
"Music is a combination of a lot of things. It's physical. It's mental. … You're listening. You're using all of your senses to follow with everybody, to keep the music together. I think it's a good thing to keep your brain sharp."
So he spent a year in Greencastle, completing his undergraduate degree and working closely with Eric Edberg, music professor emeritus, who Bate said "tried to figure out what was best for me …
"He helped me build a website and do some promotional things. It's not so common, but I think it's a very good thing to do. It's important. And also he had me teach the other cello students so I could practice my teaching, because teaching is something different. A lot of the things that don't get taught so much – he just gave me some experience with that."
The way Edberg saw it, Bate came to DePauw as "a professional-level cellist" so "there wasn't a lot, if anything, that needed to be done" to develop his cello playing. That "gave us the opportunity to spend many of his lessons on improvisation," Edberg said. "We also did an independent study on career development, using what was then the only music entrepreneurship textbook on the market. Our work together was perhaps the first music entrepreneurship class at DePauw."
Bate's first job out of school, artist-in-residence and cellist in the Eykamp String Quartet at the University of Evansville, required the degree. He, violinist Jung-Min Shin (who would later become his wife) and his brother, viola player Craig Bate, separately won spots in the quartet.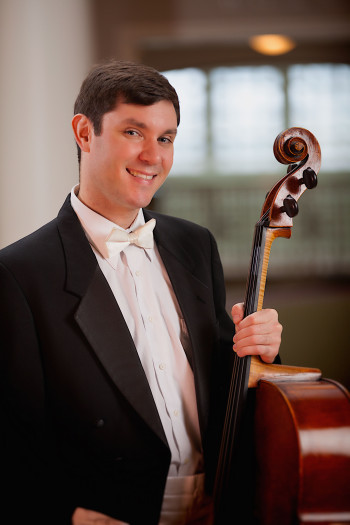 After five years, Shin won a job with the Alabama Symphony; Bate moved with her and traveled frequently, substituting with the Indianapolis Symphony and the Detroit Symphony orchestras. In 2015, he was named assistant principal cello for the Nashville Symphony (his wife auditioned shortly thereafter and was hired); he won his promotion to principal cello after a national audition.
His job entails going over 50 to 100 pages of new music every week, preparing for rehearsals and bowing the parts. In addition to the orchestra, he is a member of the Gloriosa Trio, which recently recorded a CD and is planning concerts in Hong Kong and several American cities. He records music for video games, Japanese anime and big-name stars, such as Garth Brooks.
"Constantly having your brain have to tackle new challenges and perform different feats keeps you a little bit fresh," he said. "Music is a combination of a lot of things. It's physical. It's mental. The note values – it's got math involved. You're listening. You're using all of your senses to follow with everybody, to keep the music together. I think it's a good thing to keep your brain sharp."
Listen: gloriosatrio.com/media/