Mark Bransfield '90 cannot find any definitive proof that he is related to Edward Bransfield, the Irish sailor who explored Antarctica in 1820 and inspired a colleague to name a narrow waterway for him.
"In my imagination I claim him as my own," Bransfield said. "I'm fascinated by polar exploration and have been for a long time." And in his own (much warmer) way, Bransfield has embarked on exploration too, delving into indie folk music-making and naming his recent CD "The Bransfield Strait."
"Songwriting is an exploration," he said in the album notes. "I write and journey to places unknown. Perhaps I land somewhere inside of myself? I am not sure where I go. It is a process I find both terrifying and exhilarating. It is a process of not knowing. Ultimately, it is a process of discovery. Making this record was much the same experience."
When he came to DePauw from the Chicago suburbs, Bransfield was interested in creative writing, envisioning a career writing books, play scripts and movie screenplays. He "blossomed in terms of my intellectual and creative pursuits" during his last two years, acted in DePauw theatre and "was writing stuff in my classes I was very excited about. I got to study abroad." Upon graduation, he returned to Chicago to work as a go-fer on movies, thinking that might open some doors. He moved to Los Angeles in 1995, where he had "sort of mixed success in the script-writing trade" and got a few stories published.
"Music definitely calms my mind and takes me away to another place. Sometimes in life I think we all think about things too much and you can ruminate and think, think, think, think, think. Music is really an escape from that. It's like this deep expression of a human's inner life."
He met the right people and in 2005 he recorded "Night Time," a compilation of light jazz and standards, with a couple of his own compositions tossed in. The album received decent play on the radio, but Bransfield "came to a crossroads out there where I realized, OK, I either have to make music be the be-all and end-all for everything in my whole life … (or listen to) voices coming from my family saying that my dad was getting older and he was ill and he was deteriorating." He and the woman who would become his wife also wanted to start a family – but not in Los Angeles – so they moved back to Chicago.
Bransfield went to work for his father's company, Mohican Petroleum Co., where his brother and sister also worked. Life sort of took over; children came along in 2009 and 2011 and his father died in 2015. But "I kept the music going on the side, always," he said.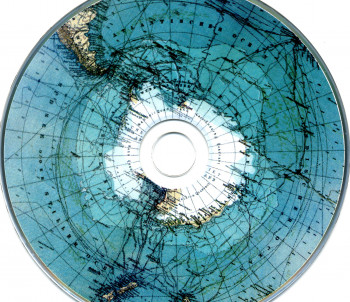 "It was different before kids because it seems like my relationship to time was different. As far as writing, now I write in motion, meaning, I'm on the train. I'll have a few minutes in my office or late nights at home. Usually it starts with scraps of language, words that come to me." Other times, he'll be drumming (drums are his primary instrument) or strumming a guitar (something he does only in private), and a rhythm "will stick with me." Ultimately, songs emerge, he said, from "a journey of not knowing and kind of being off balance or being out of your comfort zone."
As for comfort zones, Bransfield said his bucket list includes a visit to the Antarctica waterway that is depicted on his album cover. "It fascinates me," he said. "I will get there one day."