His job title is part staff, part faculty, but Dave Roberts is all about the students.
Roberts is chemistry lab manager, hazardous materials specialist and part-time assistant professor of chemistry and biochemistry.
However, when he was hired at DePauw 20 years ago, it was as storeroom manager for the chemistry and biochemistry department.
Over the years, he has added a couple more titles to his job description, including part-time faculty, which allows him to teach courses as needed and advise students. And he has made the storeroom into something much more than a place to house beakers, chemicals and Bunsen burners. There's a colorful, comfortable and inviting lounge where students are able to hang out, talk, study or get help on assignments.
"I've been trying to make it a student social space," Roberts says. "I want it to feel like a safe place where students can come, ask questions and work on things that are difficult, whether it's chemistry, physics or whatever."
Roberts' path to DePauw started in New Mexico, where he's from.
Growing up, Roberts "oscillated between math, chemical engineering and chemistry" as favorite subjects. So it was no surprise that he went to New Mexico Institute of Mining and Technology, "a small, nerdy school with a focus on engineering and science."
During that time, he worked at Los Alamos National Labs in a co-op program for two semesters and became interested in lab work.
He then went to graduate school at the University of Wisconsin in Milwaukee in the chemistry department and worked for a professor in biochemistry.
"That's where I met Jackie," he says of his wife, Jackie Roberts, DePauw professor of chemistry and biochemistry and chair of the department.
Both received their Ph.Ds and decided to stay in Milwaukee for postdoc positions at the Medical College of Wisconsin. Roberts also conducted research at Argonne National Laboratory, a science and engineering research lab.
It was "the ultimate geek experience," he says, "and where I learned to be a protein crystallographer, which blends physics, math and chemistry."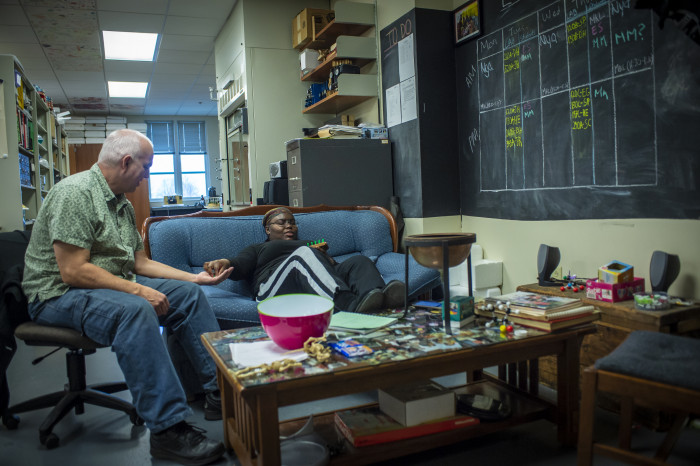 During his postdoc, both he and Jackie applied for teaching positions, but it was Jackie who applied to DePauw.
"When we came for her interview, I really liked the town. I liked everything about it. So I said, if they offer you something, take this one, and we'll figure out what I do later."
He interviewed at a few nearby universities but really wasn't interested in commuting, and then the storeroom manager position opened at DePauw.
Roberts says, "When we moved here, one of my goals was to become community- and student-focused. With a Ph.D in chemistry, it's not always apparent what you can do, but I like to use those skills in some way."
He's a volunteer firefighter with the Greencastle Fire Department and is its go-to for anything HazMat related.
He has volunteered countless hours at each of the Greencastle schools. In fact, every year he targeted one of the schools, picked a grade and had the goal of working with every student.
When some high school students wanted an additional chemistry class but there were too few students to warrant a teacher, Roberts volunteered to do it -- and did so for 10 years.
Roberts says many people have asked him over the years about taking a position as storeroom manager and part-time faculty member with his educational background and expertise in the field.
He says, "I'm a first-generation college student. My dad was a machinist. He didn't graduate from high school, but he did amazing things and was very service-oriented.
"I have a pretty nice job. It's a pretty good gig. I get to interact with students and kind of do what I want to do.
"It's been a lot of fun."