DePauw Magazine
Summer 2019
A GATHERING PLACE FOR STORYTELLING ABOUT DEPAUW UNIVERSITY
It was just eight months since Melinda Maine Garvey '89 had made a move halfway across the country, and she was miserable.
"I'd had this sort of Camelot of a career, right? I just moved up and had always done really well and had always gotten what I wanted," she says. But she was restless for a change and a visit with a childhood friend sparked her interest in Austin, Texas. She applied for several positions and landed "a fabulous job – on paper. Not so much in real life … I didn't like them and they didn't like me."
One evening, during a "pity party," she wondered aloud what she should do. A friend had just returned from a trip to Iowa and told her about "this really cool magazine" called Des Moines Woman.
"She said, 'No one's talking about women … You've done publications; you have that background. You should start that. You should do a magazine here.' And I will tell you," Garvey says, "I can remember like it was yesterday. The hair stood up on the back of my neck and I knew. I knew in that moment that's what I was supposed to do."
A year later and 200 miles away, Elizabeth "Beth" Hentze Owens '89 – Garvey's best friend since they were Kappa Alpha Theta pledge sisters at DePauw – had a career crisis of her own.
Owens had followed an unexpected path, launched when she served an internship in Colombia. She had fallen in love with international business, prompting her to study it in graduate school and then land a job selling diesel engines and power-generation equipment in Southeast Asia. Owens knew neither the languages nor the region, but she was game for the experience.
The relationship between the professor and the student was not one of 'oh, well, I'm only available during class time.' Professors really engage with students.

– Elizabeth "Beth" Hentze Owens '89
A few years later, her boss started American IronHorse Motorcycle Co. Inc. and asked her to handle marketing for its custom choppers. Again, no knowledge about the product but, again, game. And it worked out until the board fired the CEO and replaced him with a 79-year-old engineer who "had nothing for marketing and nothing for women in a position in power. And I was laid off with one day's notice."
So was her entire marketing department, and she proposed to a colleague that they consider a professional future together. She sent a letter to "every dealer, every investor, every media person, every customer, every everyone. And I said, you know, there's this fork in the road and I didn't realize I was going to go down this new path. I'm not sure what I'm going to do. Here are some things in the last number of years that I'm proud of and I'm thankful that you've been part of this story with me."
People started calling her immediately, asking her to do for them what she had done for American IronHorse, but on a contractual basis. "And that," she says, "is how we started BrandEra."
•
Melinda Garvey knew nothing about starting a business. "I knew so little, I also didn't know the downsides, right? I hadn't really thought through anything. I just knew that I was so passionate about this."
She wrote a business plan and hired an attorney, who questioned her plan to cash out her $20,000 401K. She understood that he was trying to protect her, but "he wouldn't stop telling me all the negative and he started to derail me. I started to question myself. Finally, I went back to my business plan and I looked at it and I was, like, no, I'm going to do this. And the next day I fired him … That negative influence could really have changed my whole trajectory." Her childhood friend invested another $20,000 and two other investors came up with $10,000 each.

Seven months later, in September 2002, she launched Austin Woman. She lived off savings and credit cards and, by the end of the first full year, the magazine was profitable. Eventually, Garvey bought out her friend; that was the plan all along, she says. The magazine, which has 10 employees, including Garvey and her husband, has a circulation of 75,000 distributed for free at 1,300 locations around the city and at events; a digital version is available, along with web-only content, at https://atxwoman.com/.
Garvey says it is "incredibly fulfilling" to meet accomplished women and to have readers tell her that stories have changed their lives. But about four years ago, as she contemplated the struggles women face in the workplace, she learned through research that the biggest obstacle to women's success was a lack of relatable role models. Not everyone can aspire to be the next Oprah or Sheryl Sandberg, she says, and, "if you can't see it, you can't be it."
She wanted to reach far beyond Austin and so she set about raising money for a digital enterprise. The first daily "On the Dot" (https://onthedotwoman.com/) email was delivered in April 2016 to individual subscribers, who may read content or listen to a four-minute podcast. "It's like your best girlfriend or your best female colleague telling you a story about a really cool woman," Garvey says. She next developed the corporate "On the Dot Connect" platform, which is marketed to large companies as a way to inspire their female employees and facilitate their development of a support system. 
Garvey says she knew during high school that she wanted to attend DePauw but her parents, Michael R. Maine '61 and Suzanne Bauman Maine '62, "dragged me to other schools because they didn't want it to just be rote or for me to feel obligated. My dad's been a trustee for forever." She prevailed, however, and majored in English literature and minored in French. She subsequently earned a master's degree in international marketing from the University of Maryland and is a graduate of Goldman Sachs' 10,000 Small Businesses program.
She met Owens days before their first-year DePauw classes began in 1985 and they have been best friends ever since. "I talk to Beth on the phone at least three, four times a week," she says. "We talk a lot about business and we've actually used each other for business … She's Auntie Beth to my son …
"We're very intertwined."
•
Beth Owens has always blazed her own trail. An Arlington, Texas, native, she had made her deposit to attend nearby Texas Christian University when she began to question her choice.
She and her mother, Patricia Herrell Hentze '63, headed to DePauw. "I just fell in love with it," Owens says, recalling her first gaze at East College, the friendliness of the people on campus and her impression, subsequently confirmed, that "the relationship between the professor and the student was not one of 'oh, well, I'm only available during class time.' Professors really engage with students."
She was accepted as a management fellow, but quit the program because, as a Spanish major and political science minor, she had no interest in the internships it offered. "I'll find my own pathway," she decided, and that led to a junior-year internship in Colombia; a master's degree from the Thunderbird School of Global Management at Arizona State University; and those unusual jobs.
In the early days after Owens birthed her phoenix – BrandEra, a marketing, advertising and public relations agency that handles regional and national clients – the inevitable stumbles occurred, prompting her to ask Garvey for advice. That added a professional dimension to their friendship: Garvey has hired BrandEra to handle brand development and other tasks for Austin Woman, including developing its logo. Owens has bought advertising in Austin Woman and sits on On the Dot's advisory board; she has nominated Garvey for numerous awards and attends Austin Woman's two signature events each year, an anniversary party and an awards event for women-owned and women-led businesses.
"When I needed to vent about my business or needed some guidance, she'd be the first person I'd call," Owens says, "and when she would face business challenges, she would call me."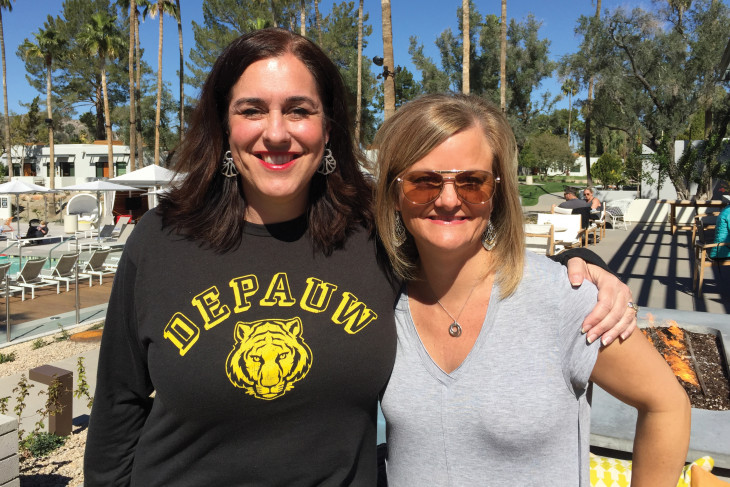 Beth Hentze Owens '89 and Melinda Maine Garvey '89
Among other things, Garvey wondered how Owens retained millennials and instilled in them a strong work ethic. Owens has plenty of experience in that realm, not only with her young employees but also with the DePauw students – management and media fellows – whom she hired as interns over 15 years.
"I can provide this very well-rounded experience," she says. "I think the geographic diversity is something that's attractive. There are a lot of internships in Chicago, Indy and Cinci, and we were one of the unique ones in Texas." Among her interns was Kristie Carter '09, who owns a limousine company in Indianapolis – and for whom Owens developed the company logo.
(Says Gary Lemon, professor of economics and management and the former director of the Management Fellows Program: "I considered it one of the best internships because Beth gave the students a lot of responsibility … She has done well for herself, but she also has done well for our students.")
Owens, who boasts "an almost 30-year love affair with the university," contributes to DePauw in other ways; she was a student trustee and has served on the Alumni Board, the Board of Visitors and the management fellows board. She volunteers in her hometown of Arlington for admission and alumni events. And she frequently travels to Greencastle to speak at management fellows' forums. 
Asked why, her response echoes her friend's "see it to be it" maxim: "There were alums who came into my life early on in my DePauw career who showed me the way."