Music was a big deal in the Puerto Rican household in which Rafael Toro-Quiñones grew up. So was aviation.
"All my brothers, all three of them, had something to do with airplanes and something to do with music," he said. "It was kind of part of the family, honestly. The difference is, I'm the only one who took it professionally."
And that explains why today he is a major in the U.S. Air Force and commander/conductor of its Heritage of America Band, based in Virginia, and its Heartland of America Band, based in Nebraska. He spends off-duty hours flying little airplanes.
But there's more to the story.
Toro-Quiñones said that, as a kid, "I was always around music." Salsa was the native music; radio stations introduced him to American rock; and the youth program at the Conservatory of Music of Puerto Rico, where he spent afternoons during high school, exposed him to classical music.
"Fascinated by the elegance of the instrument – just the physical beauty of the instrument," he settled on the double bass when he was 12. "And of course it's a key instrument. The baseline is key to just about every style of music."
As a teenager, he attended summer camp at the Interlochen Center for the Arts in Michigan, where DePauw music professors visited to audition prospective students. "I just wanted audition experience so I went and took it, not knowing about the university. I got a letter and I kind of, honestly, ignored it until I was reached by the university and invited to come and visit," he said. "I said, OK, so I went and visited a few months later and I left with a super awesome impression of both the faculty and what I thought would be pretty awesome opportunities. It started by chance and as I learned more about the university, I thought it would be a good fit for me. And I was right."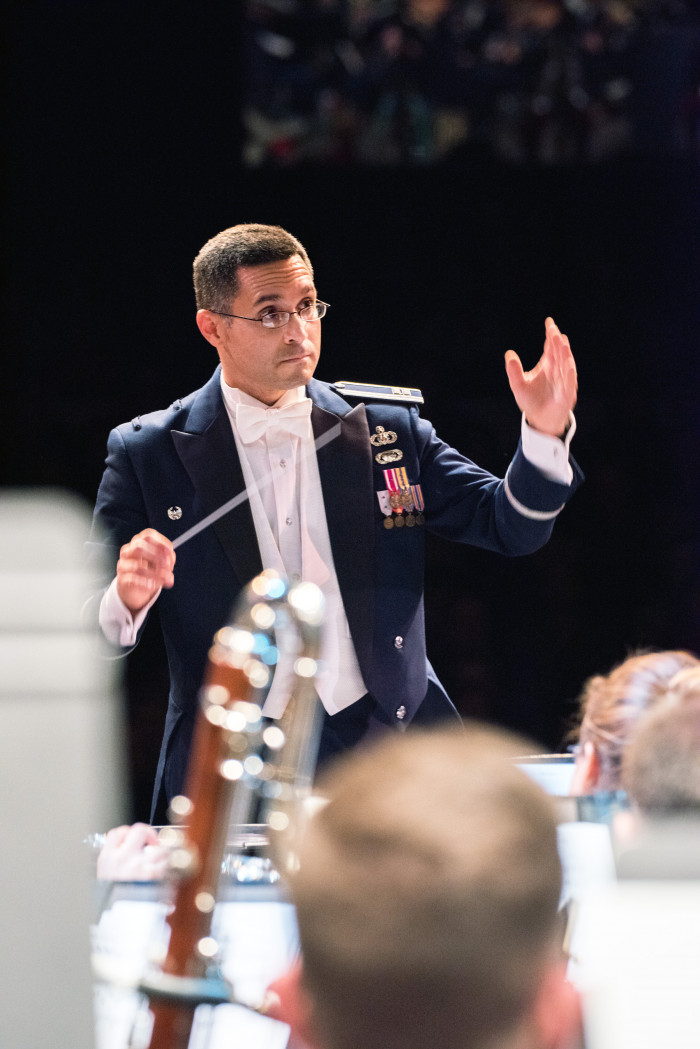 DePauw enabled him to experiment with different musical styles, from classical to jazz improvisation. He played in the wind ensemble, orchestra and jazz band. When he was a senior, he noticed a flyer that advertised music opportunities in the Air Force band program and, though he had never considered the military, several professors urged him to check it out. He auditioned and was accepted as a bassist, a position he held 12 years.
Some years later, he mentioned to a former boss that he was "fascinated by how one individual – one man or one woman – can stand in front of 60, 70 people or 35 people and shape the composition of music. … Ten days later he put me in front of the band. It was kind of a disaster, to be honest with you, technically. I didn't have the technical skills for the conducting but he thought I had a passion for shaping music. So even though I thought it went horrible, I never looked back."  
"Just like we exercise and we push our muscles, I think of the heart – the emotional heart – as a muscle. Music allows me to push and exercise my heart. And I just feel better after that exercise."
He took a two-year educational leave of absence to attend the New England Conservatory of Music in Boston, where he studied how to conduct a wind ensemble. Upon his return in 2009, he attended officer training school to merit the promotion required of conductors and, in June 2009, was named deputy commander of the Heritage of America Band. He became commander six months later.
These days, he is responsible for 300 to 400 performances annually by the two bands – Heritage is the primary band; Heartland is a smaller detachment – that range from two-hour concerts to playing the national anthem at a baseball game. 
What the audience sees – the conductor gesturing with a baton, his hand, his body – is "just a percentage, a very small percentage, of what led to that moment," Toro-Quiñones said. He carefully studies each song that he adds to the band's repertoire with a "sense of discovery," trying to decipher the composer's intent.
"The responsibility that I have toward the composer and the responsibility that I have toward the players is that I have done my homework and I know what I'm doing up there," he said. "And then the responsibility that I have toward the audiences to provide them with a sound and ethical interpretation of this piece of music, something that – whether the concert is free or paid for, it doesn't matter to me –is worth their time. It's interesting; in the old times, whatever the maestro said went and it was this powerful position. I look at it a lot differently. This isn't about me but about a composer, the players and the audience. I'm just lucky enough I get to be part of this process."
Toro-Quiñones is eligible to retire but has no intention of doing so any time soon. The job not only is fun, but affords him an unusual opportunity, he said.
"I am a little bit concerned, if not a lot concerned, about the discord we have in our society," he said. "I don't expect us to agree on everything but it'd be nice if we could just be civil toward each other, and I am finding that music is one of those things that brings people together. … My gut continues to tell me 'Keep at it. Despite the discord that's going on, you're in a position to influence society for the better, not the worse.' …
"I have seen people of all colors of skin, of all political beliefs at an Air Force concert. If I program the right way and if I connect the right way with them, just for an hour or two we are in a place of harmony. And that is so important to me right now."