Valentine's Day is right around the corner, and you still don't know what to do for that special someone. Don't panic! We asked decorated poet and English professor Eugene Gloria for his advice on how to write a love poem.
Here's what we learned:
Start naturally
A blank page can be intimidating when faced with a tight deadline and high expectations. If you're not sure how to begin your poem, Gloria has a suggestion.
"It might be easier to start by writing a short love letter," Gloria says. "Sometimes that feels more natural. It doesn't have the pressure of a poem. It doesn't have to rhyme or be lyrical in some way. What's freeing is to first write a note, then break it down into a form that resembles a poem in your own imagination."
In other words, if writing a poem from scratch makes you anxious, don't. Get your main idea on paper first and refine it into something truly poetic later.
Be concrete
The stereotypical love poem is overflowing with flowery language. Avoid that. Gloria says leaning on emotion and cliché can actually make it more difficult to write an effective love poem.
"When I teach creative writing, I'm basically trying to teach students to stay away from stale language or even emotion, for that matter," Gloria says. "Emotion sometimes gets in the way."
Instead, try writing about something concrete: a favorite flower, a cherished photo, an old t-shirt. Using an object with shared meaning can evoke powerful emotions without needing to pin those feelings down on the page.
"Modern poets have lots of theories about this, and one is that the best way to write about emotion is to write with objects," Gloria says. "That way you control your emotions and direct them in a precise way."
Borrow what works
"Roses are red" poems are common on Valentine's Day because they're quick and easy to write. For the same reasons, they're probably not the best way to communicate something deeply personal. But that doesn't mean you shouldn't draw inspiration from other kinds of poetry.
Look for ideas in places where love is expressed, such as the "Song of Songs," a Shakespearean sonnet or even a track from a Spotify playlist. Working your words into a borrowed form can, as Gloria put it, "give yourself an assignment" with clear directions.
"I sometimes teach by way of imitation," he says. "I challenge students to take something and try it for themselves. Love songs are one way to think about poems for someone who doesn't think in terms of traditional poetry. But there are many others. I think no matter how you approach it, as long as it's directed to someone you love, they're going to appreciate it."
In case of emergency
"Love poems have to happen organically," Gloria says. "Don't try to force it. If I were in a rush, I'd just run to CVS and buy a Hallmark card."
---
About Eugene Gloria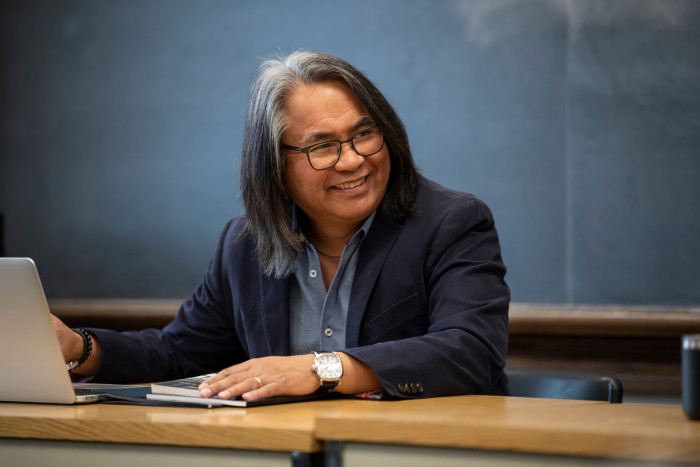 Gloria is the author of four collections of poetry, including his most recent book "Sightseer in This Killing City" (Penguin Random House, 2019). A DePauw University faculty member since 2000, his honors include a National Poetry Series selection, an Asian American Literary Award, a Poetry Society of America award and a Pushcart Prize.