For almost three years, Adrian Ables '16 was living his dream of playing pro soccer. But when the inevitable happened – too little time on the field and too little chance for long-term success – Ables cut in a different direction in his professional pursuits just as deftly as he had executed a cut on the soccer field.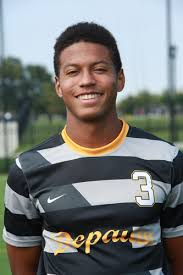 He was able to do so, he said, because of what he had learned at DePauw.
"Freshman year was extremely hard, balancing management fellows, ITAP (Information Technology Associates Program), computer science class, econ and then just trying to get used to DePauw," he said. "No family and being on this small campus and then doing soccer … I feel like all of those challenges and some of those experiences helped me get to where I am today."
As a teenager, Ables, a standout club player in Oklahoma City, stood out at showcase tournaments that attracted college coaches from all over the country looking to fill out their rosters. It so happens that Brad Hauter, DePauw's head soccer coach, attended a tournament in Memphis to scout a defender from Indianapolis who, Hauter said, "was pretty good.
"He had the great misfortune of being lined up opposite Adrian on the game that I watched, and Adrian just tore this kid up. I didn't know Adrian. I flipped through the book and found his phone number, called him on the field and said, 'Hey, you're the best player at this tournament. I don't know what your plans are; I don't know if you've committed somewhere, but if you haven't, let's talk.'"
Ables recalled that Hauter later flew to Oklahoma City to meet the student's family and invited Ables to visit Greencastle. "There were other options, D-I schools and schools within Oklahoma, and this is a school in Indiana," he said. "I'd never been to Indiana before this. I don't know what it was; I fell in love with it."
He liked that the 12-hour distance between home and DePauw gave him "some room to grow" away from his "ultimate soccer dad and soccer mom." As he and his admission counselor walked around campus during a visit, people were friendly and "campus was alive. …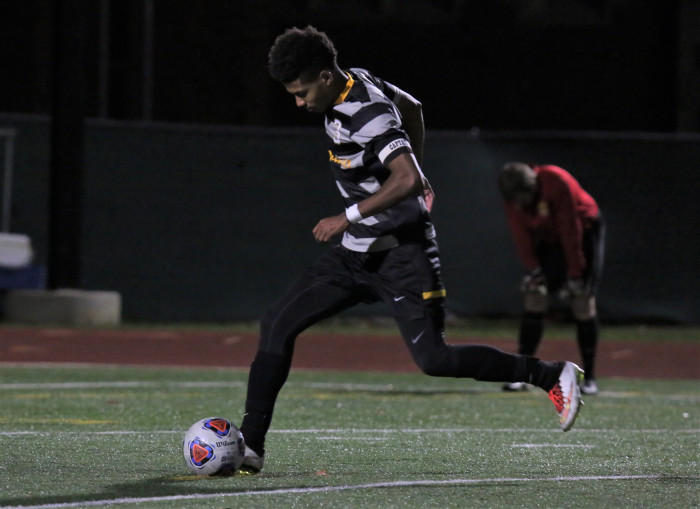 "It's just like all these things lined up to where I'm just like I'm falling more and more in love with this school," he said. "And the fact that it was liberal arts and different in terms of the way they approach education really interested me."
One major decision down, another in the offing. Ables did charcoal drawings and painting but eschewed computer science in high school, largely because the latter entailed little more than typing. But his counselor urged him to take a computer science class, and "it blew my mind out of the water."
Professor Gloria Townsend, chair of the computer science department, taught the class, and "her charisma and the way that she sparked my interest were just astounding because she wasn't like any other teacher that I'd had before."
Before long, Ables decided to major in computer science, a decision that has paid off over and over. Meanwhile, he played soccer for DePauw all four years, scoring 18 goals and 17 assists in 75 games. 
He interned in a technology-related position during each of his four years at DePauw. Sometimes summer, sometimes winter term, sometimes for a semester or more. During a six-month internship in Oklahoma City, he worked out an arrangement with his employer, oil company Devon Energy, that enabled him to train mornings with a pro soccer team, the Oklahoma City Energy. Hauter helped by making introductions.
During his last semester at DePauw, he went to a combine for Rayo OKC, a pro soccer team, and was offered a contract to play for the rest of the 2016 season, June through November. He had a solid job offer and another likely offer, but soccer beckoned. 
He played just one game for Rayo OKC that season and was not invited back. He tried out for a Tulsa team and didn't make it. Shortly before the 2017 season began, he was invited to a combine for the Indy Eleven, which signed him for a year. He played in four games but had "just a fantastic experience."
Still, the Indianapolis team cut everyone on staff at the end of that season and Ables didn't think he could endure "another year of getting dragged through the mud and not necessarily progressing." He was getting less playing time than he thought he deserved. He began to worry about the future.
So he walked away.
"A lot of things played into (the decision) but a major one was the fact that I did have a computer science degree," he said.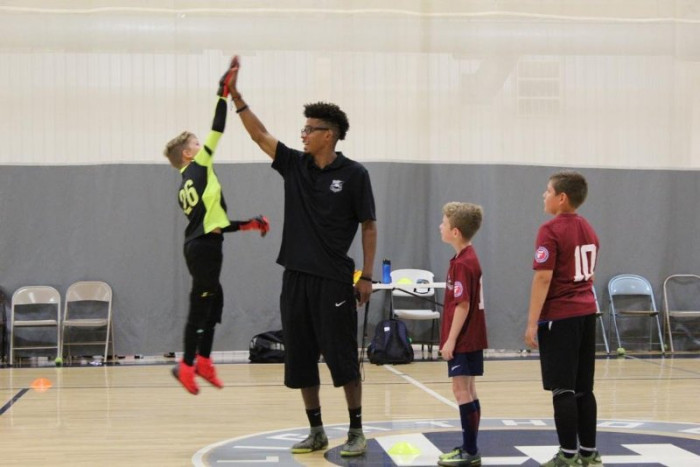 He and two partners had started App Opps, which creates websites and applications, when he was a senior at DePauw; both partners have moved on as the company evolves. Ables and two other partners started OKC Futsal, a club soccer program that teaches indoor soccer to about 120 children ages 7 to teens. A related scholarship program, Kids with Goals, provides funds for children who can't afford lessons. He also operates a third company, which provides private soccer sessions for children and teens.
"What young male athlete does not want to play pro?" Townsend said. "Young men are told that it's really difficult to go pro from a Division III school.  Adrian made it. He had options too. Now that he has quit the pros, he's doing well in IT. … Adrian is a diamond in the rough. He's only three years away from graduation and already has a great story to tell."