Majoring in music?

Studying religion?

Students of All Types Tap Centers to Learn Business and Tech Skills

By Sarah McAdams
DePauw Magazine
Summer 2019
A GATHERING PLACE FOR STORYTELLING ABOUT DEPAUW UNIVERSITY
Pardon the staff at the Robert C. McDermond Center for Management & Entrepreneurship for tweaking DePauw's vision of "developing leaders the world needs" just a bit. Those folks see their goal as developing business-ready leaders.
And it doesn't matter what discipline those future leaders are pursuing or what major they're studying.
The same goes for the staff at the Tenzer Technology Center, where the goal is to make DePauw graduates, regardless of their discipline, more technologically literate than peers who study elsewhere and thus better equipped to handle challenges in the workplace.
At McDermond, "we want to make sure that the music student, the art major – not just the economics and computer science departments but all majors – understand that, when they're looking for a job or trying to enter into business or entrepreneurship in any field – music, history, psychology or education fields – they can utilize the McDermond Center to get ready for their job," says Steven Fouty, the James W. Emison center director.
McDermond often is closely associated with the Management Fellows Program – which it houses – "but most of our programming is for all students," he says.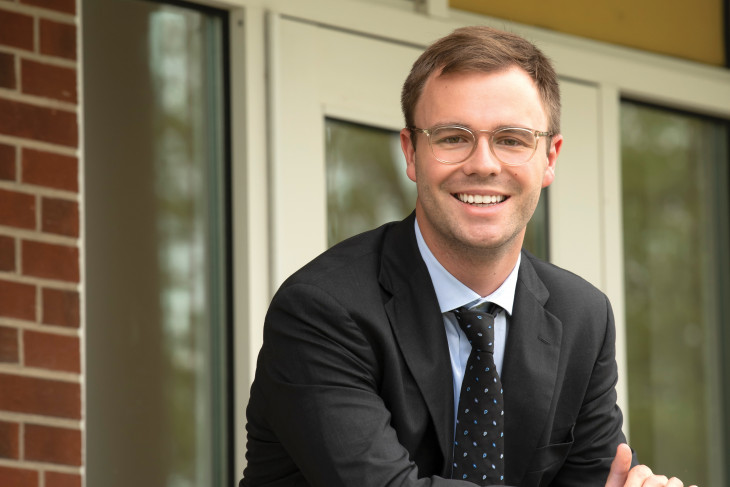 Zach Johns '19, who majored in economics at DePauw, landed a job as a human resource associate at Eli Lilly and Co. in Indianapolis. "Through the McDermond Center programming, whether it's the entrepreneurship pitch competition or the McDermond Speaker Series, I truly believe that I received a business education that cannot be matched by another school," he says.
The center oversees six student-led groups, including Women in Economics and Business. Rachele Miller '19 was a member of its executive team and says, "the McDermond Center does an excellent job of supporting student organizations.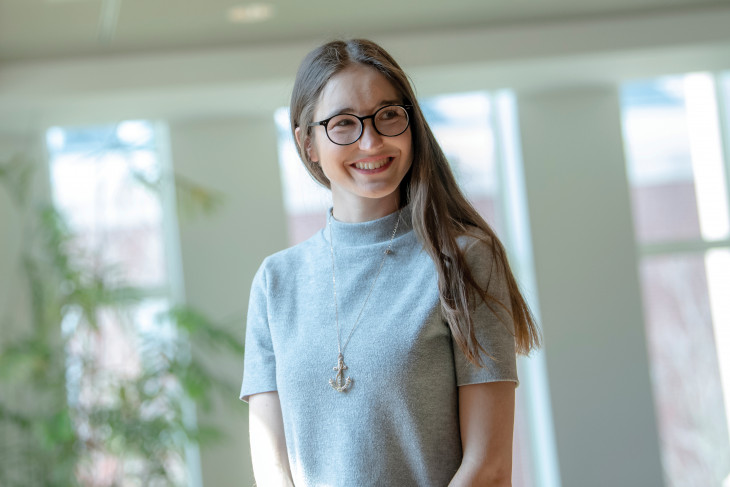 "I was able to tap into the center's large alumni network in order to plan speaking engagements for the organization," says Miller, who was director of relations and, during her senior year, co-president of the group. "These student organizations are sometimes the best ways to get real-world leadership experience."
That, Fouty says, is the goal. "We reach out to the business community and to the Greencastle community to help develop projects for students so that they actually benefit businesses and gain real-life experience …
"If a student wants to do something creative with a nonprofit in downtown Indianapolis, for example, we'll try to connect them and help them develop a real-life project."
Miller credits the McDermond Center for not only preparing her for internship and job interviews, but for helping her find her first employer post-graduation: Appirio, an information technology consulting company.
"They helped me pursue internships in many different fields in order to help me find what I aspired my first job to look like," she says. "I would not be nearly as self-assured or well equipped for life post-graduation without the McDermond Center."
Fouty says the center helps alumni, too. "Especially in the entrepreneurial world, many students have an entrepreneurial mindset but yet they want to get real-life experience. So their first job or two they'll go out and into industry and, five to 10 years later, they think they're ready to start their own business. We will help them through that process and introduce them to other alums."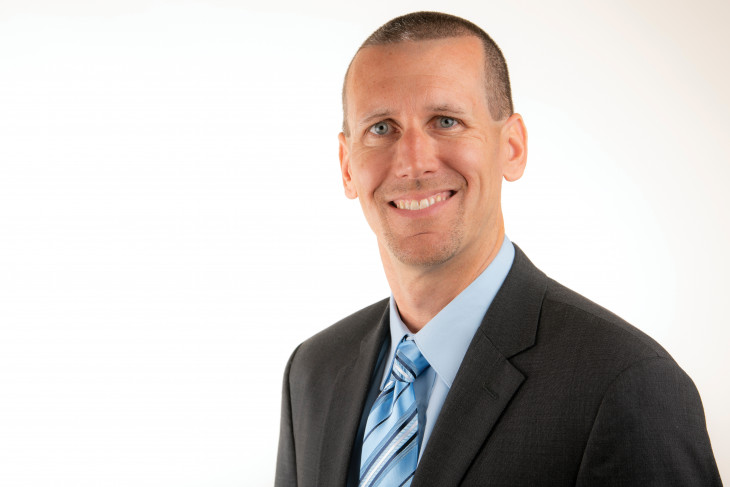 Over at the Tenzer center, "we're not just targeting the computer science students," says Michael Boyles, its director. "We're really focused on all students across all disciplines…
"Computer science students will find the center, the initiatives and the technologies that we have because they have to, and they want to. What we really want to do is make all other majors readier for the world. We talk about preparing leaders the world needs at DePauw. Well, those leaders go on to lead companies and people and projects that use tech, and maybe even build tech."
Boyles says he's not suggesting that every English or religious studies major switch to computer science, but those students need to be comfortable with technology.
"We want to decrease the level of anxiety with those students involving tech. We want those students to be able to manage technical folks – to be able to envision and foresee the possibility of bringing existing technologies together to build a bigger technology and maybe a new technology."
Tenzer offers workshops, curriculum development for faculty and summer stipends to teach faculty members how to infuse technology into their classrooms. It temporarily occupies a small space, including a visualization lab and interactive touch screen, in the lower level of Roy O. West Library. The $10 million gift made in 2016 by the Tenzer Family Foundation, founded by Lee Tenzer '64 and his wife Marilyn, to establish the center provides funding to install technology throughout the library and perhaps elsewhere eon campus, Boyles says.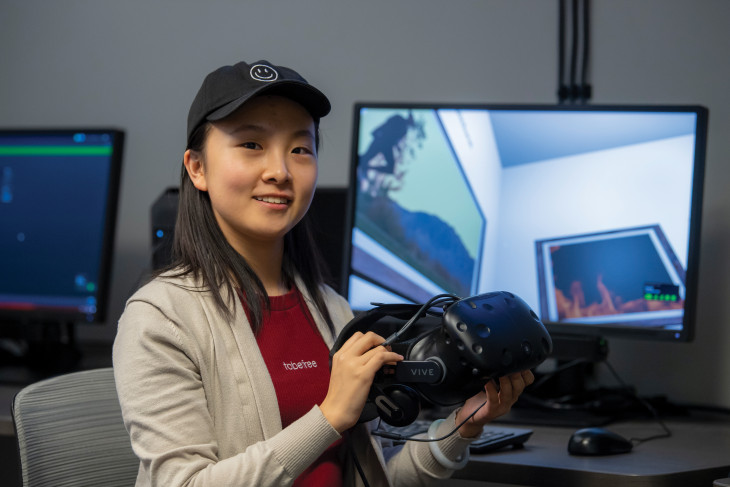 Students such as Althea Jinzhi Qin '21, a communication and studio art double major, see the value of the center's technology. "As we all know, we are in a computer science era, and it's important for everyone to get to know the latest technologies like virtual reality, data visualization and 3D printing," she says. "Attending workshops in the Tenzer Center would be a good start."
Keisuke Ohtani '19, who majored in computer science, says the center is a place where non-programmers can get their foot in tech projects and programmers can find a project to work on.
"The technology that the Tenzer Center was very useful," Ohtani says. "It was really helpful for me getting into a new area of computer science, and I know I would have a tougher time finding a job without the experience at the center."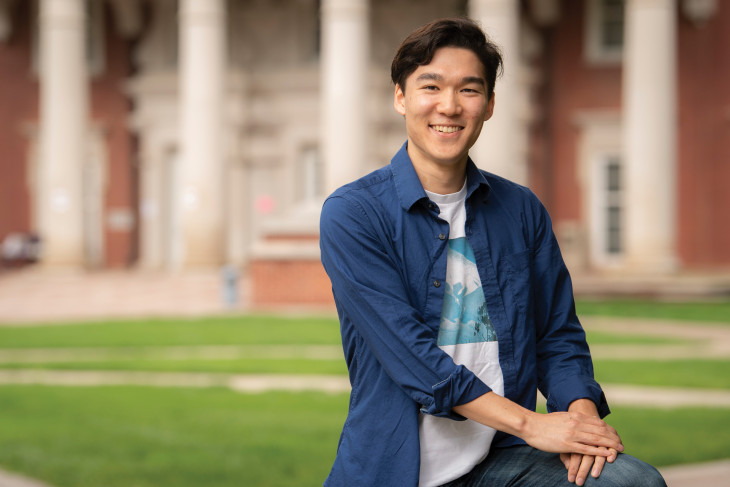 Centers connect DePauw with Indy
DePauw's reach into business and tech spaces extends, quite literally, into the heart of Indianapolis.
At Union 525, a hulking tech hub on South Meridian Street, the university operates two initiatives aimed at creating connections between students and prospective employers, as well as spreading the word to prospective students about DePauw's robust educational offerings.
One initiative provides DePauw students, faculty and staff with membership in and 24/7 access to Launch Indy, a coworking space started in 2016 as an incubator for entrepreneurs. It is located in a building that started life in 1895 as an industrial training school. The second initiative provides an Indianapolis presence for DePauw's Robert C. McDermond Center for Management & Entrepreneurship and its Tenzer Technology Center.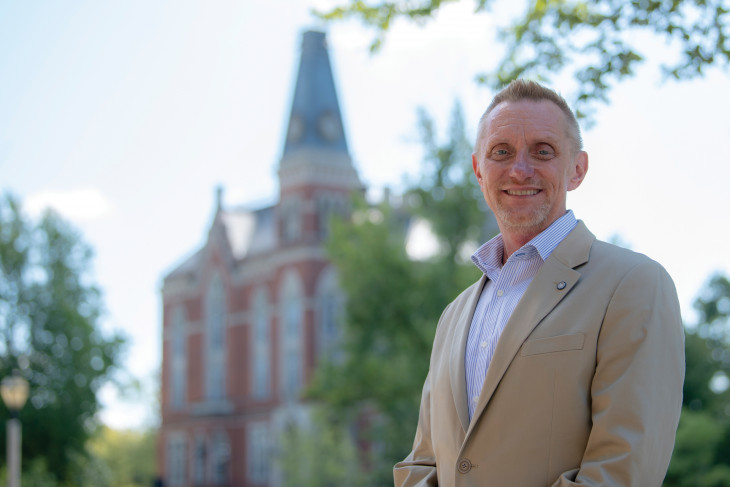 "Not every business is going to come out to Greencastle and not every business really understands what we do at DePauw," says Steven Fouty, McDermond's James W. Emison director. "So we're there advertising. We're bringing people together. It's a way to immerse students in the experience, and it's also a place for alums to connect.
"I think DePauw is all about relationships," Fouty says. "And Union is just a way to really capitalize on those relationships in Indianapolis."
Michael Boyles, the Tenzer center director, concurs. "It's about relationship building. The rationale behind the Tenzer center being involved is that we want the students to have access to a tech community, and that is literally happening in Union 525."
Katie Birge '08, executive director at Launch Indy, says her organization and DePauw developed a relationship "to provide the DePauw community with an environment to connect with the Indianapolis startup community and to offer a space for working on new ventures, internships and training."