You've seen the photographs. Read the horrific tales.
So many plastics floating on the ocean's surface that the Great Pacific Garbage Patch spans twice the size of Texas. Beached whale carcasses stuffed with grocery bags and pop bottles. The turtle whose shell grew around a six-pack plastic ring, leaving her with a grotesque hour-glass figure.
It's overwhelming, to be sure. But six DePauw research fellows and two professors aren't wringing their hands; this summer they're demonstrating how a few individuals at one university in the middle of Indiana can make a difference.
"We started the summer by asking the question, 'what if we could address the global plastic pollution problem right here at DePauw?'" says Katherine "Grace" White '20, a studio art major participating in a summer project that links art, the environment and the liberal arts by establishing a plastic recycling facility on campus. 
The project, says Abel Bates '22, a kinesiology major and environmental fellow, "starts to change our community and give the option to change our community. Even if it's not changing the world, it's a couple steps to help people at least."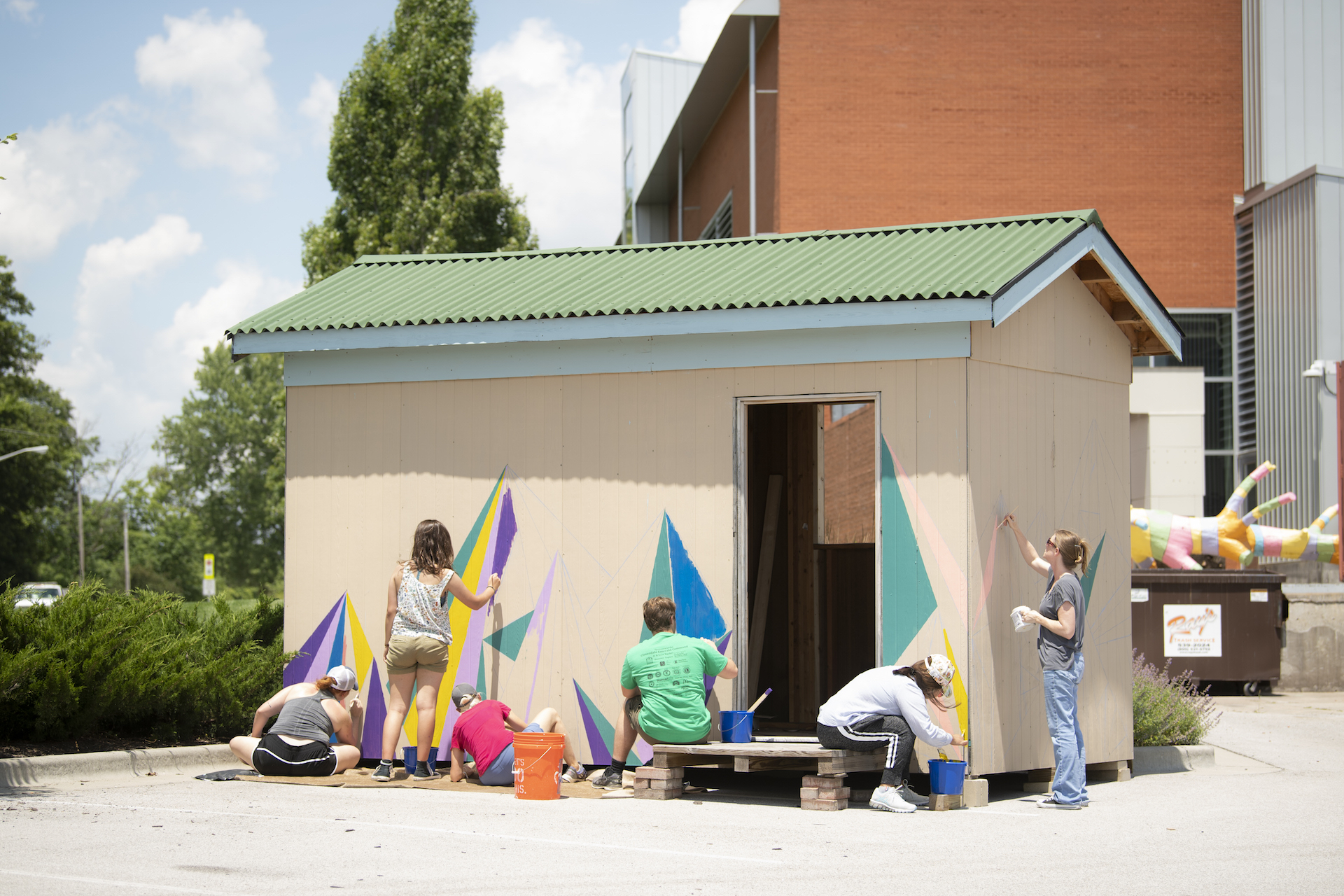 Tim Sofranko
Using recycled materials, the students have transformed a shed behind Peeler Art Center into their recycling site, where they are installing machines that will shred plastic, melt it down and then extrude it into useful shapes, such as construction materials for decks and fencing. The students are developing methods to collect – on campus and in Greencastle – #2 plastic, high-density polyethylene, which is used in grocery bags, freezer bags, milk bottles and shampoo bottles; #4 plastic, low-density polyethylene, which is used in cling wrap and garbage bags; and #5 plastic, polypropylene, which is used for microwaveable food containers and straws.
They also are producing social media postings and videos to tell their story.
"Our project is incredibly interdisciplinary, finding a mix of art, sciences and ethics," says Sophia Featherstone '22, who is making a documentary video about the project. "But the common ground on which the voices of all these subjects seem to converge is storytelling."
The project got its start when Jennifer Everett, an associate philosophy professor and co-director of the Environmental Fellows Program, learned about Precious Plastic, a worldwide project started in 2013 by a Dutch designer who built a small-scale plastic recycling system inside a shipping container and used it to produce plastic products and artwork. Precious Plastic sells kits to build the machines and provides instructions and knowledge online for free.
Students in the Environmental Fellows Program's gateway seminar began the work on the project last semester, studying the environmental and public health toll of plastic pollution. Meanwhile, Everett mentioned Precious Plastic to Lori Miles, a professor of art and art history, and together they began seeking funding for a student project that would marry their disciplines. They received funding to support summer research from the Joseph and Carol Danks Centers Council Fund for Multidisciplinary Projects, a new fund that encourages work involving academic departments and any of DePauw's eight cocurricular centers.
The Tenzer Technology Center and Pulliam Center for Contemporary Media already have assisted, and it's likely that Hartman Center for Civic Engagement will be asked to provide expertise in community-centered projects and outreach initiatives; the Prindle Institute for Ethics and Hubbard Center for Student Engagement also may become involved.  
The project will again be integrated into the gateway seminar, as well as three art classes, this fall; Miles plans to use materials produced in the process for sculpture classes. She and Everett also are considering creating a first-year seminar and a winter or May term off-campus course involving a trip to a Precious Plastic site outside the United States.