The Media Wall of Fame
DePauw University and the PCCM annually honor alumni for their contributions to the Media.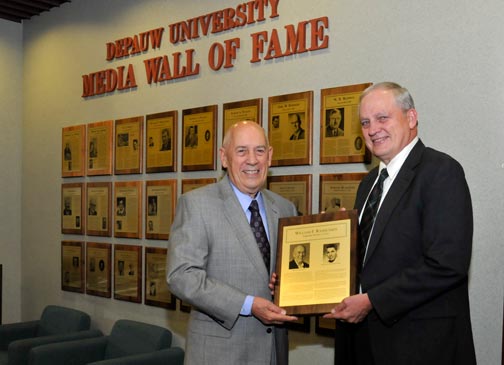 Bill Rasmussen '54 receiving his DePauw Media Wall of Fame
plaque from Pulliam Center Director David Bohmer '69
A lifelong entrepreneur and sports fan, Bill Rasmussen '54 is best known as the founder of ESPN, the Entertainment and Sports Programming Network. His numerous innovations in sports, broadcasting and advertising include the concepts for Sports Center, wall-to-wall coverage of NCAA regular-season and March Madness basketball, coverage of the College World Series and convincing Anheuser Busch to break the cable television advertising barrier to sign the largest advertising contract at the time.
Rasmussen graduated from DePauw University in 1954 with a bachelor's degree in Economics. He was a Rector Scholar and a member of Lambda Chi Alpha fraternity and Air Force ROTC. Following his time at DePauw he served in the United States Air Force and then earned an M.B.A. degree from
Rutgers University in 1960.

Rasmussen began his career as a sports broadcaster at WTTT-AM radio in Amherst, Massachusetts. He created the first-ever radio network for University of Massachusetts football and basketball games. He moved to WWLP-TV in Springfield, Massachusetts and spent 10 years as sports director, and then news director and anchor. In 1974 he left to join the New England Whalers as Communications Director.

Rasmussen incorporated ESPN in July of 1978. After seeking investors, content providers, advertisers, satellite technology and transmission agreements with cable television companies, the network began broadcasting 14 months later on September 7, 1979.
Most recently, Rasmussen has served as a consultant on television matters for the Big Ten conference and numerous other startup media and internet companies. Rasmussen also introduced
College Fanz, an online college sports community, in 2007.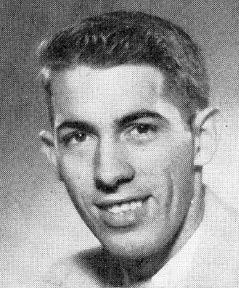 Rasmussen was named the "Father of Cable Sports" by USA Today. In 1997 he was inducted into the Connecticut Sports Museum and Hall of Fame, and in 2002 he took his place on the Rutgers University Wall of Fame. He was also honored in the 2011 class of The Champions: Pioneers and Innovators in Sports Business from Sports Business Journal and the Sports Bueiness Daily. Rasmussen remains active in numerous charity events
See the complete listing of Media Wall of Fame recipients here.