Speakers Series
The Pulliam Center for Contemporary Media and DePauw's Media Fellows Program sponsor an ongoing Speakers Series which highlights various aspects of the media while also giving our students the chance to interact with working professionals and experts. These events are free and open to the public.
upcoming EVENTS

Nolan Higdon
Nolan Higdon is an author and university lecturer at Merrill College and the Education Department at University of California, Santa Cruz. Higdon's areas of concentration include podcasting, digital culture, news media history, and critical media literacy.
Digital Disinfowars:
A Critical Media Literacy Approach to Media Making and Disinformation
4 p.m. in Watson Forum
March 21, 2023
recent events

THOMAS MORTON
Participatory Journalism
Writer and television host - VICE
4p in Watson Forum
March 2, 2023

THE JANES
THE JANES is the story of an underground network of women in Chicago in the late 60s and early 70s who provided safe, affordable, illegal abortions to women in need.
Viewing and Talk with co-director Emma Tildes
Emmy Nominated Filmmaker
Co-sponsored by the PCCM, Feminista,
The Women's Center, and Media Fellows
7:00 p.m. in Watson Forum
November 3, 2022

ART SILVERBLATT
MEDIA LITERACY AS A CRITICAL THINKING
SKILL IN TODAY'S POPULAR CULTURE
Co-sponsored by the PCCM and Media Fellows
Time TBA in Watson Forum
October 25, 2022


Eric Harvey
"Who Got The Camera? A History of Rap and Reality"
Associate Professor in the School of Communications,
Grand Valley State University
Thursday, October 6, 2022

Dexter Thomas
Japanese Rap Music and Remixing The News
Dexter Thomas is a Pulitzer Prize-winning journalist, Emmy Award-winning filmmaker, and a correspondent for VICE News.
Co-sponsored with Media Fellows and The Tenzer Technology Center
Tuesday, September 13, 2022

Ian Daniel '04
Film maker and Emmy-nominated Producer
Earth Week Speaker
"Environmental Justice means Racial Justice:
Grassroots Movements, Indigenous Solutions,
and Storytelling for Social Change"
Wednesday, April 20, 2022

Dave Jorgenson '13
Video Producer and the face of
The Washington Post Tik Tok Account
Watson Forum
Saturday, February 26, 2022

Man On Fire - Screening and Q&A
Filmmakers Joel Fendelman and
James Chase Sanchez
Peeler Art Center
Wednesday, September 1, 2021

Can't Touch This: Media, Innovation, and
Entrepreneurship in the
Intangible Economy
Stan McCoy '93
President and Managing Director of the
Motion Picture Association
EMEA (Europe, Middle East, Africa)
April 15, 2021

Moon's The U.S. Civil Rights Trail: A Traveller's Guide to the
People,Places, and Events that Made the Movement.
Deborah Douglas
Eugene S. Pulliam Distinguished
Visiting Professor of Journalism

February 25, 2021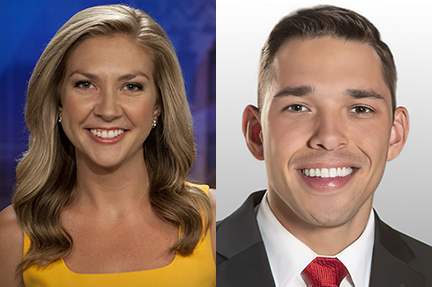 "Why Local TV Journalism Matters: A Conversation
with Suzanne Spencer '14 and Zach Crenshaw '14"
- Suzanne Spencer '14, Fox 6, Milwaukee
- Zach Crenshaw '14, ABC 15, Phoenix
hosted by Dr. Jonathan Nichols Pethick,
Director of Media Fellows, and Marilyn Culler,
Assoc. Director of Media Fellows
November 12, 2020

Advertising, Public Relations and Media Sales
Industry Event
- Jon Coffin '06, SVP, Vox Global
- Holly Enneking '08, VP Marketing, Lev
- Adam Gilbert '10, Head of Partnerships and
Performance at Initiative and Initiative Wellness
- Grant Walters '16, Senior Brand Planner,
Weber Shandwick
October 29, 2020

Covid-19 and the Media: How Media Coverage
has Affected Americans
A virtual panel discussion featuring Pulitzer Prize-winning
New York Times reporter Jim Stewart '73; Pulliam Distinguished Visiting Professor of Journalism Deborah Douglas; Joan Konner Visiting Professor at Columbia School of Journalism Graduate School Meg Kissinger Boynton '79; Director of the Pulliam Center for Contemporary Media and Director of Media Fellows Jonathan Nichols Pethick; and current students Ian Brundige '22 and Thomas Curdt '22.
Wednesday, September 30, 2020

Believed: An Evening with
Lindsey Smith and Kate Wells
Join the hosts of the Peabody Award winning podcast
"Believed" from Michigan Public Radio.

"Believed" is an inside look at how a team of women won
a conviction in the case against Larry Nassar, one of
the largest serial sexual abuse cases in U.S. history.
Tuesday, October 22, 2019

Brandon Smith

Investigative Journalist, ProPublica
"Journalism, Government Accountability, and the Future of
'Muckrakery': Finding a New Model"
Monday, October 7, 2019

Dr. Siva Vaidhyanathan

Director of the Center for Media and Citizenship
Media Studies Department
University of Virginia
"Antisocial Media: How Facebook Disconnects Us and
Undermines Democracy"
Tuesday, March 19, 2019

Dick Johnson '76
Anchor/Reporter, NBC Chicago
McWethy Mentor for WGRE and D3TV
March 17-21, 2019

John Strauss
Digital Audience Growth Editor
Lumina Foundation
Indianapolis, IN
Kilgore Counselor for The DePauw
March 10-13, 2019
a selection of past speakers



Dr. Amanda Lotz '96
prof. of communication
studies, Univ. of Michigan




The kerner commission 50
years on: miles to go




Sen. Richard Lugar
Rep. Lee Hamilton




indira lakshmanan
Washington columnist,
the boston globe




Lisa frazier page
best-selling author




Craig Silverman
Media editor, buzzfeed

JIll Frederickson '92
US NEWS AND WORLD REPORT


Kate Domaille
IES Study Abroad, London



david dietz '11
bess evans '07
Duncan wolfe '11
The White house




ruben casteneda
US News and world report




Joe Lavine
Educator, profoto US

Ben Solomon '10
New York Times




John Fortt
CNBC




Ann Helen Petersen
Buzzfeed news






Mike Sear
teamworks media


Graham James
Spotify

MIranda spivack
Pulliam distinguished professor

Larry Krutchik
Hill+KNowlton Strategies

Brian Lamb
C-SPAN Founder

Drew Powell '98
TV and Film Actor

Dr. Lisa M. Pratt
Chair, NASA Mars Exploration Analysis Group

Candy Crowley
CNN Chief Political Correspondent

Bill Rasmussen '54
ESPN Founder

Chinonye Chukwu '07
Writer, Film Director