Prospective Students

Students in the DePauw University School of Music know they will be heard. Our small class sizes, our caring faculty, and the absence of graduate students guarantee that you are heard from the very beginning of your career. Come see what it feels like to be heard.
---
Quick FactS
One of the first Schools of Music in America

Men: 46%

Woman: 54%

First-year to Sophomore Retention Rate - 90%

Minority Enrollment: 22%

Origins of Students: 23 states and 6 countries

Student-to-Faculty Ratio: 5:1 (10:1 for the College of Liberal Arts)

Average Class Size: 12 (15 for the College of Liberal Arts)

Distance to nearest international airport: 39 miles
---
Schedule a Visit
Choosing a school that is a good fit requires both your head and your heart. The DePauw School of Music will offer you an exceptional education. But you won't really know how you feel about the School until you visit. A visit offers you the opportunity to experience the campus community firsthand. It gives you the chance to evaluate your personal interaction with our faculty members and students and to tour our facilities. We invite you to visit the School of Music to take a campus tour, meet with ensemble directors and faculty members, sit in on a class or rehearsal, or attend any performances held during your visit. Contact us at 800-447-2495 or by email at admission@depauw.edu to schedule your personal visit.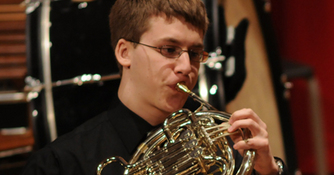 Apply to the School of Music
Find out more about applying and auditioning for the DePauw School of Music.
Read More