"Innovative" and "Highly Praised" Posse Program Spotlighted in Chicago Tribune
August 5, 2008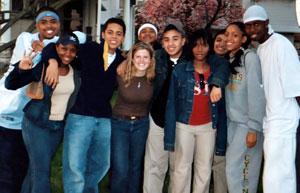 August 5, 2008, Greencastle, Ind. - "The Posse Foundation is an innovative scheme brought to fruition almost 20 years ago by Deborah Bial, an education specialist who was troubled by the high failure rate of promising minority students recruited by top-tier universities," writes the Chicago Tribune's Tom Hundley. He notes, "this year's crop of Posse Chicago's 72 scholarship winners will be heading to Carleton College in Minnesota, DePauw University in Indiana, [Denison University and] Oberlin College in Ohio and Pomona College in California, as well as the University of Illinois at Urbana-Champaign and the University of Wisconsin-Madison."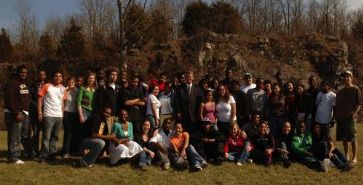 The Posse Foundation identifies, recruits, and trains student leaders from urban public high schools to form multicultural teams called "posses." Following an intensive eight-month recruitment and pre-college training program the teams enroll at top-tier colleges and universities nationwide to pursue their academics and help promote cross-cultural communication. DePauw has partnered with the Posse Foundation since 1996 and became the first college in the nation to host two Posse groups (from New York and Chicago). (at right: Dr. Bottoms with Posse students at the DePauw Nature Park, March 2007)
In a feature in the Tribune's magazine, Hundley reports, "The program, which started off as a shoestring operation in New York, has expanded into a well-financed and highly praised organization with offices in six cities, including Chicago, and an annual budget of $8 million. To date, some 2,200 Posse Foundation scholars have gone off to 28 universities with $220 million worth of full-tuition scholarships in their pockets. Last year, the John D. and Catherine T. MacArthur Foundation awarded Bial one of its 'genius' grants for her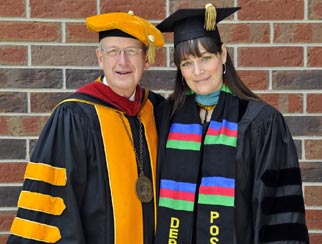 work as an education innovator. But the most significant measure of Bial's success is the 90 percent graduation rate of Posse Foundation scholars -- far higher than the national rate of about 50 percent for all freshman entering four-year institutions."
Debbie Bial -- who presented May's commencement address at DePauw with President Emeritus Robert G. Bottoms -- tells the Tribune, "Historically, a lot of programs that aim to help these students are looking at what's wrong with them-they are poor kids, they are at-risk kids, they are kids from urban high schools. We take a different approach. We're looking at what's right with them. We are a strength-based program," she says.
Read the complete article, "The buddy system," at the newspaper's Web site.
Audio and video clips of Debbie Bial's address at DePauw can be found in this story.
Back