Posse Founder Debbie Bial and President Bottoms Examine 'Motivation and the Good Life'
May 18, 2008
Also: 598 Undergraduate Degrees Awarded at DePauw's 169th Annual Commencement; Three Receive Honorary Degrees; Complete Speeches --

[Download Audio: "Debbie Bial" - 3801kb]

[Download Audio: "Robert G. Bottoms" - 4811kb]; Order Your Commencement DVD/ Commencement Photo Gallery
May 18, 2008, Greencastle, Ind. - "I hope that you care enough to reach into the depths of your soul and live your life so fully that you feel as if you are about to burst," Posse Foundation founder Deborah Bial told DePauw's Class of 2008 moments before they received their diplomas at today's 169th annual commencement. She advised them, "Love like crazy, learn like crazy, and care about each other -- like crazy."
Debbie Bial was joined in delivering the keynote address to graduates by Robert G. Bottoms, who is retiring after 22 years as president of DePauw. They discussed "Motivation and the Good Life." Bial -- who received an honorary degree from DePauw in 2000 and was today awarded the McNaughton Medal for Public Service -- called Dr. Bottoms "a truly great president."
The Posse Foundation identifies, recruits, and trains student leaders from urban public high schools to form multicultural teams called "posses." The program sends students to top-tier colleges and universities nationwide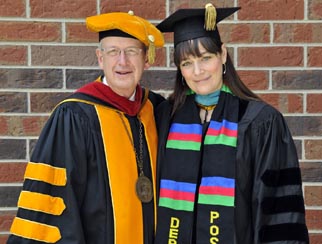 to pursue their academics and help promote cross-cultural communication. DePauw has partnered with the Posse Foundation since 1996 and became the first college in the nation to host two Posse groups (from New York and Chicago).

[Download Video: "How Will You Care?" - 2518kb] "What will you do as a collective?," Bial asked the graduates who sat before her on the lawn of historic East College. "What will motivate you to do good things? How will you care? Did you ever have a moment when your whole heart went out to someone? Maybe you didn't have time to think about helping or supporting or nurturing or encouraging but you did it. Maybe you are someone who even saved someone else's life once. But I hope you also think about extending that instinct to the larger world out there. It's not hard to see that this world needs help," she declared.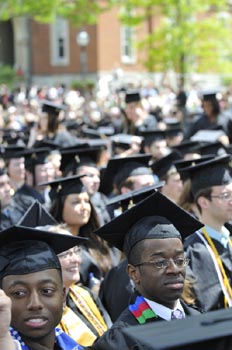 The recipient of a so-called "genius award" from the John D. and Catherine T. MacArthur Foundation, Bial noted, "This past Thursday there was a picture on the front page of the New York Times of two parents holding the body of their child, killed in the earthquake in China. Some people called the Times to complain. The photo was too upsetting they felt. It shouldn't be on the cover of the newspaper. Well, what do you think? Are you going to be a generation that chooses to avoid looking? Or knowing? Or are you going to look at everything and care?"
Bial called upon her audience to continue "working together. Listening to one another. Debating like you've done in class at DePauw. Learning from each other. And collaborating to make the best possible future for us all. The most powerful forms of leadership are those that bring voices together, hearts together, minds together and then most importantly actions together for the greater good. If we care about each other's causes, and pool our resources -- if we care about each other's problems we have much more chance to build greater prosperity for all."
She concluded,

[Download Video: "Bial's Closing Comments" - 1306kb] "I know you can do it. You are sitting on that seat right there. You're graduating! Feel it. This represents a moment of transition in time. Sit on the edge. You are about to walk across this stage and into the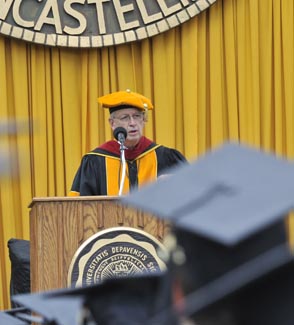 world. And boy do we need you."
In his remarks, Dr. Bottoms noted that in his thirty years working at DePauw he's had the opportunity "to observe the lives of thousands of students and alumni. And I've had the opportunity to look at what I would call the landscape of America." The president told graduates this is a world of "imperfect people," and asked,

[Download Video: "Relating" - 1500kb] "How do we relate to people who are imperfect? How do we relate to people who disappoint us, do we just dismiss them? Do we build fences around them and let the world get smaller and smaller as we build more and more fences? Do we ignore them, or do we deal with them and learn to love, to accept imperfections in people? Realizing that no matter whom you happen to be thinking about now as one of the most imperfect people you know, we're totally unaware of all the factors that made them the way they are."
Bottoms added, "The most important thing I have learned in working with students like you and faculty members and alumni ... the most important aspect of life is serving one another." He talked of "the freedom that comes when we do learn to love, when we do learn to care."
The longest-serving president in the University's 171-year history continued,

[Download Video: "The Love Ethic" - 2122kb] "When you think about the history that you've learned as a student at DePauw, you realize that all great social
movements, all movements for social justice, have strongly emphasized the love ethic. One was Martin Luther King, a 20th century Christian; the other, Gandhi, a 20th century Hindu. And what made these two individuals exceptional was not that they were smarter than their peers or kinder than their neighbors. What made them exceptional was that they learned to live out the truth of their most basic values. The true meaning of life, we would argue -- Debbie and I -- is learning to serve other people."
Bottoms pointed to the work DePauw alumni have done to better their communities and the world, and stated to the graduates, "If you think I'm asking a lot of average people to do extraordinary things, consider this: the extraordinary people who have sat where you sit perhaps viewed themselves as average people when they were graduating."
The man who becomes President Emeritus of DePauw told the new graduates he hopes they experience "the joy of loving others even in an imperfect word, and you will learn by experience that true freedom, true meaning, is found in serving others."
A total of 598 undergraduates received degrees at today's ceremony, which took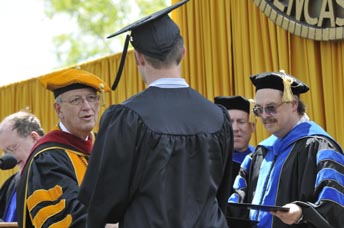 place under sunny skies and breezy conditions on the lawn outside historic East College. Learn more in this story. Also available is a report on today's three honorary degree recipients.
Today's event was webcast live. View an archived version of the program by clicking here.
Order a limited edition, high quality DVD of DePauw's 2008 commencement via this online form. Learn more about the disc in this article.
Back