President D. Mark McCoy
A biography of DePauw's 20th President.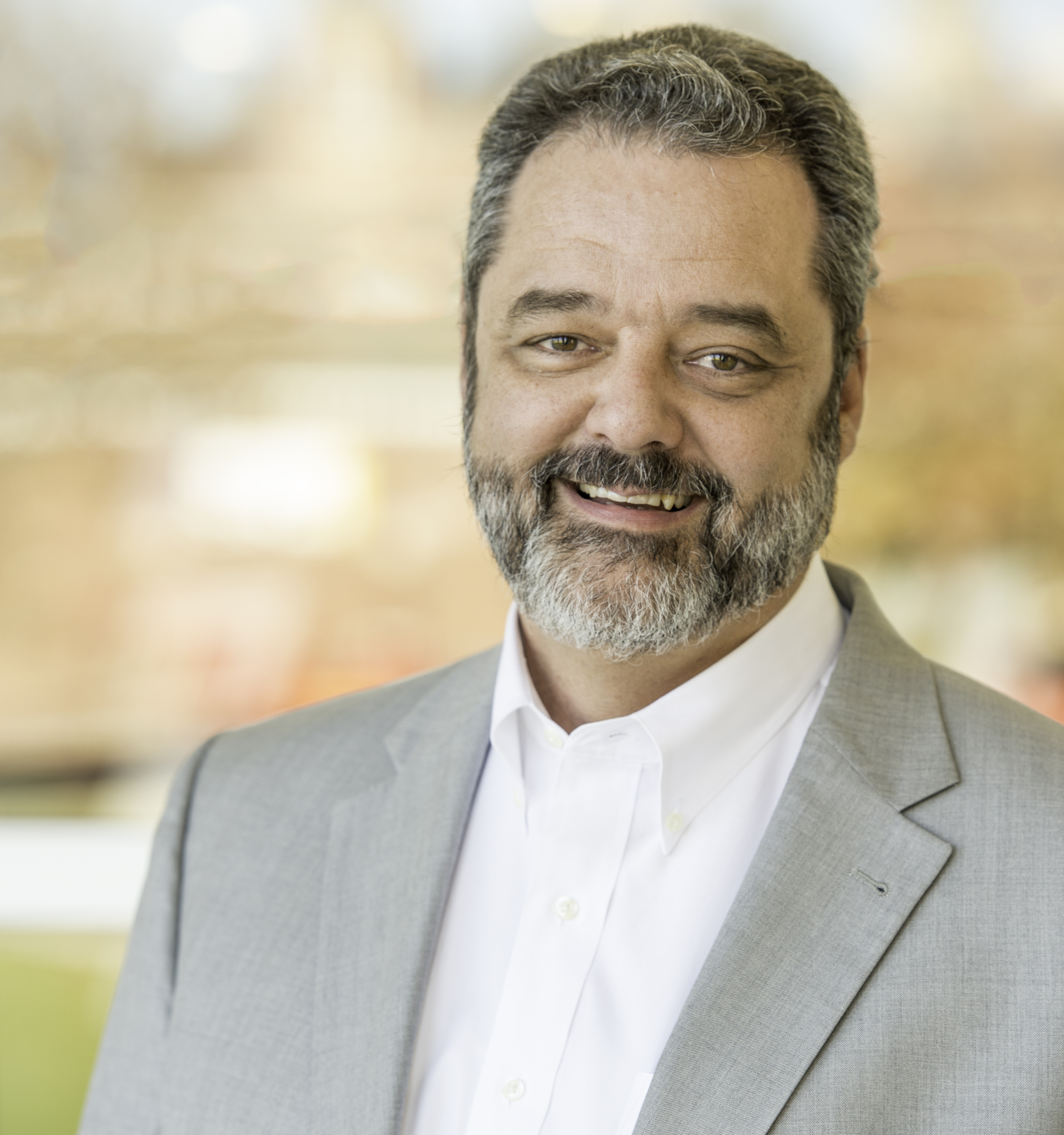 D. Mark McCoy was appointed DePauw University's twentieth president on March 7, 2016, and began his term on July 1, 2016. The product of two national searches, as dean in 2011 and as president in 2016, he served as dean of the DePauw University School of Music from 2011-2016.
A first generation college student and the son of a coal miner, Dr. McCoy has committed himself since his arrival in Greencastle to making DePauw an even greater place to learn, live and work, with an emphasis on building new bonds between the campus and the city to create what he calls a "communiversity." He was instrumental in bringing increased arts programming, Starbucks, Music On The Square, Bridges Restaurant and Wine Bar, Scoops Ice Cream, Taphouse Burgers and a new bakery to a revitalized downtown.
He led the most successful campaign in DePauw's history, closing at over $382M—$82M over goal. His commitment to student health and safety led to precipitous drops in high-risk measures and his university restructuring will result in multimillion-dollar annual savings in perpetuity. He led the presidents of Indiana's private colleges in support of a hate-crimes bill for Indiana and worked with leaders of industry to see it passed in 2019. He has been a regular advocate for DACA, minority, and under-resourced students on Capitol Hill.
An advocate for ensuring that America's finest educational opportunities are available to all, the president has written opinion pieces on the subject for the Washington Post and The Hill. "I know firsthand the transformative power of higher education in America," McCoy wrote for the latter newspaper. "I have witnessed how it breaks the cycle of poverty and dependence to develop leaders in all walks of life."
As dean of the DePauw School of Music, Dr. McCoy led a reinvention which included the launch of the bold 21st-Century Musician Initiative, a complete re-imagining of the modern-day music school. The innovative restructuring drew national attention, and $23.5 million was raised for DePauw's music programs. To address the changing landscape that schools of music (and liberal arts institutions) face, McCoy assembled a diverse and national panel of leaders, authors, composers and performers into a board chaired by internationally renowned cellist Yo-Yo Ma to examine the world of higher education in music. McCoy led three years of faculty discussions that led to a complete curricular overhaul, a new focus on 21st Century musical skills, increased globalization of the music school and abundant contact with change agents and successful musicians. Music on the Square (M2), a venue in the heart of Greencastle's courthouse square now offers music instruction for local students and performances that are open to all, developing new campus-community connections.
In 2018 President McCoy created the DePauw Gold Commitment, which formally guarantees something that has been a hallmark of the DePauw experience since its founding in 1837 – that all graduates will find jobs or be admitted into graduate programs after receiving their bachelor's degrees. He created the DePauw Centers Council and united it under the leadership umbrella through a $20 million dollar gift to create the Sanger Leadership Initiative.
A committed educator, Dr. McCoy has taught at the primary, secondary, undergraduate and graduate levels. His diverse educational background makes him a firm believer in and product of both the professional school and the liberal arts tradition.
As a conductor, Dr. McCoy has performed around the world with a 2005 debut at Carnegie Hall. He has composed a symphony, an opera, operettas, musicals, and many chamber works and is currently revising his novel, Curtain Music, concerning the relationship of Brahms and the Schumanns.
Inducted into Pi Kappa Lambda National Music Honor Society, Phi Kappa Phi multidisciplinary honor society and Phi Beta Mu, Dr. McCoy was honored as National Arts Associate by Sigma Alpha Iota International Music Fraternity. McCoy is a contributor for the National Association of Schools of Music and served on the National Commission on Accreditation. He is listed in Who's Who Among America's Teachers, Who's Who in Collegiate Faculty and the International Who's Who in Music and Musicians. Shepherd University named a hall on in his honor. He has completed additional executive education coursework at the Kennedy School at Harvard.
Dr. McCoy's wife, Lisa, is a former school teacher in Greencastle who served on the Putnam County Library board and the Greencastle School Board, and as a member of the Greencastle Civic League. They are the parents of teenage triplet daughters, Hadley, Savannah and Madison. The family is a collection of avid readers, musicians, travelers and seekers of ways to positively influence their community.