Optional Practical Training
A post-graduate opportunity for F-1 Students to put theory into practice, develop professional skills and build their networks in the United States.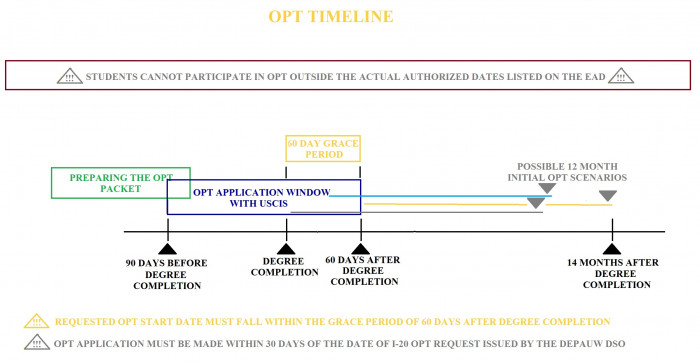 For OPT Timeline image in jpeg format please click here
12-Month OPT (initial OPT)
Eligibility, how to apply, & maintaining status while on OPT

An international student who has maintained valid F-1 immigration status and is scheduled to complete all graduation requirements is eligible to apply for Optional Practical Training (OPT). OPT is temporary employment authorization for optional practical training directly related to the student's major field of study. Students can apply to engage in "pre-completion OPT" during their undergraduate program or "post-completion OPT" during the year directly following graduation from DePauw. Upon being approved for OPT, the student receives an Employment Authorization Document (EAD) from the US Citizenship and Immigration Service. Students cannot begin OPT activities until the date indicated on the EAD card.
Working before or after the authorized OPT employment dates listed on the EAD card is a violation of F-1 student immigration status and can have lasting negative consequences (e.g., termination of OPT and SEVIS record, departure from the United States).
Eligibility
In order to apply for post-completion OPT, a student must be in the final semester of the undergraduate program and in valid F1 immigration status. F-1 students who have used 12 months of full-time pre-completion Curricular Practical Training (CPT) during their undergraduate degree program at DePauw are not be eligible for post-completion OPT.
Students are eligible to apply for one Initial OPT at each educational level.

How to apply
OPT is authorized by US Citizenship and Immigration Services (USCIS). OPT is a benefit of F1 status and eligible F1 students who observe the application procedure of USCIS and submit a duly filled out full application are usually granted approval. To prepare a full packet students are required to work with ISS in order to obtain one of the necessary documents.
Students interested in OPT should:
Attend an OPT workshop

Use the provided information and resources to compile an application packet

Schedule a final OPT appointment with ISS for I-20 OPT request

Submit full application packet to USCIS within the statutory application window

Await application adjudication
Students must present a full application packet to ISS staff in order for staff to issue a new I-20 Certificate of Eligibility immigration document with an endorsement for OPT on the second page. The new I-20 and required supporting documents must be submitted to the USCIS within 30 days after the new I-20 OPT Request is issued. OPT applications can be submitted to the USCIS as early as 90 days before graduation and can be submitted no later than 60 days after graduation.
maintaining status while on OPT
The OPT period is an extension of the undergraduate academic program. In order to remain in the United States and continue working, students must continue to maintain valid F-1 student status throughout the OPT period. This entails engaging in a minimum of 20 hours per week of qualifying practical training activities directly related to the major field of study, accumulating no more than 90 days of unemployment within the authorized OPT period as per the EAD, and reporting all changes listed below to International Student Services (ISS) within 10 days. Students can engage in either paid or unpaid practical training. All OPT positions should be documented in an official letter from the company or host organization.
Reporting Requirements for all F1 students on Initial and STEM OPT
During OPT all F1 students are required to communicate within 10 days of change any of the following changes to ISS Office or update SEVP through the SEVIS portal:
starting or ending of internship

change in position, internship provider's name and/or address

change of student's physical address (and/or mailing address if different) and other contact information

decision to end OPT and leave USA
Reporting to ISS is done through the OPT Update Form available on ISA Website.
STEM OPT Extension (STEM OPT)
Eligibility, How to Apply, & Additional Reporting Requirements

Eligibility and How to Apply
Only students who have been approved for an Initial OPT and continue to maintain status are eligible to apply for STEM OPT. For more information about this USCIS program on eligibility and application, please refer to our STEM OPT designated website.
Additional Reporting Requirements for F1 Students on STEM OPT only

All reporting requirements mentioned in Reporting Requirements for all F1 students on Initial and STEM OPT above apply for STEM OPT students. In addition to them, STEM OPT students are required to:
validate SEVIS information every 6 months through ISA Office's online OPT Update Form

submit annual self-evaluations (form I-983) completed at the 12th and 24th month of STEM OPT Extension

submit new I-983 for any material changes to the information
For more information on each of these requirements and employer non-compliance please visit the Department of Homeland security Study In the States website.
OPT Application & Resources
Optional Practical Training (OPT) Application available at the ISS Forms and Documents Website