Applying to Law School
Jump to Another Section
Pre-Law Advising Home Pre-Law Course Sequence Skills & Knowledge

Application Materials Timeline Law School Offers
---
Introduction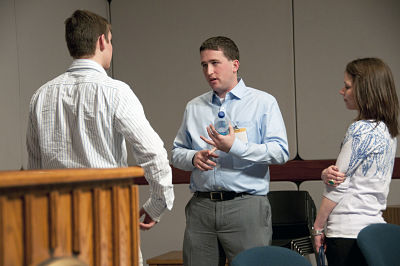 It's best to start planning early once you have made the decision to apply to law school. The process can take more than a year from when you first decide to pursue law school to the time you receive your acceptance letter. By working with DePauw's Pre-Law Adviser early, you can discuss your career goals for pursuing a law degree.
Learn more about American Bar Association-approved law programs. The Law School Admission Council has a comparison of schools based on your grade point average and LSAT scores. You can compare schools and create your application profile at the Law School Admission Council website.
---
Pre-Law Course Sequence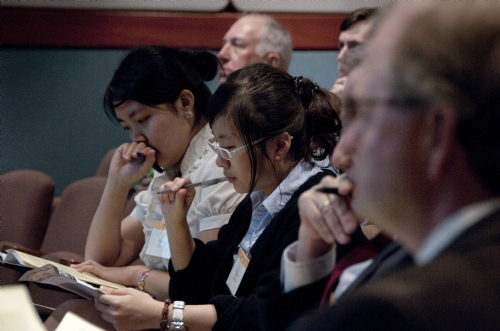 While a liberal arts education provides a great foundation for law school, DePauw has established a Pre-Law Sequence, a set of courses offered by the Philosophy Department, to provide a pathway for students like you who may be interested in pursuing the field of law. Students completing this sequence may also earn a minor in Philosophy. Students taking Philosophy courses receive intensive training in clear writing and thinking, careful argument analysis, and critical reading of difficult texts. These same skills are pivotal to success in law school. The study of Philosophy provides excellent preparation for law school. However, any major at DePauw will allow you to apply to law school. Past students have studied English, natural sciences, math, political science and other majors at DePauw, before going on to pursue their law degree. You can easily complete the Pre-Law Sequence while pursuing one of these other majors. In choosing courses from the Pre-Law Sequence, you are encouraged to select courses that will challenge you, hone your ability to write arguments, read difficult texts, and write clearly and persuasively. It is also a good policy to choose a variety of courses.
Pre-Law Sequence Courses
Take at least one course from each of the four areas for the Pre-Law Sequence, with at least one at the 300-level:
Courses with law or LSAT-related content
These are courses with content that is most directly related to either the study of law or the LSAT. They include: Phil 251 Logic, Phil 340 Classical Political Philosophy, & Phil 342 Philosophy of Law
Courses in the History of Philosophy
These are courses that require critical reading and analysis of difficult texts, skills that are vital for law school and beyond. They include: Phil 212 History of Philosophy: Ancient, Phil 213 History of Philosophy: Medieval, and Phil 215 History of Philosophy: Early Modern
Value Courses
These are courses that focus on issues of value and will familiarize students with important legal concepts such as obligation, permission, and prohibition. These classes include: Phil 230 Ethical Theory, Phil 232 Environmental Ethics, Phil 233 Ethics and Business, Phil 234 Biomedical Ethics, & Phil 242 Philosophy of Sex and Gender
Advanced Analysis Courses
These are courses whose content do not obviously relate to the study of law, but are challenging courses that cultivate the ability to analyze complex issues and arguments and hone your analytical writing. Course options include: Phil 363 Philosophy of Religion, Phil 360 Philosophy of Science, Phil 361 Philosophy of Language, Phil 353 Metaphysics, & Phil 352 Epistemology
Back to Top Pre-Law Advising Home
---
Skills & Knowledge Needed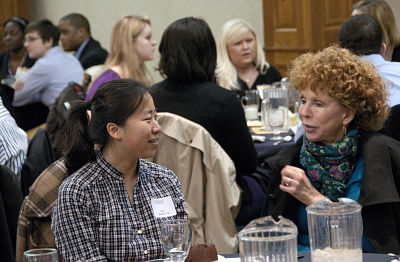 To be successful in law school, you will need a diverse skill set that includes analytical and critical thinking skills, along with strong interpersonal communication skills to speak persuasively. Yet many more skills that you will develop at DePauw will be essential for you to excel in law school and in your career. The skill set listed below are some of the essential traits and skills that you will utilize in your law program, from the American Bar Association:

Analytical and Problem Solving Skills: You will need to critically analyze complex situations and principles, including abstract or hypothetical situations, taking in all the information and making the most appropriate decision given the situation.

Writing: You will be expected to write concisely yet convincingly, articulating your thoughts in a compelling fashion. Your ability to eloquently convey your message is vital to your success in a legal profession.

Critical Reading: You must be able to read and extract important information from various reports, logs, and other written items to help best establish your own perspective. By maintaining a critical eye as you read documents and items that pertain to a given situation, you will be able to ensure that you are pulling out the proper information to properly respond and create the plan that best accomplishes your situational goals.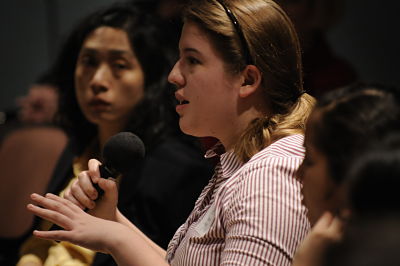 Interpersonal Communication: The ability to speak persuasively, both in a group setting and in a personal environment, will be vital. You also will need to be an effective listener in order to understand the nuances of the situations you will encounter in your career.

Research: You will need to be able to review information from a wide swath of sources, whether you are an attorney preparing for a case or serving as a legal consultant for a business or nonprofit. The ability to attain the information that you need to resolve a situation or plot a course of action in a timely manner will be essential to your success.

Public Service and Promotion of Justice: In your career in law, you will be advocating on behalf of your client, an organization, or an issue. You will be creating compelling insights and arguments to reflect your position and achieve your end. A commitment to Public Service and the Promotion of Justice will aid you as you commit to the endeavors that are of most importance to you.

Back to Top Pre-Law Advising Home
---
Application Materials
While different law schools will have slightly different requirements for Admission (such as grade point average, application deadlines, and LSAT scores), there will be a few consistencies that most law programs seek from applicants. Students can begin to plan on preparing for and completing the following:

Credential Assembly Service: Offered by the Law School Admission Council [link: http://www.lsac.org/jd/applying-to-law-school/cas ], the Credential Assembly Service (CAS) is required by American Bar Association-approved law programs, as well as many other law schools. The CAS incorporates your academic transcripts, letters of recommendation, evaluations and other documents into a report that is sent to all of the law schools to which you apply.

Law School Application: Essentially every competitive law program will have an application that must be completed. There may be some differences, such as short answer questions that are asked. Be sure to give yourself plenty of time to complete the application and have your written responses reviewed and edited.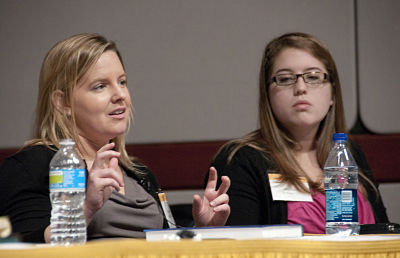 LSAT: The Law School Admission Test, or LSAT, is a way that law programs can immediately begin to discern applicants, as well as determine placing in the coming class. Preparation for the LSAT should begin as soon as you think you would consider law school as an option following graduation from DePauw. DePauw has partnered with Kaplan to provide practice tests. You can prepare for the exam whenever you desire; it is recommended that you take the December LSAT of your senior year (and hopefully much earlier, to give yourself time to re-take the test if needed) if you are looking to be admitted to a law program the following fall.

Personal Statement: In your personal statement, you will provide biographical background information that will provide context to the admissions counselors about why you are applying for law school. This personal statement typically includes information about your academic background, life experiences, and your personal and professional goals that you hope will be attained by attending law school. This is an opportunity for admissions representatives to learn more about why you would be a good selection to be in the law school's next incoming class. Students are encouraged to work with your faculty adviser or faculty in the Department of Philosophy to help review your personal statement, ensuring that it is as good as it can be when applying to law school.

Résumé: For many law school programs, you also will need to submit your résumé that conveys the experience you've had so far. Many students can take advantage of on-campus leadership opportunities, Extended Studies offerings including community service and off-campus study, and job shadowing externships to create a well-rounded DePauw experience that help prepares them for law school. You also want to make sure that your résumé is complete, accurate, and polished. You also want to make sure it's tailored to your desire to attend law school. DePauw advisers can help you with your résumé to help strengthen your application.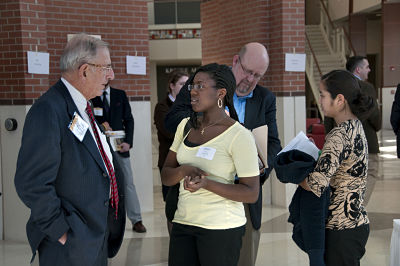 Letters of Recommendation: You will need to get letters of support from a faculty adviser and others who will be able to speak to your strengths, accomplishments, and skills that will make you an asset in law school, as well as once you are a professional. Always meet with faculty members in person to discuss your letters of reference. Provide them with a list of the schools you are applying to and a quick summary of what a particular law school is seeking in a letter of recommendation. You want to make sure your letters are respond to those items that will make admissions counselors consider you a strong candidate.

Back to Top Pre-Law Advising Home
---
Timeline
Students who are serious about applying to law school should begin to seriously start the process during their junior year (about 18 months before they hope to be enrolling in law school). However, students who are sure they want to pursue a law degree should schedule an appointment with Christine Munn, DePauw's pre-law adviser (christineklinger@depauw.edu), early in their academic career at DePauw to maximize their opportunities. All of DePauw's advisers can work with you to schedule the proper Pre-Law Academic Sequence classes to best prepare you for law school, recommend organizations and opportunities available to gain experience in your particular area of interest, and give additional suggestions for support that can help you in your endeavors.

While it always helps to prepare early, the timeline below is based in part on US News' suggestion for preparing for applying to law school. Additional support can be found: http://www.usnews.com/education/blogs/law-admissions-lowdown/2012/12/24/follow-this-2013-law-school-application-season-timeline

Junior Year
January and February – Begin your preparation for the LSAT. DePauw has resources to help you prepare for taking this exam.

March – Continue one-on-one LSAT preparation with a tutor. Begin exploring summer opportunities that may be available to help you gain valuable experience through an internship or another option that will help prepare you for law school.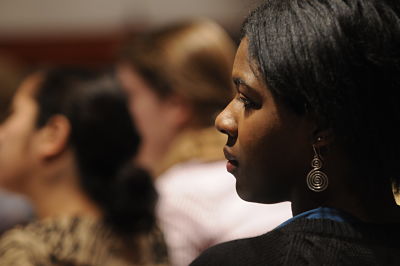 April – Start taking practice LSAT exams, if you have not already done so. DePauw has partnered with Kaplan to provide practice exams for students. If you are scoring in your desired test range ,you can register for the June LSAT exam. You also can consider if you will be working with a law admissions counselor on creating your application.

May – Continue to take practice LSAT exams, with a focus on strengthening your weak areas to improve your practice scores. This also may be a good time to explore an internship, job shadowing, research, or additional project that will help bolster your candidacy for law school. Before the summer lets out, you may want to discuss if there is anything you can do during your senior year to bolster your experience, then begin following up on those suggestions.

June - Take the LSAT. You also can begin preparing your application materials. DePauw advisers will be available in early fall to begin working with you to review your résumé, cover letter, and additional materials that you will need to submit.

July – Continue to prepare for the LSAT if you have not yet taken it, or you decided to retake it. If you did take the LSAT, you can review your list of schools to see how your LSAT results compare to what the law programs expect. You want to decide to retake the exam or modify your list by adding or changing schools as needed.

Senior Year
August – Complete outlines of personal statement and diversity statement before writing a draft of these and other application materials. Advisers can begin reviewing your application materials with you as you develop these drafts for your law school applications. Also, seek out opportunities previously discussed that can help bolster your application as you begin your final year at DePauw.

September - Edit your essays and begin working on the additional materials needed for your law school applications, such as your résumé and short answer questions. If you are considering the October LSAT exam, then continue to study and take practice exams to strengthen any potential areas of weakness.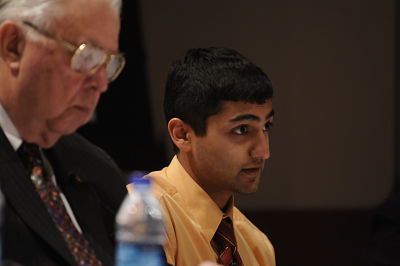 October - Take the LSAT, if needed. You should also finalize your applications (you should have visited with multiple advisers by now) so that you can begin to submit them once your October LSAT scores are received.

November – If your LSAT scores are good, you should wrap up loose ends on your applications and submit them by the end of the month. If you are planning to take the LSAT in December, then you should continue to practice and improve in areas of concern for your final test.

December – In addition to finishing the first semester of your senior year, you should also be finished sending out your law school applications! If you are taking the December LSAT, you should be sure to complete every other aspect of your applications so they can be sent out once you receive your December scores.

Back to Top Pre-Law Advising Home